Japan's Firms Plan Spending Boost as Sentiment Improves
Toru Fujioka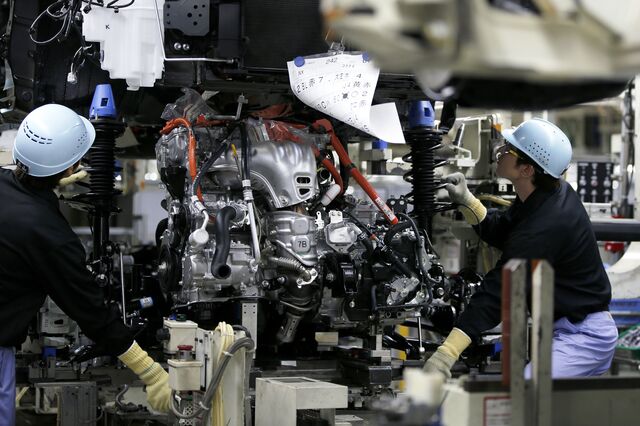 Japanese companies indicated they may boost investment by the most since 2007 as sentiment among big manufacturers unexpectedly improved, providing encouragement for Prime Minister Shinzo Abe's revitalization effort.
Large companies see capital expenditure rising 8.6 percent in the year through March, according to the Bank of Japan's Tankan survey released in Tokyo today. The big manufacturer sentiment index rose to 13 in September from 12 in June, above a median estimate of 10 in a Bloomberg News survey of economists.
Corporate leaders delivering on their plans is vital to Japan weathering a sales-tax increase in April that precipitated the economy's biggest contraction in five years. The challenge for Abe is to ensure that large companies which have also invested heavily overseas follow through on domestic investment and deploy near-record cash as he tries to rein in the world's heaviest debt burden.
"Corporate sentiment is surprisingly solid," said Hiroshi Miyazaki, senior economist at Mitsubishi UFJ Morgan Stanley Securities Co. in Tokyo. "With the Tankan, the BOJ must be seeing no need to bolster stimulus at this point."
Abe's administration has indicated it's ready to increase stimulus to help the economy withstand any further increase in the levy. He's set to decide by the end of the year whether to raise the levy to 10 percent after it was raised to 8 percent in April.
Yen Forecast
Large manufacturers based their business plans on the assumption the yen would average 100.73 per dollar in the current fiscal year, today's report showed.
The currency traded at 109.91 per dollar at 2:13 p.m. in Tokyo after weakening above 110 yen for the first time since August 2008. The Topix index of shares slipped 0.3 percent.
The report showed some signs of weakness. Sentiment among large non-manufacturers and small manufacturers deteriorated from the previous Tankan survey.
"The deterioration in big non-manufacturers sentiment is a better gauge for domestic economic conditions," said Takeshi Minami, chief economist at Norinchukin Research Institute Co. in Tokyo. "Even so, the level of their sentiment remains relatively high, signaling that they still have expectations for a rebound."
Investment Overseas
Capital expenditure in Japan remains below a 2007 peak, and machinery orders, a leading indicator of investment, have underscored strength in demand from overseas.
Orders excluding electrical power generation and ships fell 10 percent in April-June from the previous three months after four quarters of growth, according to the Cabinet Office. Those from overseas jumped 42 percent in the same period, and were worth 1.7 times core domestic orders.
Panasonic Corp. has agreed to build a lithium-ion battery factory to supply Tesla Motors Inc., with potential sites in Arizona, California, Nevada, New Mexico and Texas.
Central Japan Railway Co., operator of the world's busiest high-speed line, is ramping up investment by 11 percent to 326 billion yen ($3 billion) this fiscal year, as it boosts spending on its plan to build a 500 kilometers (311 miles) per hour magnetic levitation train link. Toyota Motor Corp. is planning to increase capital spending by just 1.9 percent to 500 billion yen this fiscal year, as it cuts back on investments in Asia, according to the company's financial statements.
Labor Market
Today's data also underlined tightness in the labor market that Governor Haruhiko Kuroda is counting on to push up wages, fueling economic growth. Most companies across all industries reported a shortage of workers, according to the survey.
A virtuous cycle in the economy is "firmly working" as income and employment conditions improve, BOJ Governor Haruhiko Kuroda said on Sept. 18. He said Japan is on track to meet the central bank's 2 percent inflation target, which excludes the effects of a higher sales tax.
The jobless rate fell to a three-month low of 3.5 percent in August, data showed yesterday. The job-to-applicant ratio held at a 22-year high of 1.10, meaning there were 1.1 jobs for every seeker.
Labor cash earnings -- which includes base pay, overtime and bonuses -- increased 1.4 percent from a year earlier, the sixth straight rise.
Even so, the growth in pay was outpaced by inflation of 3.3 percent, squeezing households' finances. A labor shortage could also drag on the economy, said Hiroshi Shiraishi, senior economist at BNP Paribas SA in Tokyo.
"The economy is hitting the ceiling of supply and that's likely to constrain Japan's growth in the future," said Shiraishi.
The Tankan survey of 10,369 companies was conducted from Aug. 27 to Sept. 30.
(An earlier version of this story was corrected to change the year in the headline.)
Before it's here, it's on the Bloomberg Terminal.
LEARN MORE