At Elite Business Schools, Upper-Crust Sailing Competitions Are Part of the Education
By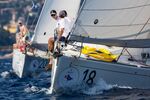 Last weekend, 400 students from top business schools around the world traveled to the Italian Riviera to network on fancy boats. The occasion was the Rolex MBA Regatta, which took place in the northern Italian city of Genoa from Friday through Sunday. The team from Massachusetts Institute of Technology's Sloan School of Business won the race, beating out sailors from Harvard Business School, University of Chicago Booth School of Business, Columbia School of Business, and the host, the Milan-based SDA Bocconi School of Management.
"Apart from the sailing, for the students it also represents a chance to network and to experience how to manage and work within a team," according to a press release for the event.
This is not the first sailing-competition-plus-schmoozing get-together for MBAs this year. Nor is it the second such event: It's the fifth in six months. That's according to the MBA Sailing League, the brainchild of alumni from the Rotterdam School of Management and London Business School, which maintains an unofficial ranking of the top seeds.
The competitions charge participants hundreds of dollars just to register, never mind the cost of commuting to the Greek capital, a French Island, or a Dutch harbor. They sometimes feature polished promotional videos, like the one above, which portrays the Dutch race with the type of stark lighting and tense background music normally reserved for episodes of Law & Order: Special Victims Unit.
Sailing trips, students and event coordinators insist, make sense as a component of a business education. Knowing how to sail, SDA Bocconi student Patricia Faraci told the school's website, "is like knowing how to manage a company, you need team spirit, a sense of belonging and respect of roles."
Students at last weekend's event also seemed to get a strong foundation in the art of boozing on the open seas. The event was sponsored by Rolex, a fact noted on social media, where hashtags such as #rolexregatta, #rolexvillage, and, for good measure, #rolex, accompanied pictures of revelers on big boats. The registration alone cost about $600, according to participant schools' websites, which is not a small sum to lose in a weekend.
Before it's here, it's on the Bloomberg Terminal.
LEARN MORE