Bill Gross Gets 'New Neutral' Endorsement on First Day at Janus
Simon Kennedy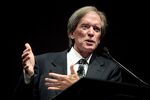 On his first full business day at Janus Capital Group Inc., Bill Gross yesterday got a blue-chip endorsement of his economic outlook from a group of former central bankers.
Gross spent his final months atop Pacific Investment Management Co. betting on a "new neutral" rate of interest in which weak economic growth and high debt leave central banks likely to keep interest rates below their pre-financial crisis peaks. A neutral rate is that which neither stimulates nor slows an economy and for the U.S. Gross reckons it's now around 2 percent.
The strategy wasn't enough to stop redemptions from the Newport Beach, California-based Pimco and it also ran into criticism from rival money managers at Goldman Sachs Group Inc. and BlackRock Inc.
It nevertheless found support yesterday in a report published by the International Center for Monetary and Banking Studies written by Vincent Reinhart of Morgan Stanley, Lucrezia Reichlin of London Business School, Luigi Buttiglione of Brevan Howard Capital Management LP and Philip Lane of Trinity College in Dublin.
Titled "Deleveraging? What Deleveraging?" their report warned of a "poisonous combination" of mounting debt and slower output similar to that envisaged by Gross. Rather than shrinking in the wake of the financial crisis as many assume is happening, debt is rising on the public side of the balance sheet in developed economies including the U.S. and on private accounts in emerging markets, particularly China.
Global Debt
The economists showed that excluding the leverage of financial companies worldwide debt is now about 212 percent of gross domestic product, up 38 percentage points since 2008. It stands about 264 percent in the U.S., 257 percent in the euro zone and is as high as 411 percent in Japan. It's 217 percent in China.
At the same time, the economists calculated the six-year moving average of the world's potential growth rate -- that which sparks inflation -- has dropped to less than 3 percent from about 4.5 percent before the crisis.
The risk for central banks is that if they raise interest rates too high they will choke recoveries by pushing up the cost of servicing the debt and forcing consumers and companies to take on even more.
"When growth is going down and debt is going up this sets the ideal conditions for rates to stay low for long," Buttiglione, a former Bank of Italy official, said in a presentation in London late yesterday.
Loose Policy
Co-writer Lane concurred. Boosting benchmarks amid rising debt and slowing growth could be "dangerous" and central banks should keep monetary policy on the "loose side until they're really sure the world can take it."
Even without Gross, Pimco is maintaining its faith with the "new neutral" too.
"We strongly as an organization continue to believe in that fundamental view that economic growth is going to be below expectation," and that as a result, central banks won't raise interest rates as fast as had been forecast,'' Daniel Ivascyn, Pimco's new chief investment officer, said in an interview following Gross's departure.
Now he has a new 106-page report to help make the case.
Before it's here, it's on the Bloomberg Terminal.
LEARN MORE