Yahoo's Mayer Facing More Scrutiny After AOL Proposal
Brian Womack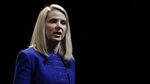 Yahoo! Inc. Chief Executive Officer Marissa Mayer is facing more pressure to sell the company or change how it manages cash, following a call from Starboard Value LP for Yahoo to merge with AOL Inc.
Alternative Investment Management & Research SA, a Geneva-based investment advisory firm, sent a letter yesterday to Mayer and Masayoshi Son, Chairman of Japan's SoftBank Corp., proposing a merger between Yahoo and SoftBank. A Needham & Co. analyst raised her rating on Yahoo shares to a buy, saying that shareholder pressure will "add urgency" to Mayer's turnaround effort and drive better allocation of the company's cash.
Mayer, who was appointed CEO in July 2012, has been working to reverse Yahoo users' defection to Google Inc., Facebook Inc. and other Internet destinations. While Mayer has made acquisitions and sought to improve Yahoo's products, the efforts haven't translated into faster sales growth. The pressure for results has increased since this month's initial public offering of Alibaba Group Holding Ltd., in which Yahoo owns a stake and which had driven much of the Silicon Valley company's value.
"We think that Yahoo would be far better off under the stewardship and vision of Mr. Son than under Yahoo's current top management," Albert Saporta, managing director of Alternative Investment Management & Research, said in the letter. Saporta said his firm owns shares in Yahoo, along with an investor group that he represents.
Sarah Meron, a spokeswoman for Sunnyvale, California-based Yahoo, declined to comment.
Cash Management
Saporta said Son had backed Yahoo Japan Corp. and Alibaba, which Yahoo had also invested in. The true value of Yahoo's core online-advertising business was exposed last week, when Yahoo was worth less than its Asian assets following Alibaba's market debut.
"We would rather have Mr. Son in charge of investing Yahoo's cash hoard," Saporta wrote.
Last week, New York-based Starboard said that the Web portal should cut losses in its display-ad business, stop acquiring other companies and discuss a deal with AOL, which could deliver cost cuts of as much as $1 billion.
Laura Martin, an analyst at Needham & Co., said in a note to investors yesterday that the "turnaround under the current CEO has been in place over 2 years, and we think there is an urgency disconnect between Wall Street" and the board.
"We think Starboard's presence will help close this," Martin said.
Yahoo's shares were little changed yesterday at $40.52 at the close in New York. The stock rose 4.4 percent on Sept. 26, the day that Starboard released its letter.
Before it's here, it's on the Bloomberg Terminal.
LEARN MORE