Iran-Born Billionaire Hakim Emerges With NYC Properties
Caleb Melby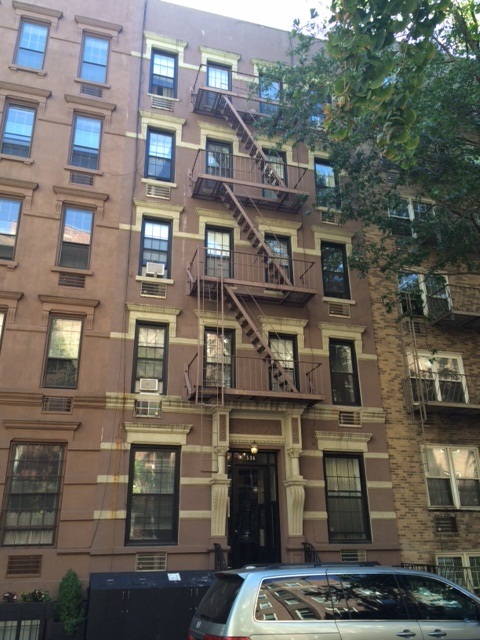 Billionaire Kamran Hakim was late, and New York Supreme Court Justice Eileen Bransten wanted to know where he was.
"They're coming up," Hakim's attorney, Leo Fox, said to Bransten, according to a court transcript. "In fact, he just asked me what room number it was."
Hakim arrived to find two of his brothers and their attorneys waiting in the downtown Manhattan court room. Bransten asked him to remove his hat.
It was Friday, Jan. 24, 2014, eight years, five months and five days since Said Hakim, Kamran's brother, had filed a lawsuit accusing Kamran of hoarding income from four properties they jointly owned with their brother Masud, and of selling three of those buildings without his consent.
The case touched on a sliver of Kamran Hakim's Manhattan real estate empire that's more than 40 years in the making. Since emigrating from Iran, he's come to control through limited liability corporations at least 129 buildings with 2.7 million square feet valued at $1.8 billion, according to the Bloomberg Billionaires Index. The 73-year-old has never appeared on an international wealth ranking.
Hakim said in a sworn affidavit that Said contributed nothing to the purchase or maintenance of the buildings and received income from them because Kamran wanted to help him in his transition to the U.S.
High Stakes
"He is a 'partner' only because of my commitment to him as my brother," Kamran said of Said in the November 2005 affidavit.
Said was unable to produce some documents the court said that he needed to prove portions of his case. They were lost when he fled Iran during the revolution in 1979, according to testimony from Ian L. Blant, who represented him in the case in 2005.
By the time they reached the courtroom in January, Said's case was limited to a dispute over 536 East 89th Street, a brown-painted, five-story, 25-unit apartment building with a floral still life in its narrow entryway in New York City's Upper East Side. Claim to the other properties had been tossed out by another judge, Karla Moskowitz, who told attorneys in the case that the fight shouldn't be in court at all, according to a Dec. 15, 2005, transcript.
Family Feuds
"This is all family," Moskowitz said.
Judge Bransten, noting how much they were spending in attorneys fees, also encouraged the brothers to settle.
"My jury room is heated," Bransten said. "I should have made it freezing to make you get it done quicker."
Kamran and Said failed to reach a deal. Masud agreed to sell his stake in the building to Kamran for an undisclosed sum, removing himself from the suit.
Family feuds have been a theme for the billionaire. He was sued by Said's son Isaac in 2010. His son-in-law Robert Jaffe, who's in divorce proceedings with his daughter Wendy, served 37 subpoenas to Kamran's LLCs -- 32 of which were quashed -- in an effort to determine her ownership interests in the companies. All the cases touch on his collection of properties, mostly walk-up apartment buildings shorter than six stories, in Manhattan's Upper East Side, Upper West Side and Midtown neighborhoods.
Manocherian Family
"There is no desire on our part to comment further on these family matters," Charles A. Stillman, an attorney for Kamran at Ballard Spahr Stillman & Friedman LLP, said in a phone interview. "We have no interest in talking publicly about the valuation of the portfolio."
Calls to Said's office at SM Management in Beverly Hills and his attorney at CPS&S LLP in New York weren't returned.
Prior to the revolution in 1979, the three Hakim brothers owned importing businesses and a refrigerator factory in Iran, according to Masud's testimony. Letters between Said and Kamran show they both lost assets in the revolution.
In 1998, after spending $1 million on lawyer fees, Kamran was awarded $1,582,569 for damages by the Iran-United States Claims Tribunal, according to his sworn affidavit in Said's case. Said's original complaint also laid claim to the funds.
"After deducting the fees and expenses, there are no real amounts of any significance that are available to be disbursed to Said," Kamran said in his affidavit.
Kamran is married to Ellen Manocherian, a member of the Manocherian family that controls at least 85 buildings in Manhattan through companies named Pan Am Equities and Manocherian Brothers, according to public records. The family's properties include The Langham, a 13-story building at 135 Central Park West, which they purchased in 1952.
Amsterdam Avenue
The luxury building's apartments occupy the entire park-facing side of the block between 73rd and 74th streets. Ellen owned 16 percent of the building through Langham Mansions Co., a family partnership, according to 1998 financial statements.
He began purchasing Manhattan real estate as early as 1969, according to his deposition in Said's case. Of the properties owned by his LLCs, at least three were obtained as early as 1972. The four-, five-, and six-story residential buildings in Manhattan's Upper East Side neighborhood were bought for prices ranging from $13 to $23 a square foot. Residential real estate in Manhattan now sells at an average of $1,268 per square foot, according to a research report by Douglas Elliman.
Central Park
Kamran's LLCs own every property on the west side of Amsterdam Avenue between 91st and 92nd streets: seven ornately-decorated five-story apartment buildings with storefronts on the ground floor. They were purchased in 1998 for $53.6 million at an average of $730 per square foot.
On the other side of Central Park, the LLCs own seven more five-story walk-ups with ground-level stores between 90th and 91st Streets on the east side of 1st Avenue. Five of those were purchased at an average of $25 per square foot in 1979. Another, purchased in 1988, went for $101 per square foot, and another in 1997 at $84 per square foot. Kamran is one building short of controlling the full block.
On the south side of East 34th Street between 2nd and 3rd Avenues, Kamran demolished a tranche of buildings to construct the 21-story, 483-unit, 506,520-square-foot Anthem. He spent $150 million to develop the luxury elevator building, according to a 2003 report from the New York Times. He still owns three red five-story walk-ups adjacent to the tower.
'Family Man'
"He's a powerful guy," said Jim Marinaccio, the owner of Naga Antiques which had occupied the storefront at 145 East 61st Street, a Hakim building, for 32 years through August. "He's extremely charming, extremely fair, he loves the arts and he's a real family man."
Kamran personally negotiated Naga's rent, Marinaccio said.
The billionaire and his wife live in Chappaqua, New York, a wooded hamlet north of New York City. They also own two horse-show venues, Old Salem Farm and Grand Central Farm, with their son Scott. The couple run the Old Salem Farm Foundation, which had $117,590 in assets in 2012, according to a tax filing. Donors including billionaire John Catsimatidis and JP Morgan Chase & Co. gave a combined $89,000 during the year.
The foundation, started in 2011, made no charitable contributions in 2012 and spent $179,680 on tent rentals and $9,461 on catering, according to the filing. It will support the Voss Foundation, Pegasus Therapeutic Riding, ASPCA and Just World International this year, according to its website.
Opportunity Knocks
While Said's case was being argued in 2008, his son Isaac received a letter from Ronald S. Greenberg, an attorney for Kamran.
"You are not now, never have been, and never will be a member of the LLC," Greenberg said.
The LLC in question was formed to manage 41 West 57th Street, an eight-story office building two blocks south of Central Park. Isaac identified an opportunity to manage the property and brought it to his uncle, who created a company to pursue the deal, judge Shirley Werner Kornreich of the New York Supreme Court said in a case Isaac brought against Kamran in 2010.
Kamran and Isaac set up an arrangement whereby Isaac could purchase one-third of the company within the next two years. Isaac sent a letter to his uncle by overnight delivery exercising his ownership option two years later. Kamran's representatives stalled the process, Issac alleged in his lawsuit, and he never got his shares.
'Foolish Litigation'
While he waited, "he located tenants, negotiated subleases, and managed the day-to-day operation of the property," according to a May 2011 decision by Kornreich.
"Your father commenced foolish litigation against Kamran," Greenberg's 2008 letter to Isaac said. "Surely, if you choose to commence litigation here, you will follow precisely in your father's misguided footsteps."
Isaac sued anyway, waiting two years because Kamran had been a father figure and mentor to him, and he loves and respects him, he said in a phone interview. It also appeared the matter would be resolved, according to his attorney, Cabot Marks.
Kornreich ruled that Isaac's claim to his shares was still valid because of e-mails sent by Kamran's lawyers in 2005 and 2008, and that he could sue the LLC.
On Aug. 5, Kamran and Isaac signed a confidentiality agreement. The case is still being argued, Marks said.
"I think the last thing you would ever want to do is to get into any type of litigation with someone you respect so much," Isaac said.
Before it's here, it's on the Bloomberg Terminal.
LEARN MORE