Not Even China's Great Firewall Can Shut Out News About Hong Kong's Democracy Protests
Christina Larson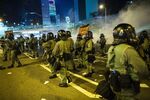 The massive democracy protests in Hong Kong—and violent police crackdown early on Monday morning, including use of tear-gas canisters and batons—are testing not only the resolve of tens of thousands of student demonstrators, but also the effectiveness of Beijing's sprawling censorship apparatus. As China's Communist Party is discovering, in the wake of a major event or protest, not even the Great Firewall can fully stop information from flowing.
Sometime late on Sunday night, Instagram was blocked in mainland China, presumably to stop images from the tear gas-filled streets of downtown Hong Kong from being shared on the popular social network. Facebook and Twitter remain blocked in the mainland, as are the websites of the New York Times, Wall Street Journal, Bloomberg, Bloomberg Businessweek, and several other foreign media companies. Sina Weibo, the Twitter-like social network, is increasingly censored. Tencent's Weixin ("WeChat") social network is also now monitored; on Monday, friends sharing information through private small groups on Weixin noticed comments about the Hong Kong protests were mysteriously deleted.
Meanwhile, China's state-controlled media were ordered not to file stories on the Hong Kong protests, other than limited and carefully worded wire reports from the Xinhua News Agency. A directive issued on Sunday by China's Propaganda Ministry (and obtained by the Hong Kong-U.S. watchdog website China Digital Times) read: "All websites must immediately clear away information about Hong Kong students violently assaulting the government and about 'Occupy Central.' … Strictly manage interactive channels, and resolutely delete harmful information."
And yet, in spite of the best efforts of the Chinese government to block information about unrest in Hong Kong from reaching the mainland, many people interviewed on Monday morning in Beijing and other Chinese cities knew about the demonstrations. But the level of detail to which they had access varied widely, as did opinions about the virtue of the protests and what might happen next. Most said they initially heard the news through social media, reading posts before censors deleted them.
Within mainland China, some said they were cheering on Hong Kong's democracy activists and wished their Chinese peers had the same courage to fight for "freedom." Others wondered whether public demonstrations were futile and darkly recalled the brutal 1989 Tiananmen Square crackdown. Still others said the yawning antagonism between mainlanders and Hong Kongers, fueled by quarrels over the influx of mainland tourists and capital into the islands in recent years, meant they felt limited sympathy for Hong Kong's struggles.
While admiring the Hong Kong protesters—"I think they want freedom very strongly"—Sun Yu, a personal trainer at a Beijing gym, said he couldn't imagine a similar wave of protests for free elections happening anytime soon in Beijing. "Maybe 50 years later, or maybe 100 years later."
One journalist at a state-run newspaper in a southern Chinese city said she was not allowed to report on the Hong Kong protests, yet was avidly discussing events with her peers. "We are talking about what is real freedom," and whether they would join in similar demonstrations, even in the face of baton-wielding cops. "A friend of mine said he is so proud of them [the protesters]. … Another friend says the chaos in Hong Kong makes him treasure what we have today," meaning apparent safety and stability. She said they were all reminded, darkly, of the 1989 crackdown, which, despite being erased from Chinese history books, most knew a bit about: "My father and uncles told me [about it]."
A marketing assistant in Beijing said she was aware of the protests, but not the exact reasons behind them. "I am just wondering why the students and teachers would do that. Is there any good reason behind it?" She had mixed reactions to the news. "Normally, as a Chinese, I could not go for that [public protest]. But on the other hand, it could be seen as a sign that some people … want to make some change, and it is indeed a challenge for the government. However, I still believe in my country."
A software engineer in Shanghai said he thought the campaign for free elections in Hong Kong likely sprang from economic grievances. "The frustration is never political. It always has economic [roots]. … Things are not looking up in Hong Kong. Unemployment is getting higher; the perspective of the youth is [desperate]; the [sense of] superiority over mainlanders is disappearing. I think the bottled-up resentment against the rich Chinese manifests itself in protest." While he said he could understand the frustration of the student protesters, not all his peers felt the same: "The friction between Hong Kong and mainlanders in the past few years has reduced the support and sympathy toward Hong Kong."
An employee at a state-owned enterprise in Beijing also pointed to increasing antagonism. "No matter what political system the Hong Kong people choose, they can't stop those rich mainland families from buying their milk powder." He added that censoring news in China almost certainly assures greater coverage in overseas media. "You know, in China it's always censored, so in British newspapers it's always [a main focus]." Using software to jump the Great Firewall, he checked the BBC News website to scan the top story on the Hong Kong protests.
Before it's here, it's on the Bloomberg Terminal.
LEARN MORE