Hong Kong Police Arrest 61 at Government Headquarters
Fion Li, Bei Hu and Dominic Lau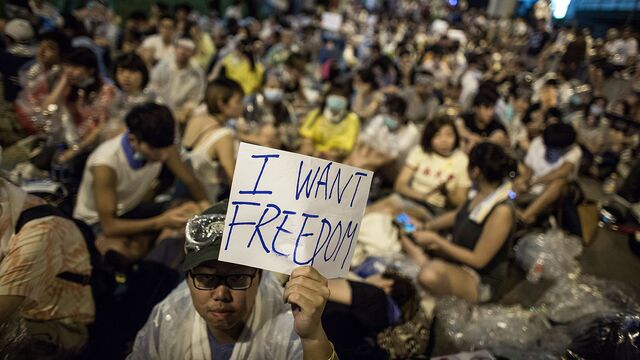 Hong Kong police arrested 61 pro-democracy demonstrators as they cleared a square at the government headquarters in the center of the city, after earlier clashes that led to more than 15 injuries and 13 arrests.
Forty-eight men and 13 women between the ages of 17 and 58 were taken into custody for forcible entry into government premises and unlawful assembly, according to a statement posted on a government website.
The police operations came after 10 security guards and five police officers along with a number of protesters were injured in earlier clashes, director of administration Kitty Choi said at a press briefing today. The government has revoked permits for three groups to hold rallies at the same site tomorrow, Choi said.
Demonstrators charged a cordon and police used pepper spray after warnings, the government said. Thirteen protesters aged 16 to 35 were taken into custody earlier on offenses of forcible entry into government premises, disorderly conduct in a public place and assaulting officers, according to another government statement today.
The violence marks an escalation in tensions as activists try to pressure mainland China to allow a more open election for Hong Kong's top official post in 2017. The rally that began yesterday was held by students who boycotted classes this week, and was one of a series of protests before a mass sit-in at the central business district planned for next week.
Protesters today chanted slogans including "don't hurt the students", "students have no sins" and "police back off." Uniformed police were were seen in Cable TV footage from about 1:30 p.m. removing protesters sitting on the ground.
Candidate Vetting
China said last month candidates for the 2017 election must be vetted by a committee, angering activists who say the group is packed with business executives and lawmakers who favor Beijing. Thousands of students boycotted classes starting Sept. 22 to express their dissatisfaction.
Yesterday, hundreds of activists chanted "reclaim civic square, reclaim the Hong Kong people's future" and "release the students" after chaotic scenes that saw some carried away for medical treatment. Anti-riot police with helmets and shields clashed with protesters defending themselves with umbrellas and warding off pepper spray by applying plastic wraps over their eyes.
About 150 protesters climbed over the fence surrounding the east-wing forecourt of the Hong Kong headquarters on Tim Mei Avenue last night, according to the government statement. About 100 people were still sitting in the forecourt at the time, according to the statement issued at 8:23 a.m.
Joshua Wong, founder of a student activist group Scholarism, was dragged away by police, television footage showed.
Illegal Gathering
Those remaining at the site in the city's Admiralty area were considered to be taking part in an illegal gathering, after assaults on government premises and the legislature, the police said in a statement earlier today before the removal of the protesters started.
Facing criticism of excessive use of police force, Secretary for Security Lai Tung-kwok said at a separate press conference today that officers used equipment appropriate to the situations. Police are still reviewing an application by the pro-democracy group Occupy Central with Love and Peace to hold a demonstration, Lai said.
Organizers of the Occupy Central movement this week invited people to join a "democracy banquet" on China's National Day on Oct. 1, signaling the start of a plan to paralyze Hong Kong's business district.
Class Boycott
Benny Tai and Chan Kin-man, two leaders of Occupy Central, came to show their support at today's protest, RTHK reported. They planned to stay with the students at the risk of arrest, and their movement may have to prepare for the same degree of force used by the police overnight, Tai said in Cable TV footage.
A committee will meet to discuss whether to extend the class boycott, RTHK reported on its website, citing Tommy Cheung, president of the student union at the Chinese University of Hong Kong.
Earlier, demonstrators said they wanted to reclaim the protest spot unofficially called civic square, which the government had sealed off with a metal fence. Talking to Cable TV, Alex Chow, secretary-general of the Hong Kong Federation of Students, said they needed to escalate their action as Chief Executive Leung Chun-ying ignored requests to meet them.
"The Leung Chun-ying government and China are responsible for such a deep division of Hong Kong's society," said Emily Lau, chairman of the Democratic Party and a lawmaker. Clad in black with a yellow ribbon, she was addressing the crowd outside the government headquarters.
Metal Fence
Leung has said that protesters and opposition lawmakers run the risk of China canceling the popular election, and people should be "pragmatic" about the pace of reforms.
Organizers of Occupy Central said Sept. 25 that they expect 10,000 people to join a rally in the business district to demand broader voting rights. Participants should bring enough food and water for two to three days for the sit-in protest that will last days, Chan, a co-founder of the activist group, told reporters, without giving a specific date for the event.
"Citizens should start preparing physically and psychologically now for civil disobedience," said Chan, an associate professor of sociology at the Chinese University of Hong Kong. "We insist on non-violent means. If we encounter the police and anti-Occupy Central people, we should not do anything that could hurt them physically, psychologically and financially."
Before it's here, it's on the Bloomberg Terminal.
LEARN MORE