Gross Loses Pimco Power Struggle With 'Stunning' Exit
Mary Childs and Alexis Leondis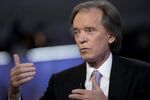 After building the biggest and most powerful bond fund in the world over three decades, Bill Gross engineered a hasty exit. With his deputies at Pacific Investment Management Co. threatening to quit and management debating his ouster, the bond king was losing control of the $2 trillion firm he created almost singlehandedly.
He picked up the phone and cold-called DoubleLine Capital LP, asking for Jeffrey Gundlach, a money manager with a personality as big as his own, to discuss joining the much smaller crosstown competitor. The talks didn't go anywhere and Gross agreed to run a startup fund with no assets at Janus Capital Group Inc., a struggling stock-fund manager 1,000 miles away in Denver led by his former employee.
Michael Rosen, chief investment officer at Santa Monica, California-based Angeles Investment Advisors, had one word for the move: "Stunning."
The surprise decision by 70-year-old Gross, whose personal wealth is estimated at $2 billion by the Bloomberg Billionaires Index, marks a turning point in one of the most remarkable careers in money management. Gross personally oversaw more money than any investor on the planet, and was synonymous with the firm he co-founded in 1971, until his main fund started to trail peers and his leadership style attracted scrutiny.
Gross's move sparked a selloff in the markets he favors, including U.S. Treasuries, credit derivative indexes and the Mexican peso. It sent the shares of Pimco parent Allianz SE down the most in almost three years, and lifted Janus's stock to its biggest gain on record.
'Most Influential'
"Bill is the most influential and respected bond manager in history," said Jack Malvey, the chief global-markets strategist at Bank of New York Mellon Corp. "In being the primary creator of fixed-income total return management in the 1970s, he revolutionized the asset-management industry."
Pimco's executive committee, with backing from Allianz, had discussed firing Gross after other senior managers including Daniel Ivascyn threatened to quit, according to two people with knowledge of the matter.
Gross's management style has attracted scrutiny since the abrupt resignation of former Chief Executive Officer Mohamed El-Erian, who had clashed with Gross over management of the firm. The firm announced the biggest management reorganization in its history in January after El-Erian's departure. Gross at one point told him, "I have a 41-year track record of investing excellence. What do you have?"
Shrinking Assets
Apart from his autocratic style, the performance of his main fund was also causing concern. The Total Return Fund has shrunk from a peak of $293 billion last year as returns trailed rivals and investors turned away from traditional fixed-income strategies in anticipation of rising interest rates.
Pimco named Ivascyn, who was appointed one of six deputy CIOs in January following El-Erian's departure, as group chief investment officer following Gross's resignation to join Janus. Mark Kiesel, Scott Mather, and Mihir Worah will take over management of the Pimco Total Return Fund.
"While we are grateful for everything Bill contributed to building our firm and delivering value to Pimco's clients, over the course of this year it became increasingly clear that the firm's leadership and Bill have fundamental differences about how to take Pimco forward," Pimco CEO Douglas Hodge said in a statement.
Blackjack Win
Gross, born in the Ohio steel-company town of Middletown, made his first real money turning $200 into $10,000 at the Las Vegas blackjack tables after graduating from Duke University with a degree in psychology in 1966.
He's made a lot of money for investors, too. Over the past 15 years ended Aug. 31, Gross's $222 billion Pimco Total Return Fund advanced at an annual rate of 6.9 percent, beating 96 percent of peers, according to data from Morningstar Inc.
Assets at Pimco more than quintupled in the past decade, accelerating after the 2008 financial crisis as investors fled to the relative safety of bonds and Gross's fund beat peers. Gross saw the mortgage debacle coming and was able to dodge most of the damage, deciding as early as 2005 to shun the riskiest subprime debt. Pimco Total Return Fund rose 4.8 percent in 2008, beating 82 percent of peers, according to data compiled by Bloomberg.
More recently, his performance has faltered amid wrong-way calls on U.S. Treasuries, prompting a record streak of redemptions from his fund.
Reassuring Clients
The mutual fund has suffered 16 straight months of redemptions, as investors pulled a net $3.9 billion in August, according to Chicago-based researcher Morningstar.
Gross tried to stanch redemptions and reassure clients, saying in May that Pimco funds will rank at the top again by year-end. Pimco is betting on a "new neutral" era characterized by global growth converging toward lower, more stable speeds and interest rates that remain below their pre-crisis equilibrium.
For Gross, the move to Janus is a chance to resuscitate his reputation as a bond investor and go back to building up a smaller firm. Gross said Janus was the "right fit" for him.
"I look forward to returning my full focus to the fixed income markets and investing, giving up many of the complexities that go with managing a large, complicated organization," Gross said in the statement. "I chose Janus as my next home because of my long standing relationship with and respect for CEO Dick Weil and my desire to get back to spending the bulk of my day managing client assets."
Struggling Janus
Janus, with $178 billion in assets under management, has struggled since the bursting of the Internet bubble after rapid growth in the 1990s. The firm was one of the first mutual-fund companies identified by former New York Attorney General Eliot Spitzer in September 2003 as permitting improper trading and agreed to pay $226 million in penalties and management fee cuts to settle complaints. More recently, Janus has struggled with underperformance and employee defections.
"This is a shot in the arm for the growth prospects of Janus," Michael Kim, an analyst with Sandler O'Neill & Partners in New York, said in a telephone interview.
For Pimco, Gross's departure may mean asset withdrawals of 10 percent to 30 percent, Sanford Bernstein said in a report. Some wealth managers had already been exiting Pimco this year amid confusion over its leadership.
"Ever since the Mohamed departure, the knives were out for Bill," said Kurt Brouwer, chairman of Tiburon, California-based advisory firm Brouwer & Janachowski LLC, who has invested in Pimco funds since the 1980s. He's still deciding if the firm's investments will stay at Pimco, follow Gross to Janus, both, or neither. "They have not handled their corporate decisions very well, but from a money-management perspective, I don't have any issue with the Pimco organization."
Before it's here, it's on the Bloomberg Terminal.
LEARN MORE