Pimco's Gross to Join Janus Capital to Manage Bond Fund
Devin Banerjee and Laura Marcinek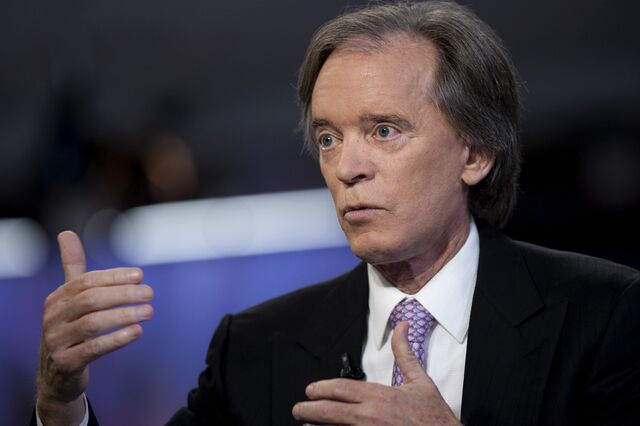 Bill Gross, who co-founded Pacific Investment Management Co. more than four decades ago and rose to become manager of the world's biggest bond mutual fund, is leaving amid a dispute with management over how to move the firm forward and end record redemptions.
Gross, 70 and until today manager of the $222 billion Pimco Total Return fund, will join Janus Capital Group Inc. to oversee a new bond fund, according to a statement today from Denver-based Janus. As of last night, Pimco was considering naming Daniel Ivascyn to succeed Gross as CIO, according to a person familiar with the matter who asked not to be identified because the information is private.
"I look forward to returning my full focus to the fixed income markets and investing, giving up many of the complexities that go with managing a large, complicated organization," Gross said in the statement. "I chose Janus as my next home because of my long standing relationship with and respect for CEO Dick Weil and my desire to get back to spending the bulk of my day managing client assets."
The departure of Gross, a legend in bond investing, caps a tumultuous year for Pimco and marks the end of an era for the firm he helped create in 1971. Pimco in January announced the biggest management reorganization in its history after the abrupt resignation of former Chief Executive Officer Mohamed El-Erian, who had clashed with Gross over management of the firm. Gross's main fund has shrunk from a peak of $293 billion last year as performance trailed rivals and investors turned away from traditional fixed-income strategies in anticipation of rising interest rates.
'Fundamental Differences'
"While we are grateful for everything Bill contributed to building our firm and delivering value to PIMCO's clients, over the course of this year it became increasingly clear that the firm's leadership and Bill have fundamental differences about how to take PIMCO forward," Douglas Hodge, Pimco's CEO, said in a separate statement.
Janus rose 34 percent to $14.93 at 12:45 p.m. in New York, its largest intraday gain since September 2008. Allianz SE, the German insurer that owns Pimco, declined 6.2 percent in Frankfurt, the most in almost three years.
"PIMCO has activated its succession plan and will announce a successor within the next several hours," Allianz said in a statement at 9:27 a.m. in New York.
Gross knows Janus's Weil from Pimco, where Weil worked from 1996 to 2010. He served as general counsel at Pimco and later became a manager director and chief operating officer. He was hired to run Janus in January 2010.
'Right Fit'
"It was not without great thought and deliberation over quite some time that I decided to begin this next chapter," Gross said in an e-mailed statement from Janus spokesman Steven Shapiro. "It is a time for me to reduce executive and people management responsibilities at a larger firm and focus on the pure aspects of portfolio management at a smaller one. Janus is the right fit at the right time in my career -- and my life."
Attempts to reach Gross through his assistant were unsuccessful, and he didn't return e-mails seeking comment.
Janus managed $178 billion in assets as of June. The company has struggled to stem defections even as it expanded the fixed-income team and created another to focus on multi-asset investing.
El-Erian, 56, widely viewed as the successor to Gross, left in March after six years, leaving his dual roles of CEO and co-chief investment officer. He was the first Pimco manager to share the title of investment chief with Gross.
'So Shocking'
Gross's move also comes as U.S. regulators probe his Pimco Total Return ETF, a separate vehicle from the Pimco Total Return mutual fund. The Securities and Exchange Commission is investigating whether Pimco bought many bonds at discounts then marked them up, a person familiar with the matter said this week.
Gross, whose net worth is estimated at $2 billion by the Bloomberg Billionaires Index, has more than $240 million of his own money in Pimco's closed-end funds, according to data compiled by Bloomberg.
"Gross was a big supporter with his own personal purchases in them and coming out and making comments in the past about how they're great investments," Aaron Izenstark, chief investment officer and co-founder of Northbrook, Illinois-based Iron Financial LLC, said by phone. "That's why it's so shocking. It's bringing the unknown into the situation."
Funds Slide
The funds slipped on the announcement that Gross will leave. The Pimco Corporate & Income Opportunity Fund slid 5 percent and the Pimco Income Strategy Fund slumped 4.4 percent.
Pimco's main fund, Total Return, has returned 3.6 percent this year, trailing 57 percent of peers, according to data compiled by Bloomberg. It had $3.9 billion of net investor withdrawals in August, the 16th straight month of redemptions.
"For Pimco, this raises a real question mark about the stability of the entire organization," Burton Greenwald, a mutual-fund consultant in Philadelphia, said of Gross's departure. "Until they show some positive developments, they will have a difficult time raising assets. Whatever momentum they had will be lost."
Jonathan Grabel, chief investment officer of the Public Employees Retirement Association of New Mexico, said he's working with his board today to update it of Pimco's development. Pimco manages a separate account for the pension fund.
"Personnel movements are important with all our managers," Grabel said in a telephone interview. "We're looking into the impact, and we have a fiduciary duty to do so."
(An earlier version of this story corrected Gross's title at Pimco to chief investment officer from co-chief investment officer.)
Before it's here, it's on the Bloomberg Terminal.
LEARN MORE