pursuits
The Jumping Sneaker Prices Behind Nike's Boom Times
By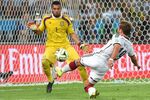 It's not a bad morning in Beaverton, Ore. Nike padded its stats considerably overnight, adding $7.5 billion to its value on paper after posting a dazzling financial report.
Like an athlete in the zone, even the riskiest plays are paying off for Nike. Last quarter the giant swoosh poured almost $900 million into ads and athlete sponsorships, 23 percent more than in the year-earlier period, as it tried to put its mark on the World Cup. It was a bonkers amount of money, but it also ensured Nike cleats were on Mario Götze when the German phenom swatted home the championship-winning goal in overtime.
Advertising aside, the company is also performing well with its basic blocking and tackling. Its supply chain is tight and its online store is humming, which helped Nike post a 30 percent increase in direct-to-consumer sales. And it finally seems to have figured out China, where it realized an 18 percent sales boost in the country during the recent quarter.
Underneath all of this, however, was a far less nuanced strategy: charge more money.
Nike said it pushed the average selling price for its namesake brand up 5 percent in the past year. For every $100 pair of sneakers Nike sells these days, it pockets $46.60. Another $34.50 of that goes to paying executives, Uncle Sam, and LeBron James, but it's still a towering gross margin.
Nike Chief Financial Officer Donald Blair said the company is finding "tremendous strength" at the top end of the market. In the current period, Nike said, it's going to push that boundary even further, capturing another $1.50 for every $100 sale. (Kids, jot this down for future allowance negotiations.)
How the heck is it doing that, analysts ask? Branding and innovation is the company line, two words Nike executives crow about endlessly: make a new fabric, then pay Cristiano Ronaldo to market it.
But there's a little more to it than that. Nike works tirelessly to make sure there is no such thing as a standard product and thus no such thing as a standard price. This is kind of rare and difficult in consumer goods. Take Apple's Beats headphones. There are six different models now with prices ranging from $170 to $400. Anyone in the market for a set of Beats Studio headphones is going to notice if Apple hikes the price from $300 to $315.
At Nike, however, the choices are virtually limitless. Take men's running shoes. There are 81 different models on the Nike Web store today, with prices ranging from $40 to $225. Even a runner who knows what he likes is going to have trouble arriving at any kind of stable price level. Someone dedicated to Nike's Free 4.0, for example, would come across six options on the website this morning: Free 4.0 Flyknit iD ($160), Free 4.0 Flyknit in blue ($120), the same in highlighter yellow ($95), Free 4.0 ($90), Free 4.0 in white ($75), and Free 4.0 in blue ($70).
The prices vary further based on where the shopper lives or, if he shops the old-fashioned way, which stores he goes to. "We're working on pricing at a style-by-style level, at a market-by-market level," Trevor Edwards, president of the Nike brand, explained to analysts. In basketball and soccer, Nike throws in yet another wrinkle with its limited-edition releases, like the fancy $400 Jordan Shine that goes on sale tomorrow morning.
Not only does the endless product tweaking keep customers guessing about how much Nike's products cost, but it separates them by willingness to pay. The company is never going to settle for a measly $70 from a customer who is more than happy to pay $200 for a pair of running shoes.
Nike shoes, like its shares, are more expensive than ever. The trick is that no one noticed.
Before it's here, it's on the Bloomberg Terminal.
LEARN MORE