Perella Weinberg Buys Former Squatters' Site in Berlin
Dalia Fahmy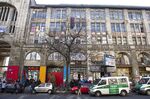 Perella Weinberg Partners LP agreed to buy the site of Berlin's Tacheles building, a former department store that was occupied by squatters for two decades.
Perella Weinberg, a New York-based asset-management and advisory firm, plans to use the 25,000 square-meter (270,000 square-foot) site to construct apartments, shops and hotel rooms, Leon Bressler, Perella's head of real estate, said today by phone. Perella bought the site for about 150 million euros ($190 million) from German real estate investor Anno August Jagdfeld, according to a person with knowledge of the deal who asked not to be identified because the information is private.
"This is is the most attractive area in Berlin," Bressler said. "We believe in Berlin and we will produce something that is very positive for the city." He declined to comment on the price.
Christian Ploeger, a spokesman for Jagdfeld, declined to comment.
The Tacheles building, situated in what used to be communist East Berlin, was taken over by artists in 1990 following German reunification. At the time it was slated for demolition, and it's now covered in graffiti and posters. Perella plans to renovate the building and make it a cultural space. The property includes wasteland and a parking lot.
During the squat, Tacheles had become an attraction for tourists who came to see sculptures made of scrap metal and other art works. The last remaining squatters were evicted in 2012.
Asking Price
A rebuilding of the site would add to the gentrification of Berlin's central Mitte district, where luxury boutiques and modern condominiums have replaced rundown squats and abandoned land. A mall that's set to become Germany's biggest opened in Mitte today, on the site of a former department store that was seized by the Nazis from its Jewish owners. Investors including private-equity firms, insurance companies and pension funds are buying commercial property to benefit from the city's growing economy.
Developing the Tacheles site would help connect the commercial hubs in the area, including Hackescher Markt, Friedrichstrasse and Oranienburger Strasse, Bressler said.
"It's important to build a mixed-use project which will create life in that part of Berlin," he said. "It was an extremely active area in the early part of the 20th century."
Landmark Hotel
Jagdfeld will use the proceeds to pay off debt to HSH Nordbank AG, which financed his 1998 acquisition of the property and put it into administration in 2008, two people with knowledge of the matter said in November, when Jagdfeld's plan to sell first became public.
Rune Hoffmann, a spokesman for HSH Nordbank, declined to comment.
Jagdfeld, whose fund-management company also owns the landmark Adlon Kempinski Hotel at the Brandenburg Gate, was seeking 200 million euros for the property, according to a prospectus obtained by Bloomberg in November.
Jagdfeld has invested in other German landmarks. He owned the Grand Hotel Heiligendamm on the Baltic Sea that was used for a Group of Eight summit in 2007 before it became insolvent in 2012. Jagdfeld owns the Quartier 206 shopping mall on Friedrichstrasse that's been put into administration by Credit Suisse Group AG.
Before it's here, it's on the Bloomberg Terminal.
LEARN MORE