H&M Third-Quarter Profitability Declines on Garment Costs
Katarina Gustafsson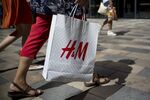 Hennes & Mauritz AB reported a decline in third-quarter profitability and warned that higher garment costs will weigh on margins the rest of the year.
The shares fell as much as 4.2 percent, the most in six months, after Europe's second-biggest clothing retailer also said September sales advanced at the slowest pace in a year as warm weather in many markets held back shoppers from updating their autumn wardrobes.
The gross margin narrowed to 58.3 percent in the three months through August from 58.8 percent a year earlier, the Stockholm-based company said, continuing its retreat from a 2010 peak. Competition from low-cost clothing retailers such as Primark has been increasing, and costs to make garments have risen. Cambodia is considering a new minimum wage after strikes over garment workers' pay led to deadly clashes in January and protests this month.
"The question is: can the H&M gross margin ever rise?" Anne Critchlow, an analyst at Societe Generale, said by phone today. "H&M isn't committed to the gross margin in itself, it has a commitment to offering fashion at the best price to the customers, which I think is the right one for long-term market share growth, but it does mean perhaps the gross margin will be under pressure over time."
Wage Increases
H&M is expanding its online business and is investing in its other brands including & Other Stories and COS to stoke sales growth. Such investments for the longer term are weighing on the margin now, Chief Executive Officer Karl-Johan Persson said in an interview at H&M's Stockholm headquarters. Wage increases the retailer helped push through in Bangladesh are also weighing on profitability, he said.
"Competition is getting tougher and tougher for every year," Persson said. Still, he said the retailer is gaining market share in all its markets.
The shares traded 3.6 percent lower at 302.25 kronor as of 12:06 p.m., paring the advance for the year to 2.1 percent. The company said factors such as raw material prices, exchange rates and transportation costs have been "slightly negative" for the fourth quarter's purchasing period.
The Swedish retailer, which sells red leather biker pants for $199 and velvet jumpsuits for $69.95, added online businesses in four markets including China in the third quarter and plans to open in as many as 10 next year.
"New e-commerce markets are likely to be smaller," wrote Jamie Merriman, an analyst at Sanford C. Bernstein, in a note to investors. "The contribution to top-line growth will diminish over time."
Third-quarter net income rose 20 percent to 5.3 billion kronor ($740 million), H&M said. Analysts expected 5.27 billion kronor, according to the average of estimates compiled by Bloomberg.
The retailer's first store in India, which was planned to open this fall, is now anticipated to open in spring 2015. H&M also announced today that it plans stores in Taiwan and Macau next year.
Before it's here, it's on the Bloomberg Terminal.
LEARN MORE