The Man Whose Job Is to Make Sure Workers Get Paid
The Labor Department administrator's mission is to get employers to pay workers what they're owed
By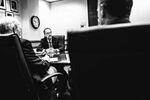 Administrator, U.S. Department of Labor, Wage and Hour Division
On average, low-wage workers are only paid about 85 percent of the money they should make each week. The rest—$50 billion a year by one recent estimate—stays in the hands of employers who fudge time sheets, make employees work off the clock, or refuse to pay overtime. Last year the Obama administration tapped David Weil, a professor of economics and management, to head the Labor Department's Wage and Hour Division, which enforces laws against so-called wage theft.
In a 2010 study, Weil urged the WHD to focus on deterrence by increasing inspections of companies in low-wage industries such as fast food, residential construction, and retail where violations were likely to be widespread. Now, Weil is acting on his own recommendations. "Sometimes workers in the worst conditions are the least likely to complain," says Weil.
At Obama's request, the division is also developing a rule that would make more white-collar workers eligible for overtime pay. In August, Weil announced that LinkedIn would pay almost $6 million in damages and back wages to 359 workers. "David's smart, he's strategic, he's really committed on this stuff," says Kim Bobo, executive director of labor advocacy group Interfaith Worker Justice, who helped popularize the term wage theft. "Essentially, it's a game of triage."
Before it's here, it's on the Bloomberg Terminal.
LEARN MORE