Women TV News Anchors and Their Unforgiving Road to the Top
The unforgiving road to the top for a woman in TV news
by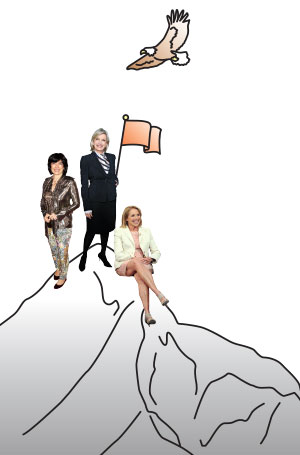 There's an anecdote in Sheila Weller's The News Sorority that takes place during the beginning of Katie Couric's run as the first solo female anchor at the CBS Evening News. It was 2006, and at the time, CBS "was a very macho atmosphere," according to one source the author quotes. Weller recounts how a male producer, over an internal audio line that everyone in the office could hear, said about Couric: "The only person I've seen who looks worse without her makeup on is Diane Sawyer." A female producer, writes Weller, was shocked. "What did it say about a man in senior management that he didn't know he shouldn't say that, of his boss, out loud?"
It's these kinds of gossipy tales of sexism and ambition that propel Weller's 436-page account, subtitled Diane Sawyer, Katie Couric, Christiane Amanpour—and the (Ongoing, Imperfect, Complicated) Triumph of Women in TV News. She paints a portrait of three ambitious journalists skilled at charming and manipulating the right people, indifferent to whether their colleagues liked them, and willing to work inhuman schedules and (in some cases) delay or forgo having families in service to their careers.
Sawyer—a product of beauty pageant contests, voice lessons, and her mother's "rabid ambition"—left Louisville for Wellesley College and then joined the CBS affiliate back home as a weather girl. The industry at the time was dominated by Edward R. Murrow and Walter Cronkite: "It was a guy's club up and down, long excused from the male-chauvinism rap because of the drama, heroism—the sheer élan—of being a war correspondent," Weller writes.
Sawyer's background as America's Junior Miss didn't help her quest to be taken seriously, but she redeemed herself by taking a job as a press aide in the Nixon White House. Watergate, the scandal that brought down her boss, helped propel her back into the news game, where a number of serious female reporters such as Connie Chung and Leslie Stahl were making inroads. Sawyer began a relentless march through morning shows and evening magazine programs—and married film director Mike Nichols in her early 40s—and finally landed in her own evening anchor seat at ABC's World News Tonight, which she relinquished in August.
Amanpour comes off as the most substantive. The daughter of an English adventuress and an Iranian airline executive, she turned her British accent and dusky good looks into trademarks. She saw her career lift off with the first Gulf War invasion and the siege of Sarajevo, during which she reported for CNN, where Amanpour was "a single female and neophyte hungrily acquiring experience." She proved herself impervious to fear when a female camera operator who'd become her mentor was shot in the face by snipers in Bosnia. Amanpour was badly shaken by the tragedy, but, as Weller puts it, she "gritted her teeth and said, 'I'm going back.' " Returning to the war zone made her career.
Poor Couric gets the harshest treatment. She'd wanted to be a TV reporter from the age of 13, growing up as a cheerleader in Virginia, and one gets the sense that she would have done anything to get there. Couric's labeled by former co-workers as "pixielike. And very, very clever about who to get near and who to get to know." And she apparently "flirted up a storm" with various executives in a position to help her. A chance encounter with a young Jeff Zucker in a hallway at NBC changed her fate. Zucker guided her from a frazzled Today correspondent to the star of the show; their pairing was "one of the most formidable news star/producer combinations of the last 25 years of television." In 2006, Couric's incredible levels of energy and determination finally brought her the anchor job she coveted.
Weller's book is sure to be catnip to TV obsessives and people in the news business, but the story can be overwhelmed by the bounty of detail and reporting. As for Couric, she didn't like being a news anchor as much as she thought she would. She left her post in 2011, briefly reinventing herself as an ABC daytime talk show host on Katie (for which she was paid $40 million upfront). In the past five years, network newscasts have lost most if not all of their influence as viewers turn increasingly to other platforms to get their information. Couric, of course, is still in the race. Her latest role: teaming with Marissa Mayer as global anchor of Yahoo! News. 
Before it's here, it's on the Bloomberg Terminal.
LEARN MORE