BofA Hires Romano as Mexican Chief in Latin America Push
Cristiane Lucchesi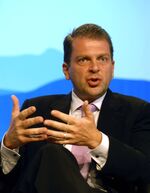 Bank of America Corp., the second-largest U.S. bank, said it hired Emilio Romano, formerly of NBCUniversal LLC's Telemundo, as chief executive officer for Mexico.
Romano, 49, will start on Oct. 20 and replace Tito Vidaurri, who transfers to the U.S., Alexandre Bettamio, BofA's president and CEO for Latin America, said in an e-mailed statement. Romano, the Telemundo network's president from 2011 to 2013, will report to Bettamio.
"Emilio is a natural and charismatic leader as well as a strong team player and will work to capture market opportunities to take our franchise in Mexico to the next level," said Bettamio.
BofA hired 150 people this year in Latin America, according to Bettamio, as it gains market share in investment banking. The bank rose to second in the past year behind Morgan Stanley among merger-and-acquisition financial advisers for the region, from seventh in the previous 12 months, according to data compiled by Bloomberg.
The lender participated in M&A transactions valued at $57.85 billion in the past year, a fourfold increase from the previous 12 months, the data show.
Bank of America was Corpbanca SA's adviser on its acquisition by Itau Unibanco Holding SA in a $2.3 billion deal announced in January. The Charlotte, North Carolina-based bank worked with Endesa SA on the sale of 60.62 percent of Enersis SA to Enel Energy Europe Srl for 900 million euros ($1.15 billion).
Bond Underwriting
BofA Merrill Lynch was third in bond underwriting for Latin America in the past 12 months, with 77 transactions valued at a total of $14.35 billion, data compiled by Bloomberg show. It was fifth in the prior year, with 58 deals.
The lender was among lead managers on a $3 billion bond sale by Petroleos Mexicanos on Jan. 15 and a $1.25 billion bond sale by the Republic of Panama on Sept. 15.
Romano is a former president and CEO of Grupo Puerta Alameda, a real estate development and investment company, and ex-CEO of Grupo Mexicana de Aviacion SA de CV. He has held posts in the Mexican Ministry of Finance, including general director of tax policy and federal fiscal attorney.
Bettamio became president and CEO for Latin America in September as the bank reorganized international units, he said. Latin American countries were formerly part of the lender's emerging-markets group. Now, the Latin America CEO reports directly to Thomas Montag, BofA's co-chief operating officer.
Bank of America has more than 1,000 staff dedicated to Latin America, Bettamio said on February.
Before it's here, it's on the Bloomberg Terminal.
LEARN MORE