Modi Manufacturing Dream Confronts Ending Red Tape Nightmare
Unni Krishnan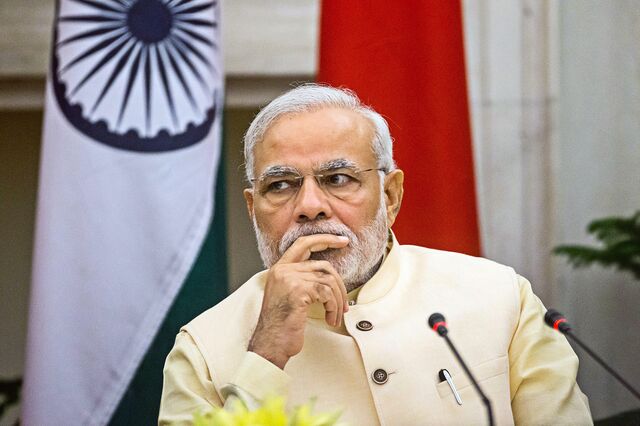 Prime Minister Narendra Modi today called for foreign and domestic companies to help create a vibrant manufacturing sector in India, a narrative that helped him sweep to power. For businesses facing power shortages and a byzantine tax system, the follow-through can't come soon enough.
Modi hosted the "Make in India" conference in New Delhi designed to showcase the country's potential as a location for factories. He made his case on the eve of a visit to the U.S., where he'll make a similar pitch to chiefs of American industry.
"I agree that you cannot attract investment just by an invitation," Modi told an audience that included leading industrialists like Mukesh Ambani, India's richest man. "The most essential factor is trust. Let's start with trust and the government will intervene only if it sees any deficiencies."
At stake for Modi, 64, is lifting the lowest living standards among emerging markets, in an economy struggling to restore growth rates in excess of 7 percent sustained earlier this decade. Success will require spending political capital on controversial steps such as freeing up labor laws and assuring foreign firms against retroactive tax penalties, analysts say.
"It will be unambiguously positive for India to be a manufacturing powerhouse but the reforms can be challenging," said Robert Subbaraman, chief economist for Asia excluding Japan at Nomura Holdings Inc. in Singapore, who previously worked at Australia's central bank. "You need a decisive leader to see them through."
Brochures, Website
India fell to 134 of 189 economies in the World Bank's Ease of Doing Business index, from 131 last year. It's ranked 76th of 143 nations in the Global Innovation Index 2014, published by Cornell University, and 71 of 144 in the World Economic Forum's Global Competitiveness Report, behind Brazil and Vietnam.
"Global companies want to come to Asia but they don't know where to look in Asia," Modi said. "Democracy, the demographic dividend and strong demand are important factors, and India has all three."
The initiative includes the creation of a website through which companies can seek policy clarifications within 72 hours. Modi will also release separate brochures for 25 sectors including automobiles, pharmaceuticals and ports in which India has the potential to become a "world leader," it said.
Modi's administration refrained from cutting subsidies in its first budget and retained a retroactive tax law that has entangled Vodafone Group Plc in a $2.4 billion dispute. It also stopped short of allowing foreigners majority stakes in defense companies and blocked a global trade deal.
Make vs Buy
Former Prime Minister Manmohan Singh formed a committee in June 2013 to clear 463 blocked investments worth 22 trillion rupees ($362 billion). While 176 of those proposals worth 6.48 trillion rupees have been approved so far, only 60 have begun construction, Anil Swarup, who heads the committee known as the Project Monitoring Group, said in a Sept. 3 interview.
"'Make versus Buy' is a financial decision," Shantanu Das Gupta, vice president for strategy at Whirlpool of India Ltd., a unit of Michigan-based appliance maker Whirlpool Corp., said in an e-mail. "Therefore there could be some challenges in making this succeed in sectors where the dependence on imports has become high, due to factors ranging from an undeveloped supply base to lower cost" of components, he said.
The government is seeking to boost the share of manufacturing in the $1.9 trillion economy to 25 percent from about 15 percent, Commerce Minister Nirmala Sitharaman told the conference today. That compares with 31 percent in South Korea, 32 percent in China and 33 percent in Thailand, according to the most recent World Bank data.
'Biggest Roadblock'
A third of the economy in Gujarat, a state Modi ran before he won federal elections, was driven by industry in the year ended March 2012, up from 23 percent in 2001-02.
"The biggest roadblock to India's development is that some decisions are made by the central government and most of these are implemented by the states," Modi said today. "In a situation of confusion the investor doesn't know whom to turn to. I endorse the view that this shouldn't happen any longer. The states and center need to work as a team."
Central bank Governor Raghuram Rajan will keep one of Asia's highest policy rates unchanged this year as he battles the region's fastest inflation, according to 16 of 26 economists in a Bloomberg survey. Six see rates rising, while four expect them to fall. Rajan raised the rate three times since September to buoy the rupee, after it plunged to a record low following an unprecedented current-account deficit.
The devaluation eroded the incumbent government's popularity and provided a boost to Modi. He won elections in May with the strongest mandate in 30 years, vowing to revive the economy and reduce India's reliance on imports.
Import Substitution
Modi's plan is different from that of Indonesia's President-elect Joko Widodo, who has proposed reducing imports by switching to locally made products, said N.R. Bhanumurthy, an economist at the National Institute of Public Finance and Policy in New Delhi.
"We aren't going back to the days of import substitution," Bhanumurthy, who has advised the government on economic policies, said in a phone interview. "India needs robust manufacturing to transition from a low-income to a middle-income country, given the size of the labor force."
Nearly 300 million Indians, a quarter of the total increase in the global workforce since 2010, will be looking for employment in the three decades to 2040, according to a United Nations report.
To ensure sustainable manufacturing and employability, the government must encourage local designing and develop a global standard, Ashok Chandak, chairman of the India Electronics and Semiconductor Association, said in an e-mail.
Manufacturer Insurance
Modi should also consider setting up a state insurance program to protect manufacturers from losses, on the lines of China Export and Credit Insurance Corp., Joy Kokkat, vice president of production and delivery for Pune-based Indieon Technologies Ltd., said by phone.
Electronics were 6.5 percent of India's imports in the year through March 30, the largest share after oil, gold and power-plant supplies, according to Commerce Ministry data. In 2012, an estimated 600 million Indians went without electricity in the north and east for three days after a grid collapsed because some states drew more than their quota.
The nation's employment laws are stricter than all but two of the 34 countries in the Organization for Economic Cooperation and Development, resulting in a disorganized economy composed mostly of small businesses. Government agencies looking to acquire land need permission from at least 70 percent of owners.
Foreign companies looking to invest in India have been enquiring about changes visible on the ground since Modi took over, and there aren't many so far, said Janmejeya Sinha, Asia-Pacific chairman at the Boston Consulting Group.
"India has the land, India has the people, India has everything -- why wouldn't global manufacturers come?" said Ajit Gulabchand, chairman of Mumbai-based Hindustan Construction Co. "Nothing happens in one second. Even if this happens in five years or ten years, I think it's an extraordinary achievement."
Before it's here, it's on the Bloomberg Terminal.
LEARN MORE