Dudley Opens New Front for Fed Doves With Dollar Warning
Simon Kennedy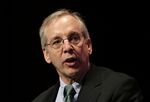 As William Dudley goes, so often goes the Fed.
In October 2010, he said the outlook for U.S. job growth and inflation was "unacceptable" and probably warranted more monetary stimulus. A month later, the central bank deployed its second round of quantitative easing.
Just this May, Dudley said the Fed's plan to cease reinvesting assets on its balance sheet before raising interest rates "may not be the best strategy." Last week, Chair Janet Yellen said fellow policy makers agreed.
As Federal Reserve Bank of New York president, Dudley is the only regional Fed chief with a permanent vote on policy and is the central bank's eyes and ears on Wall Street. So when Dudley says something new it's worth tuning in.
And this week he became the first Fed official to comment on the U.S. dollar since the Bloomberg Dollar Spot Index touched its highest level on a closing basis since June 2010. "If the dollar were to strengthen a lot, it would have consequences for growth," the 61-year-old Dudley, a former Goldman Sachs Group Inc. economist, said at the Bloomberg Markets Most Influential Summit in New York.
"We would have poorer trade performance, less exports, more imports," he said. "And if the dollar were to appreciate a lot, it would tend to dampen inflation. So it would make it harder to achieve our two objectives. So obviously we would take that into account."
So what does it mean for investors?
Dashboard Detail
For one thing, it suggests Dudley may be opening a new front against the higher interest rates some Fed policy makers are increasingly leaning toward. Deutsche Bank AG rates Dudley as dovish as Yellen -- so add the dollar to her labor-market dashboard as something to keep an eye on in the central bank's debate over raising its benchmark rate.
"If it was up to Dudley the Fed would no doubt take more time before hiking rates," says Lutz Karpowitz, senior currency strategist at Commerzbank AG in Frankfurt.
The test now will be whether Yellen starts echoing Dudley or if the Fed appears to react to a stronger currency. One reason to hold back is that Japan and Europe both prefer a rising dollar to help their own exporters' competitiveness and the Fed would welcome a more balanced bounce in global growth.
For now, Goldman Sachs says the Fed can afford not be too concerned. Economist Sven Jari Stehn concluded in a report released yesterday that the greenback's rise to date implies "limited" implications for the Fed given it is unlikely to knock more than 0.15 percentage point off growth in the next two years and a couple of basis points off inflation.
Still, Stehn warned "Continued dollar appreciation would, again, lead to somewhat larger effects."
Before it's here, it's on the Bloomberg Terminal.
LEARN MORE