Brooklyn Chef Counter Take Root Is Small And Mighty: Review
by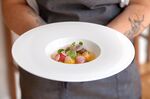 Restaurant kitchens require a certain amount of manpower to run, so unless you're popping over to his house, the chef isn't really the one cooking dinner for you. It's the chef plus many hands -- cooks who arrive early to wash, peel, and chop, prep all day, and cook through service, staying late to scrub down the kitchen and take stock of the walk in.
There are few exceptions to this rule. You'll find one in Carroll Gardens, Brooklyn, where the married couple Elise Kornack (back of house) and Anna Hieronimus (front of house) have a 12-seat restaurant called Take Root. Kornack, who is 27, has no prep cook, no dishwasher, no intern to pick and wash herbs, no sous chef to put out the fires. The kitchen is hers alone and what comes out of it can be marvelous.
A recent dish of cucumbers and macadamias was finished at the table with a pour of macadamia milk. It was rich with olive oil, thickened with bread leftover from last night's service, but meticulously strained and emulsified until it was lush as cream. Richer and more refined than an almond-based ajo blanco, the Spanish soup that informed it, it was also one of the loveliest things I've eaten this year. But dishes on Take Root's tasting menu ($105) change often, and this one has already been replaced by a more fall-friendly cured duck.
In her early twenties, Kornack cooked at The Spotted Pig and later Aquavit, but her food couldn't be mistaken for April Bloomfield's, nor is it off-brand Scandinavian. Kornack's style is distinct, beautiful, sharply focused. Each dish seems to push you to examine only a few ingredients very closely -- and enjoy them thoroughly. Take the creamed corn cooked in its own sweet, starchy juices, paved over with rounds of raw, bitter dandelion leaf that hide a dab of the spicy Italian pork spread known as nduja. But first: a few wedges of beet and sliced radish share the bowl with hickory-smoked egg yolk that's sticky as lemon curd, and packs an unreasonable amount of flavor. There's serious technique at work here, but also something rarer. There is nothing superfluous on Kornack's plates.

Mussels arrive early with a wee fork, presented in the half shell on a bed of salt. They may not be as valued in fine kitchens as oysters, or even as clams, but they're being treated so nicely here, they rise to the occasion: Plump, crowned only with pickled mustard seeds and a snip of lemon-bright sorrel, they shine. The lesson here is a good one: Don't underestimate the little guy.
Take Root's tiny dining room glows on a quiet, residential block of Carroll Gardens only three nights a week, for a single service. Set against New York's flashier, fast-expanding empires, its ambitions sure seem small. Still, it has them. Since the restaurant opened over a year ago, the tasting menu has grown to include more courses, and the casual, almost living-room style of service has sharpened up. It's the push and pull between those two elements -- the polish and the intimacy, in sync and at odds -- that makes dinner at Take Root so interesting, and so unlike other chef counters across the city.
Hieronimus, who runs the front of house, is a warm, eagle-eyed captain, hostess, and sommelier. Like Kornack, she has no assistants. She brings out the food and clears tables, builds excellent playlists peppered with Fleetwood Mac and Rhye, manages the reservations, and opens the wine. She also makes sure the bottles are served at just the right temperature, warning you if she thinks one may need more time to chill. All the wine is served in straight-sided tumblers. This design choice is by necessity (the Kinto tumblers stack and take up less room than wine glasses). It's also in step with the spare décor: a few potted plants along the wall, some succulents in the window, a stack of cookbooks. But when you've got a juicy pinot noir from Failla, you might want to swirl it about, and a tumbler isn't great at that sort of thing.

Kornack doesn't make a thing of it, but her menus are essentially vegetable parties, with meat, like that smudge of nduja, dancing backup for the most part. A larger piece of meat often steps in just toward the end, to close out the show.
On my last visit, it was a medallion of lamb on dark, wildly delicious lentils, the sweetness amplified with some fermented black garlic. It was so streamlined, it edged toward too basic. But here's how Kornack complicates and elevates a dish without muddling its focus: Moments after the lamb came out, she delivered an accompanying plate of gorgeously crisp lamb fat, the pieces thin as crackers, capped with walnut puree and lime juice. It had that delicately crackling texture of perfectly cooked fat, giving way to a melting softness underneath. On top, there was a mouth-tingling slice of jalapeño.
It was one of many surprises at Take Root. To enjoy it, you didn't need to know that a chef, composing a tasting menu entirely on her own, had found time to turn a scrap of fat into something beautiful, and to make a simple lamb dish even better. You only had to taste it.
Tejal Rao is the New York food critic for Bloomberg. Follow her on Twitter @tejalrao or email her at trao9@bloomberg.net

Take Root is at 187 Sackett Street in Brooklyn (Carroll Gardens); +1-347.227.7116 or take-root.com

Rating: Two stars

What to order: By default, the tasting menu ($105). Please, don't ignore the warm bread or accompanying dish of silky brown butter. The wine list is just a dozen bottles deep ($32 to $72), but you can't go wrong if you start with a glass of Gruet Brut ($10).

Who's next to you: A couple celebrating their first anniversary; a couple celebrating their tenth anniversary; a couple on a date.

Need to know: Take Root is dinner only, Thursday to Saturday, at 8 p.m. The tasting menu is composed of small portions that leave you at just the right amount of full and not stuffed silly. The best seats are at the tables, rather than the four seats at the too-tall counter, but those get booked up first.

Soundtrack: Dinner-party-friendly tunes playing at precisely the right volume (Fleetwood Mac, Rhye, Foster the People) plus soft conversations at neighboring tables.
Before it's here, it's on the Bloomberg Terminal.
LEARN MORE