Wal-Mart's Unusual Rewards for Employees Who Give to Its PAC
By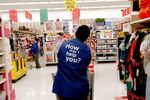 Liberal groups and a union-backed Walmart worker group are asking the Federal Election Commission to investigate Wal-Mart Stores' policy of rewarding contributions to its political action committee with donations to charity. Under the policy, every $1 an employee donates to Wal-Mart's PAC, which supports such probusiness candidates as Ohio Republican House Speaker John Boehner, Texas Republican Senator Ted Cruz, and Arkansas Democratic Senator Mark Pryor, triggers a $2 donation to a charity for Wal-Mart employees in need.
Using charitable contributions to reward PAC donations has become a widespread practice among U.S. corporations, which are restricted by law from donating directly to their PACs. At least seven times over the past two decades, FEC commissioners have been divided over whether to restrict companies from matching the political donations with philanthropic cash.
While such companies as Coca-Cola and Boeing also match PAC dollars with charity dollars, Wal-Mart's policy is unusual. Rather than just a 1-to-1 match, it offers 2 to 1. And instead of giving employees a choice of charities to support, it sends all the matching money to its Associates in Critical Need Trust, which benefit employees facing "extreme economic hardship due to situations outside of their control, including natural disasters."
In an FEC complaint (pdf) filed Monday, Common Cause, Public Citizen, and labor group OUR Walmart note that under the double-matching system, employees can generate a larger charitable donation to help their co-workers by giving to the PAC than they could by giving directly to the charity. The groups contend that arrangement violates the Federal Election Campaign Act, which bans companies from using their PACs "as a means of exchanging treasury monies for voluntary contributions" by using "direct or indirect compensation" to reward those who pony up cash. They note a 2004 memo from Wal-Mart's then-general counsel, reported by Bloomberg News's Renee Dudley, who announced the switch to a 2-to-1 match and said, "We're going to be relentless in encouraging participation until 100 percent of our management associates are on board."
"We are confident that our matching program is lawful, and that the FEC will find this complaint brought by groups not affiliated with Walmart lacks merit," a company spokesperson told Bloomberg News.
The FEC has explored the 2-to-1 issue before. In 2009, when the IntercontinentalExchange Group asked the FEC for an advisory opinion on whether 2-to-1 matching would be kosher, the commissioners were split 3 to 3; one said it would "smack of buying off the contributor." Lacking a majority on either side, they didn't issue an opinion.
Before it's here, it's on the Bloomberg Terminal.
LEARN MORE