Shuttlecock's Pan Am Parties Have You Singing Karaoke With the Pilot
by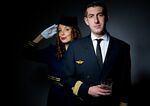 Do your Mile High Club fantasies include getting sauced with a '50s-era British pilot and bantering with Pan Am broads? Now's your chance.
Shuttlecock's latest pop-up dinner party, Mile High: Destination London, is landing in Manhattan for its nine-nights-only debut on September 24th.
"It's all very 'come fly with me,'" says wise-cracking actor/bartender Ed Templeton during a recent preview tour of the party's Lower East Side space. "I may or may not be drunk, depending on what time you show up," he adds in a posh West London accent, striking a debonair posture, as if he's already wearing his dark navy pilot's cap and gold-winged lapel pin.
Meet the Templeton cousins: Will the DJ (29), Anna the hostess (32), Ollie the chef (23), and the aforementioned Ed (30), co-founders of the bespoke party service Shuttlecock. The irreverent and spontaneous soirées from this band of young Brit misfits have seen sold-out success in the UK since first taking off in March 2013.
The Experience
"This is where it becomes fantasy land," says Anna as she leads me through what is fast being set-dressed as a classic Pall Mall gentleman's club. Think cigars, leather chesterfield chairs, a fireplace, and taxidermy -- a space most commonly reserved for the aristocratic old duffers of Britain's House of Lords. And now, ticket holders on Air Shuttlecock.
'Passengers' are invited into a first-class 'departure lounge' beginning at 7pm, where they can sip Taittinger with the pilot and cabin crew (four classically trained British actors in full Pan Am costume). A short time later they're called to 'board' and take their place at banquet tables while a DJ spins big-band jazz. At some point during the four-course meal there's a 'big secret surprise' -- which, for prior High Mile goers, involved bursting into song.

"One of my colleagues is a big Madonna fan, and they took requests," said Emily Elisha, a 42-year old media executive taking my call from London. Her firm, Zodiac Media Group, had booked Mile High's Andalusia-themed dinner for a corporate party. "So we got up and sang karaoke style to 'La Isla Bonita.' It did wonders for us as something to impress our clients."
Like Daybreaker, a cult 7am rave, and "Sleep No More," a mind-bending adaptation of "Macbeth" by Punchdrunk (another British theater company), immersive audience participation is key. As well as the imperative to just have some fun.
The Pop-Up Kids
Inspired by their identical twin dads, founders of London's private Landsdowne College, the cousins decided in 2012 to band together, quit their day jobs, and throw pop-up parties for a living.
"Autonomy is important, and that was ingrained in us. We each had a strong desire to do something for ourselves," says Will, his three cousins nodding in agreement.

It's working so far. Back home, demand has been high enough for their UK parties to open a permanent restaurant and event space, Carousel, in London's Marylebone neighborhood.
Here in New York, they've spent over $81,000 -- their biggest budget yet -- and are hoping to at least break even. Thankfully, this Monty Python Partridge Family doesn't take themselves too seriously.
"The food is dreadful in a gentlemen's club, hideous, really. They're used to spotted dick and bread pudding, the kind you'd get in University," says Anna, laughing at the thought. By comparison, Ollie's menu -- a product of training at Leith's school of food and wine -- seems a vast improvement.
The Four-Course Menu
Smoked duck breast, pickled walnut and chicory

Confit sea trout, oyster emulsion, dill and cucumber

Braised pork cheeks, lentils, and watercress

Treacle tart, clotted cream

"My menu is extremely British," says Ollie, a pro-chef materializing in a kid's body. "I brought over the pickled walnuts for fear of not being able to find them here. And we make our own clotted cream."

Is It Worth It?
At $125 per ticket, the evening comprises cocktails, bar snacks, dinner, and what previous guests say amounts to a night at the theater. In toto, it's an almost four-hour affair.
"You never know quite what to expect when you attend," wrote Kattalin Truman in an e-mail. A 32-year-old British lawyer and self-professed fan, she's attended previous Mile High parties in London with themes such as Andalusia, Spain, and Mozambique. "These pop-ups transport you out of the mundane for a few hours of escapism and fun."
Regardless of 'destination,' parties start with 1950s air travel, celebrating a romantic notion of when flying was a glamorous, well-dressed (and maybe even a little bit drunk) adventure. And of course, there's the pilot factor.
"He was a big hit with all the ladies. It's like he was a rock star, wearing shades and mingling with everyone. One of my clients desperately wanted a photo taken with him," added Emily Elisha, also a fan.
The Mile High: Destination London pop-up party runs from September 24th - October 4th at 168 Bowery in New York City.
Before it's here, it's on the Bloomberg Terminal.
LEARN MORE