'Alarm Bells Keep Ringing': Live Coverage of Climate Week 2014
by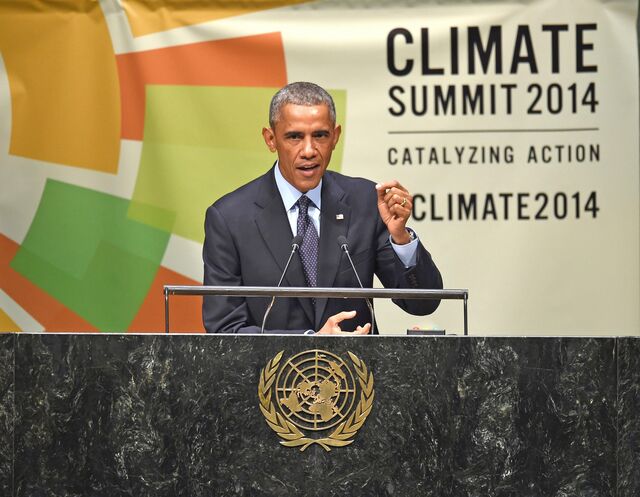 The biggest climate protest in history kicked off a week of debate, disruption and aspiration in New York. Here are the latest updates:
9.23.14 | Tom Randall
Obama Addresses the UN Climate Summit:
"The alarm bells keep ringing, our citizens keep marching. We cannot pretend we do not hear them.
We have to answer the call. We know what we have to do to avoid irreparable harm. We have to cut carbon pollution in our own countries, to prevent the worst effects of climate change. We have to adapt to the impacts that unfortunately we can no longer avoid. And we have to work together as a global community to tackle this global threat before it is too late."
See the video...
Read the transcript...
Read the story...
9.23.14 | NATASHA KHAN
China to Seek Peak in Carbon Emissions
China says it's ready to work with other countries to should climate responsibilities and said it would reach peak greenhouse gas levels as soon as possible, without specifying a date. It was the highest-level statement from China about reaching a peak in total emissions rather than simply curbing the energy intensity of the rapidly expanding economy.
Read more...

9.23.14 | ERIC ROSTON
Apple CEO Cook: And One More Thing ... Climate Change Is a Really Big Deal

Tim Cook is the most important person at the world's biggest company, which just had its biggest product launch in history. Yesterday he was in New York to talk about one thing: climate change.
9.23.14 | TOM RANDALL
Climate Denial to Cost U.S. Billions Of Dollars, New OMB Director Says
Call it the procrastinator's tax. That's what the world will have to pay for every year it delays on taking action on climate change. Building a cleaner economy costs money, but not nearly as much as putting it off, according to the new director of the U.S. Office of Management and Budget.
"Climate denial doesn't just fly in the face of the overwhelming judgment of science -- it is fiscally foolish," OMB Director Shaun Donovan said at a Center for American Progress event. You want numbers? We've got your numbers.
Read more…
9.23.14 | ALEX NUSSBAUM
Brazil Minister: Time to 'Cut the Crap' in Climate Talks

With the UN Climate Summit underway in NYC, Brazil's environment minister suggested world leaders take a page from the famously blunt locals: "This is New York, so cut the crap."
Read more...
9.23.14 | DAVID J. LYNCH
Obama Joins Climate Summit That Doesn't Force Remedies
President Barack Obama joins more than 100 world leaders today at a United Nations summit on climate change that's designed to move the issue beyond talk to action -- though not just yet.
The brainchild of UN Secretary-General Ban Ki-Moon, the daylong summit is designed to create momentum for negotiations on a draft global agreement in time for another meeting in December in Lima and a formal accord a year later in Paris.
Read more…
9.23.14 | CHRISTOPHER MARTIN
World's Greenest Banks: A Bloomberg Markets Ranking

As global investments in clean energy sank 11 percent to $245 billion last year, banks found a new opportunity: funding, advising and leading the initial public offerings of renewable-power investment firms called yield companies.

Buoyed by their work for this expanding industry, Royal Bank of Canada and Goldman Sachs moved into the top five in Bloomberg Markets' ranking of the world's greenest banks.
Read more...
9.23.14 | TOM RANDALL
Live Stream: United Nations Climate Summit
It's time to lead. Presidents, Prime Ministers and other heads of government from 125 countries gather today at the UN to discuss the future of climate-change policy. Each leader will have four minutes to address the assembly.
Speakers include U.S. President Barack Obama, U.K. Prime Minister David Cameron, French President Francois Hollande and South Korean President Park Geun-hye. It may be the largest-ever gathering of heads of state to discuss climate change, topping the Copenhagen UNFCCC conference in 2009.
Watch it live...
9.23.14 | MICHAEL B. MAROIS and ALISON VEKSHIN
California Leading on Emissions as Brown Signs New Laws
California Governor Jerry Brown has a moonshot goal for the world's eighth-largest economy as he seeks to lead the global fight against climate change: 1.5 million zero-emission cars on state roads in the next decade.
Read More…
9.22.14 | JIM SNYDER and BRIAN WOMACK
"They are just literally lying." Google Quits ALEC Over Climate

Google Inc. Chairman Eric Schmidt said the world's biggest Internet search company made a mistake in funding a political group that opposes U.S. action on climate change.
Schmidt said Google paid the American Legislative Exchange Council as part of a lobbying campaign on an unrelated issue. It won't be renewing its ALEC membership at the end of the year.
"We should not be aligned with such people," Schmidt said on NPR's "Diane Rehm Show" today. "They are just literally lying."
Read more…
9.22.14 | MARC ROCA
Ikea to Sell Solar Panels in Switzerland, Netherlands
Ikea, the biggest home-furnishing retailer, will start selling solar installations in Switzerland and seven more countries following the rollout of that strategy last year in its British stores.
Read more...
9.22.14 | ISAAC ARNSDORF
Warming Climate Turns Arctic Into a Hot Emerging Market Companies are drilling for oil and digging for minerals across the Arctic on an unprecedented scale, and they're expected to spend $100 billion there over the next decade.
Ice now covers half as much of the Arctic Ocean in summer as it did in 1999. That's increasing access to a region that's thought to hold about a quarter of the world's undiscovered oil and natural gas, as well as gold, silver, copper, zinc, diamonds and fish. This "last frontier" is poised to become the next frontier market.
Read more…
9.22.14 | TOM RANDALL
Photos From Today's #FloodWallStreet Climate Protest

Wall Street has been flooded. Again.
See the photos...
9.22.14 | MARK DRAJEM
U.S. Urges Action on Climate... Then Skips Pledge
To hear Secretary of State John Kerry tell it, climate change is the primary threat facing the Earth for the decades to come. Just don't ask the U.S. to sign a pledge about it.
Read more...

9.22.14 | ALEX NUSSBAUM and ERIC ROSTON
Apple CEO Tim Cook: "I'm Not Giving Up on Our Generation"

"The boomer generation, we have to look at ourselves deeply and ask ourselves: Are we going to be the first generation that leaves the next one worse off?" Cook said at the opening day of Climate Week. "Do you want to be part of that club?"
Apple plans to power all of its data centers with renewable energy and is already one of the biggest producers in the world, Cook said. He sat for an interview with Christiana Figueres, head of the UN climate process, to mark the launch of a new report about big business and climate change.

9.22.14 | MARK DRAJEM
Rockefeller Heirs Divest Oil Assets That Built Their Fortune
The Rockefeller Brothers Fund, built with profits from their great-grandfather's Standard Oil Co., today joined a group of investors announcing they will abandon companies reliant on coal and tar sands. Total divested funds reached $50 billion this week, and advocates today pledged to triple the total by next December.
"This is like a snowball, and it's going to get more and more mass as it rolls forward," Stephen Heintz, president of the Rockefeller Brothers Fund, said today.
Read more...
9.22.14 | TOM RANDALL
China Surpasses EU in Per-Capita Pollution for First Time

You've heard this fact before: China is the biggest polluter of greenhouse gases in the world. It's typically followed by this qualifier: it's also the biggest, with 1.3 billion people, and the average person actually has a small carbon footprint.

That excuse is having a tough time holding up under the rapid growth of China's middle class. China has now surpassed the EU in per-capita emissions, showing just how difficult it will be to bend the curve on climate change.
Chinese still pollute less than half as much per person as gasoline-chugging Americans, perhaps one reason President Xi Jinping chose to stay home during the UN Climate Summit in New York this week.
Read more...
9.22.14 | MARK DRAJEM
Companies and Investors Pledge Climate Action


While U.S. President Barack Obama and more than 100 other world leaders will meet in a summit devoted to climate change, the most tangible action on global warming this week may come from investors and companies.
Read more...

9.22.14 | TOM RANDALL
Live Stream: Climate Week NYC Opening Day
The Climate Group and CDP are bringing together CEOs from the world's top companies to talk about how to move business toward a low-carbon economy.
Watch it live...

9.21.14 | ALLYSON VERSPRILLE and MARK DRAJEM
Ban Ki-Moon Joins 310,000-Strong March for Climate Action

The People's Climate March drew more than 310,000 people to New York this weekend, organizers said, tripling the original forecast. Demonstrators, including homeowners flooded by Hurricane Sandy, New York political leaders and indigenous people fighting oil companies in Latin America, chanted, sang and danced in an appeal to global leaders to act on climate change.
"Since the fossil fuel companies have money, we have to have something on our side, and that's people," said Bill McKibben, the head of organizing group 350.org.
Read more...

9.22.14 | STEPHEN MERELMAN
De Blasio Promises to Reduce NYC Greenhouse Gas Emissions by 80%
New York City is pledging to reduce its greenhouse gas emissions 80 percent by 2050, beginning with a plan to retrofit public and private buildings. Every municipal building that uses significant amounts of energy -- about 3,000 structures -- will be improved by 2025, Mayor Bill de Blasio pledged.
Read more...

9.19.14 | TOM RANDALL
User's Guide to the People's Climate March This Weekend

The people are coming. Hundreds of thousands of protesters descended on Manhattan by bus, train and plane to rally against climate change in an event dubbed "The People's Climate March." Q: How can I avoid it? A: There is no avoiding climate change.
Read more...

Before it's here, it's on the Bloomberg Terminal.
LEARN MORE