Shaquille O'Neal Becomes Curator as Expo Chicago Begins
Mary Romano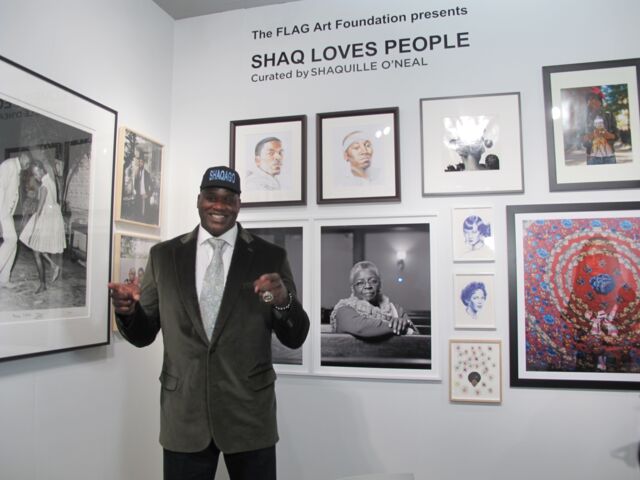 Shaquille O'Neal pointed to a photograph of one family's group portrait and an enlarged mug shot of a young woman with tiny words imprinted that could only be seen up close.
"I like to look at art," the 15-time National Basketball Association All-Star said, explaining why those works appealed to him as he was surrounded by schoolchildren and photographers. "I like to try to figure it out and what's going on with it. I like art that makes people ask questions."
O'Neal, who stands 7 feet 1 inch, was a star attraction as Expo Chicago opened yesterday in a vast exhibition space on Chicago's lakefront Navy Pier with 140 galleries from 17 countries selling $60 million of modern and contemporary works. In the first hours of the fair's opening to select guests, dealers said sales were modest but likely to pick up today, as the pace tends to be slower at Expo Chicago than at bigger fairs in which collectors swarm the booths early. About 30,000 people are expected to visit the fair, which runs through Sept. 21.
"Buying art is a serious matter and people should take their time," said Jory van Rosmalen-de Koning, co-owner of Amsterdam-based Borzo, which has a booth at the fair. "It's not like Art Basel where everyone rushes in," she said, referring to the June fair in Switzerland where $4 billion of works were available.
'Loves People'
O'Neal, 42, was standing in the booth of photos showing people of different ages and from various cultures that he selected from more than 1,000 candidates. He agreed to curate "Shaq Loves People," a nonprofit exhibition that included drawings and sculpture, at the invitation of Glenn Fuhrman of MSD Capital LP, the money manager for Michael Dell, the billionaire founder and chief executive officer of Dell Inc. Fuhrman also runs the exhibition space Flag Art Foundation in Manhattan's Chelsea neighborhood.
Fuhrman said he asked O'Neal to help with this show after the two worked together four years ago on an exhibit called "Size Does Matter."
"He said yes without skipping a beat," Fuhrman said. "Shaq loves people and everybody loves Shaq, so when we were thinking about a title, we said let's just go with that."
Fuhrman later escorted O'Neal through the fair and showed him various works but he didn't buy anything, said Stephanie Roach, director of Flag Art Foundation.
Other collectors strolled the booths. John and Sharon Hoffman of Kansas City, Missouri, said they had their eye on works by Derrick Adams at the Rhona Hoffman Gallery. The gallery was offering two mixed-media collages on paper by Adams that depict human figures and landscapes. The couple said they were early sponsors of Chicago artist Theaster Gates and own two of his works.
Saccoccio Abstracts
Eleven Rivington, based in New York, sold two of Jackie Saccoccio's multilayered abstract paintings in the $25,000 to $30,000 range.
Kavi Gupta, a Chicago gallery, sold a 2014 Scott Reeder black and purple abstract painting for $16,000 and a red curvy sculpture by Roxy Paine for $7,000.
At the booth of Richard Gray Gallery, which has Chicago and New York locations, a 2013 Murano glass sculpture by Jaume Plensa sold for $80,000 and a 2014 sculpture of antlers covered with crystals by Marc Swanson went for $30,000.
Chicago has hosted an art fair since 1980, starting at the Navy Pier. It went through various incarnations and locations, and by 2012, the fair's owner, Merchandise Mart Properties Inc., the Chicago trade show producer and a division of Vornado Realty Trust, canceled it. Tony Karman, who had been the fair's vice president until 2010, then started Expo Chicago, now in its third year.
'Another Leap'
"The first year sales were not very strong, for everyone and for us as well," said Christopher D'Amelio, a partner at New York's David Zwirner, which has a booth for the third year. "But there is an active collecting base that comes through here. This year the fair is making another leap. It just needed time for people to get it on their calendar."
Zwirner's booth has works ranging in price from $15,000 to $1 million, he said, adding that "$100,000 to $600,000 is a better zone for this fair than multimillion-dollar pieces."
Cari Sacks, an art collector along with her husband, Michael J. Sacks, CEO of Chicago-based Grosvenor Capital Management, is using the fair for the debut of Curate, her free app that lets people snap photos to visualize how a piece of art would look on their wall. Curate and Expo Chicago teamed up to allow the participating galleries to use it at the fair.
"Chicago is having a moment in the art world," Sacks said. The city's roster of critically acclaimed artists includes Gates, Kerry James Marshall and Rashid Johnson, she said.
Tense Theater
Chicago-born Johnson, who works in painting, photography and mixed medium installations, directed "Dutchman," his interpretation of a 1964 play of the same name by Amiri Baraka about a confrontation between a black man and a white woman in a sweltering New York subway train.
Johnson moved the setting to the Red Square Russian and Turkish Baths in the Wicker Park neighborhood of Chicago, where it's being performed through Sept. 21. At the 11 p.m. show on Sept. 17, about 18 audience members changed into robes in the locker rooms and sat in the steamy sauna as the two actors angrily and sometimes violently addressed sexual and racial issues. The show was commissioned by Performa, the performance-art biennial.
"It's similar to be being on a train, where you are trapped with other people," said assistant director Alex Ernst. "We are implicated in what people are doing if we don't step in when there's racial injustice."
(Corrects name of Derrick Adams in ninth paragraph in story published Sept. 19.)
Before it's here, it's on the Bloomberg Terminal.
LEARN MORE