Morgan Stanley Insider Case Yields Tip Chewer's Plea
David Voreacos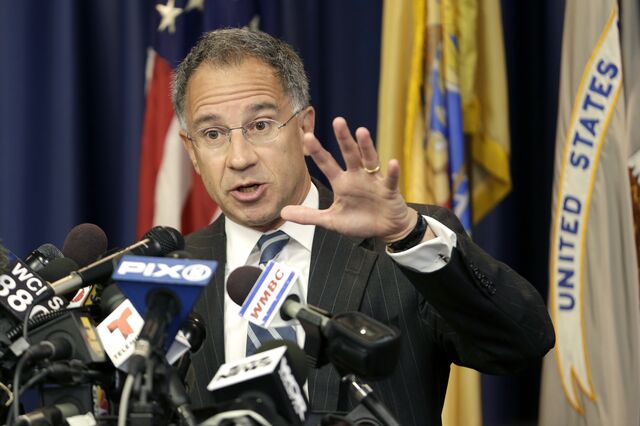 A New York man admitted he served as a go-between for five years by illegally passing inside corporate information to a Morgan Stanley broker on notes at Grand Central Terminal and then chewing and swallowing the evidence.
Frank Tamayo, 41, pleaded guilty yesterday in federal court in Trenton, New Jersey, to taking part in a five-year scheme that made $5.6 million in profit. The broker, Vladimir Eydelman, 42, and Steven Metro, a law firm clerk accused of passing inside information, were charged in March and fired by their firms.
Tamayo said Metro, 40, stole data about mergers and acquisitions or tender offers from computers at Simpson Thacher & Bartlett LLP in New York. Metro gave the data to Tamayo, who said he met Eydelman near the large clock in the main concourse at the train station. Tamayo said he wrote the relevant ticker symbols on pieces of paper or napkins and showed Eydelman.
He then folded up the note, "placed it into his mouth and chewed the paper or napkin to destroy it," according to a charging document filed yesterday.
The pair also discussed the timing and pricing of planned transactions before Eydelman used the tips to "aggressively trade" in securities on behalf of himself, family, friends, Tamayo and brokerage clients before the public announcement of deals, according to the information. The scheme involved at least 13 transactions from 2009 to 2013.
Securities Fraud
Tamayo, a mortgage broker from Brooklyn, New York, pleaded guilty to securities fraud, tender offer fraud and conspiracy to commit securities and tender offer fraud.
He faces as long as 20 years in prison at his sentencing Dec. 23, according to a statement by U.S. Attorney Paul Fishman in New Jersey. Tamayo also agreed to forfeit more than $1 million, two brokerage accounts and a 2008 Audi Q7.
The scheme lasted from 2009 to 2013, Tamayo said. Eydelman worked at Oppenheimer & Co. from March 2001 to September 2012, when he joined Morgan Stanley and continued the trades, the U.S. said. He stopped working at Morgan Stanley in March, according to the information. Metro was the managing clerk at Simpson Thacher, where he worked from 1999 until March.
Prosecutors didn't identify Tamayo as the middleman in March when they announced the charges against Eydelman and Metro. They did say the middleman cooperated with the Federal Bureau of Investigation and secretly recorded conversations.
Tamayo's attorney, A. Ross Pearlson, declined to comment on the plea.
Eight Counts
Metro, of Katonah, New York, is charged with nine counts of securities fraud, while Eydelman, of Colts Neck, New Jersey, faces eight counts of securities fraud. Each is charged with four counts of tender offer fraud. They were also charged with conspiracy to commit securities fraud and tender offer fraud.
Metro and Eydelman haven't entered a plea to the charges. They've also been sued by the U.S. Securities and Exchange Commission.
Tamayo had been friends with Metro since 1995, when they attended Touro College of Law in Central Islip, New York, according to the FBI and SEC complaints. They met for drinks, attended social functions together and went to casinos in Atlantic City, New Jersey, according to the SEC.
Since at least 2003, Tamayo was a brokerage customer of Eydelman, the SEC said. Eydelman made trades for Tamayo and his family for 12 of the 13 securities.
Tyco Deal
The first illicit trades preceded the announcement in January 2010 by Tyco International Ltd., a Simpson Thacher client, that it would acquire Brink's Home Security Holdings Inc., the SEC said.
Two weeks later, the Chicago Board Options Exchange sent an inquiry to Oppenheimer, which forwarded it to Eydelman, who said he based the trades on research reports, the SEC said. After later trades, Eydelman also sent contrived e-mails to Tamayo saying trades were based on research reports.
In pleading guilty, Tamayo admitted that he kept Metro apprised of his profit, which reached $168,000 by October 2013. Metro then said he wanted to "cash out," Tamayo said.
Starting in January, Tamayo secretly recorded a series of conversations with Metro and Eydelman in which they discussed a plan to get cash to Metro, according to the FBI complaint.
"Mr. Eydelman was fired by Morgan Stanley after he was charged," James Wiggins, a Morgan Stanley spokesman, said in an e-mail. He declined to comment further "as the firm is not a party to this case."
Amanda Smith, a spokeswoman for Simpson Thacher, didn't immediately return a call for comment on the plea.
The cases are U.S. v. Tamayo, U.S. District Court, District of New Jersey (Trenton); U.S. v. Metro, 14-mj-08079; and U.S. Securities and Exchange Commission v. Eydelman, U.S. District Court, District of New Jersey (Newark).
Before it's here, it's on the Bloomberg Terminal.
LEARN MORE