Jack Ma Hands Out Windfall to Keep Make-Them-Money Pledge
Belinda Cao and Ye Xie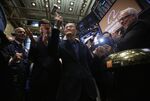 Two hours before Alibaba Group Holding Ltd. began its trading debut, a beaming Jack Ma stressed the importance in a television interview of keeping investors happy by helping them make money.
Mission accomplished on day one.
Shares of the Chinese e-commerce company soared 47 percent within the first 10 minutes of trading on Sept. 19 and closed the day up 38 percent following its record-breaking $21.8 billion initial public offering. Among the 30 IPOs in the U.S. this year that raised $250 million or more, only one, Mobileye NV, gained more than Alibaba in its debut, according to data compiled by Bloomberg.
"The stock's price jump in trading is definitely a good reward to investors who had the chance to buy," said Tan Chiheng, a Boston-based analyst at Granite Point Capital Inc., which purchased some of the shares. "Its IPO was reasonably priced, which helped drive the strong trading and price gains."
Ma, Alibaba's chairman who started the company in his Hangzhou apartment, drew crowds of money managers to meetings held around the world as the company pitched itself to investors this month.
"I don't want to disappoint shareholders," he said in an interview with CNBC before the stock started trading. "I want to make sure they're making money."
Chinese IPOs
Alibaba shares rose to $93.89 after being priced at $68, the high end of its targeted range. The rally compared with the average 19 percent first-day gain for Chinese IPOs in the U.S. over the past decade, data compiled by Bloomberg show. While Alibaba's advance was better than most of its peers, it still fell short of Baidu Inc.'s almost fivefold one-day surge when China's largest search engine listed on the Nasdaq Stock Market in 2005.
The company's market capitalization was $231 billion as of Sept. 19, surpassing that of Facebook Inc., the world's largest social network, and trailing only Google Inc., Apple Inc. and Microsoft Corp. in size among U.S.-traded technology companies.
While the first-day performance and record dollar amount made Alibaba a standout among IPOs this year, it still faces the challenge of adjusting to being a publicly traded company, said Walter Todd, who oversees about $1 billion as chief investment officer for Greenwood, South Carolina-based Greenwood Capital Associates.
"That can be a risky process," Todd said by phone last week. "The real question would be after the IPO, how does it perform going forward? They need to deal with investors, manage earnings calls, which requires experience to get there."
'Business Ecosystem'
Alibaba, which is already the top shopping site in Russia and Brazil, markets where it currently has no employees, will look for deals that can help it expand in Africa, Southeast Asia, Europe and the U.S. to create an "ecosystem" for small businesses, Ma said in the interview with CNBC.
"This is only a beginning," Masayoshi Son, Chairman and Chief Executive Officer of SoftBank Corp., which owns a 34 percent stake in the company, said in an interview on Bloomberg Television last week. "Alibaba continues to grow inside China, but also globally. This IPO in New York makes a good entry to the global expansion."
SoftBank lost 6.1 percent at the close in Tokyo today, its biggest decline since Feb. 3. The Shanghai Composite Index and the Hang Seng China Enterprises Index both fell 1.7 percent.
Alibaba made the support of big, long-term investors a priority during the IPO, in an effort to build a shareholder base that will hold onto the shares. That left smaller investors clamoring for the stock, helping push the price up.
Fake Products
As Alibaba executives met investors this month, they were queried about issues ranging from how the company plans to prevent selling counterfeit objects on its marketplaces to Alibaba's relationship with its payments affiliate -- Alipay -- which is now effectively controlled by Ma.
None of those factors were enough to substantially weaken demand for its shares, with Alibaba's growth prospects too compelling for many to ignore. The concerns may have kept the company and its advisers from pushing the price too high, like Facebook Inc. did when it debuted in 2012. Facebook's shares plunged in the months after its IPO before eventually recovering.
Alibaba's net income in the three months ended June almost tripled to $1.99 billion, as revenue rose 46 percent in local currency to the equivalent of $2.54 billion, the company reported last month.
"Alibaba will continue to be the leader in China's e-commerce sector which we expect to see fast gains in the next couple of years," Granite Point's Tan said.
Before it's here, it's on the Bloomberg Terminal.
LEARN MORE