Verizon CEO Calls For Focus on Domestic Violence, Not NFL
Scott Moritz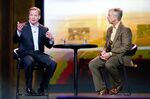 Verizon Communications Inc. Chief Executive Officer Lowell McAdam said that questions surrounding the National Football League's handling of domestic violence ignore the "culture of denial" about the issue.
Verizon, like other sponsors and partners of the NFL, has been quizzed about how the league's handling of recent abuse accusations against certain players will affect the company's brand and advertising spending, McAdam wrote on LinkedIn today. He said those questions miss the point and reiterated Verizon's commitment to working with the NFL on a long-term program to address domestic violence.
"The real crisis this firestorm has brought to light goes way beyond Verizon's image or the future of the NFL," McAdam wrote. "It's about the scourge of domestic violence itself -– a plague that crosses all sports, all communities, and all demographics."
Verizon is a sponsor and mobile-video partner of the NFL. NFL Commissioner Roger Goodell has been besieged by criticism that he mishandled the response to Baltimore Ravens running back Ray Rice's assault of his fiancee. The Rice scandal has been followed by a cascade of other debacles, including child-abuse charges against Minnesota Vikings star Adrian Peterson.
"Because of our long-standing commitment to this issue, we believe we can be far more effective in preventing domestic violence by remaining in the arena with our partners at the NFL, rather than backing away from the controversy," McAdam wrote today.
HopeLine Program
Since 1995, Verizon has had a program called HopeLine that uses proceeds from used phones to support women's shelters and supplying victims of domestic violence with used phones.
In July, Goodell initially suspended Rice for two games, when the only known video of the incident showed the running back dragging his unconscious fiancee from the elevator of a hotel in Atlantic City, New Jersey. After a new video surfaced that showed him punching her, the Ravens terminated his contract and the NFL banned Rice indefinitely. The Associated Press reported that the league had received a video of the assault in April.
McAdams said last week that he doesn't believe there was a conspiracy to cover this up. He called the assault "a deplorable, cowardly act."
Verizon, based in New York, offers live NFL games free for monthly customers on Thursday, Sunday and Monday nights and on Sunday afternoons for local broadcasts.
Before it's here, it's on the Bloomberg Terminal.
LEARN MORE