There's a Downside to Making Parts for Apple
Suppliers dependent on the company sometimes get cut off
By and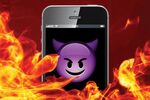 Apple sold 150 million iPhones last year, each carrying dozens of parts made by other companies. That's why Apple is a perennial kingmaker among component manufacturers: Each time the company releases a model, some suppliers end up winners and others losers. Apple has a reputation as a brutally tough negotiator with companies in its supply chain, demanding advanced technology at razor-thin margins, and it doesn't hesitate to drop longtime suppliers with little notice, says Francis Sideco, a senior manager at market researcher IHS. At least nine publicly traded companies get more than 40 percent of their revenue from Apple, data compiled by Bloomberg show.

Among them is Taipei-based touchscreen maker TPK Holding, which produced the touch controls in the first iPhones. Largely on the strength of its Apple ties, the company held an initial public offering in 2010. Two years later, Apple changed the design of its iPhone screens and began buying from TPK rivals, including LG, instead. To keep what Apple business it could, TPK resorted to assembling screen parts made by other companies—a less profitable task, says a former TPK executive who's barred from discussing the matter by nondisclosure agreements. TPK's net income last year fell about 50 percent, and its share price has fallen 73 percent from its 2011 high, to NT$190 ($6.30). Apple and TPK declined to comment for this story.
"With Apple, the business is won and lost in huge chunks," says Peter Santos, chief executive officer of Audience, which makes mobile audio processors. Audience saw its share price plummet to below $6 from a high of $22 after its parts were left out of the iPhone 5 in 2012. The audio company once derived 82 percent of its sales from Apple; that's fallen to less than 1 percent. Santos says he scrambled to replace lost orders with business from other phone makers because he had no notice. Apple didn't tell him his company was cut out, and he only knew for sure when his engineers bought an iPhone 5 and took it apart. "Getting through this was harder than doing the IPO," says Santos, who now sells mostly to Apple archrival Samsung. His company's stock now trades at about $8.50.
Dialog Semiconductor is the supplier most dependent on Apple's continued favor. Eighty percent of the chipmaker's $903 million in revenue last year was tied to its contract to make power-management chips for the iPhone, according to the Bloomberg-compiled data. While he wouldn't name Apple, Dialog CEO Jalal Bagherli says the German company works with its biggest customer as if it's an extension of Apple's R&D team. "If you're in four or five of their products, it's like you're already getting diversification," says Bagherli. "You have to be willing to change daily as they figure out what their product will be. Most companies don't want to do that, because it can be quite painful. But we jump through all the hoops we need to jump through."
For the iPhone 6 and 6 Plus—which together drew 4 million preorders in the first 24 hours they were on sale—Taiwan Semiconductor Manufacturing is providing Apple with processors, putting it among the expected winners. Taiwan Semiconductor posted record quarterly profit in July as production of the phones ramped up.
The stock of GT Advanced Technologies has more than doubled since the company said it was providing the sturdy glass made with sapphire that's being used in the Apple Watch. NXP Semiconductor shares have risen more than 10 percent since Aug. 1, after a series of news reports that its chips are being used for Apple Pay. The companies declined to comment.
Some suppliers are attempting to reduce their dependence on Apple. Dialog is trying to sell fast-charging chips to Chinese laptop makers. Last month, Cirrus Logic, a maker of audio components that gets 73 percent of its revenue from Apple, bought rival Wolfson Microelectronics, which has had to start selling its parts to other phone makers in earnest after getting dropped from the iPhone 3GS in 2009. Even Foxconn Technology, the company that assembles Apple's products in China, has set up a joint server venture with Hewlett-Packard and expanded into retail stores and resorts. "One minute you're in a product," says Wolfson spokesman Derek Milne. "And one minute you can be out."
Before it's here, it's on the Bloomberg Terminal.
LEARN MORE