SNB Threatens Further Measures as Franc Poses Deflation Risk
Catherine Bosley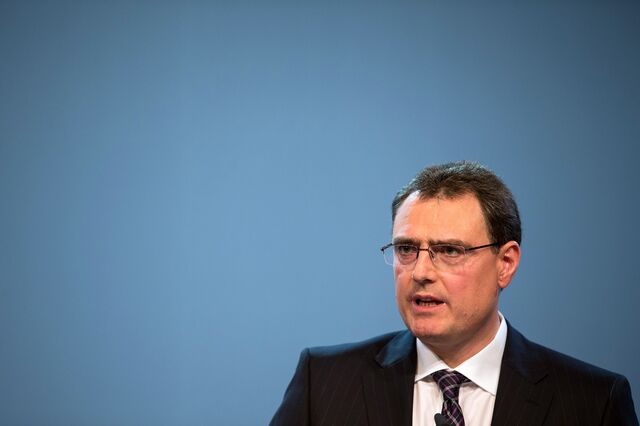 The Swiss National Bank threatened to step up its defense of the franc "immediately" if needed as it noted an increased danger of deflation.
The central bank kept its ceiling on the franc of 1.20 per euro and its interest-rate target range at 0 to 0.25 percent at its policy review today, as forecast by economists. Officials cut their inflation forecast for the next two years and said that "the risk of deflation" has "increased again."
"We'll enforce the cap with utmost determination," President Thomas Jordan told SRF radio in an interview today. "It's important one know that we're prepared to take further steps immediately if necessary." Speculation about the SNB imposing a charge on banks' excess reserves intensified after the franc strengthened to 21-month high this month as the European Central Bank stepped up measures to aid economic growth. SNB officials have said repeatedly they won't exclude any further action to defend the currency, including negative interest rates, a stance reiterated by Jordan today.
"The statement's a bit stronger," said Johannes Gareis, an economist at Natixis in Frankfurt. "The SNB doesn't see the need to step in immediately but it makes clear with the weaker inflation outlook that the cap is key and will definitely be defended."
Inflation Forecast
In a bid to lift inflation, the ECB has announced an asset-purchase plan, though so far it has refrained from large-scale quantitative easing. Further stimulus by the Frankfurt-based institution could renew pressure on the franc.
The Swiss economy has generally fared better than that of the euro area since the cap was set in September 2011. With European growth hurt by sanctions against Russia, the 18-country bloc's weak growth came to weigh on Switzerland in the second quarter.
"The economic outlook has deteriorated markedly," Jordan said. "The global economy isn't as robust as we'd expected three months ago."
The SNB cut its growth forecast for 2014 to 1.5 percent from 2 percent and reduced its inflation projection for 2015 to 0.2 percent and for 2016 to 0.5 percent. That compares to its June forecast for consumer prices rising 0.3 percent next year, and 0.9 percent in the year after. It left this year's inflation forecast unchanged at 0.1 percent.
Today's updated language "suggests that the SNB is closer to easing policy," said George Buckley, an economist at Deutsche Bank AG in London.
Franc Interventions
Beat Siegenthaler, a currency strategist at UBS AG in Zurich, disagrees.
"Many foreign observers are now likely to argue that the downbeat language in today's SNB statement is laying the ground for monetary easing down the line," Siegenthaler said. "We continue to believe that negative rates will only be adopted once the 1.20 floor comes under material pressure and foreign exchange interventions do not succeed."
As the franc approaches upon the 1.20 limit, the SNB's two-year hiatus on currency interventions might end, according to 15 of 24 respondents in Bloomberg's monthly survey of economists, published earlier this week. Ten economists said the SNB may even have to resort to charging banks for the excess reserves they keep with it, to stave off currency inflows. The SNB is seen maintaining the cap until 2017 or later, the survey found.
Jordan said today that the SNB hasn't intervened in currency markets, even as the franc strengthened against the euro in recent weeks.
Negative Rate
The franc has gained 1.5 percent against the euro so far this year, while it's declined 4.9 percent against the dollar. The Swiss currency strengthened after the decision and was trading at 1.2087 per euro at 1:01 p.m. in Zurich. Against the dollar it stood at 93.85 centimes.
According to Gareis at Natixis, the SNB will prefer interventions to any charge on banks' reserves. "We expect them to use the negative deposit rate as a last resort, they'll want to have something in their back pocket in case the ECB goes for QE," he said.
With some Swiss money market rates already below zero, some economists have questioned whether a negative interest rate on sight deposits would help weaken the franc.
"Negative rates aren't suitable for defending the euro minimum exchange rate," said Thomas Stucki, chief investment officer at St. Galler Kantonalbank in St. Gallen, Switzerland. "When needed it can only be defended via direct currency-market interventions. The experience of recent years has showed that clearly."
The SNB's foreign-currency reserves have ballooned as a result of its interventions to defend the cap. Geoff Kendrick, executive director for research at Morgan Stanley in Hong Kong, sees the SNB spending 100 billion francs ($106 billion) on interventions, should it choose not to enact a deposit-rate charge. The SNB's foreign exchange reserves stood at 454 billion francs in August, roughly three quarters of annual economic output.
Before it's here, it's on the Bloomberg Terminal.
LEARN MORE