Draghi Loan Plan Missing Estimates Hampers ECB Stimulus
Stefan Riecher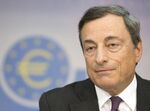 Mario Draghi is facing renewed pressure to implement quantitative easing after banks borrowed less than estimated in the European Central Bank's first targeted-loan offer.
The Frankfurt-based ECB lent 82.6 billion euros ($106.5 billion) to euro-area banks at a fixed interest rate of 0.15 percent in its targeted longer-term refinancing operations today. That was below all predictions in a Bloomberg survey, which gave a range of 100 billion euros to 300 billion euros.
Spanish and Portuguese bonds rose, indicating that investors are betting the ECB president may ultimately resort to large-scale purchases of government debt as he strives to avert deflation in the euro area. Draghi has signaled he wants to boost the institution's balance sheet to as much as 3 trillion euros from 2 trillion euros.
"This low figure is making the probability of fully-blown QE much higher," said Francois Lavier, a fixed-income fund manager who helps invest 14.6 billion euros at Lazard Freres Gestion in Paris. "The target to raise the ECB balance-sheet size to roughly 3 trillion euros will be attained, either through lending to banks or through direct investment into the markets."
Bond Prices
The euro was up 0.2 percent at $1.2891 at 3:55 p.m. Frankfurt time, trading near the lowest in more than a year. Spain's 10-year government bonds gained, sending the yield down 2 basis points to 2.26 percent.
The ECB's four-year loans are intended to spur lending to the real economy, with the offers of cheap cash tied to the size of banks' loan books. Eight TLTROs will be held through 2016. The next one is scheduled for December.
At least 40 percent of the funds in today's operation went to Italian and Spanish banks. UniCredit SpA, Italy's biggest lender, said it raised 7.8 billion euros, while Intesa Sanpaolo SpA, the second largest, took 4 billion euros. Banco Santander SA sought 3.6 billion euros, a person familiar with the matter said, the most among Spanish banks whose borrowings were disclosed.
Societe Generale SA, France's second-largest bank, participated in today's operation, according to an e-mailed statement from a spokeswoman that didn't say how much it borrowed. Amsterdam-based ING Groep NV and ABN Amro Bank NV said they subscribed for funds. Austria's three largest banks, Erste Group Bank AG, UniCredit Bank Austria AG and Raiffeisen Bank International AG, didn't take part.
Further Programs
ECB Vice President Vitor Constancio said today that the total take-up of the TLTROs will be "significant" and will lead the balance-sheet expansion. The central bank also plans next month to release details of a program to buy asset-backed securities and covered bonds.
"Within the whole package of measures that we have taken, in terms of the effect they can have on our monetary base, the bulk will come from the targeted longer-term refinancing operations," Constancio told Bloomberg News in Cairns, Australia. Finance ministers and central bankers from the Group of 20 major industrial and emerging economies will meet in the city this week.
Banks may prefer to wait for the end of the ECB's health check of bank balance sheets. The results of the Comprehensive Assessment will be published next month shortly before the central bank becomes euro-area supervisor.
Economic Divergence
"The completion of the bank assessment might be much more important," said Holger Schmieding, chief economist at Berenberg Bank in London. "There's a chance that there's a bigger turnout in December, if the banks see demand for credit picking up."
Banco Sabadell SA, Spain's fifth-biggest bank, didn't bid for funds and will seek to borrow 5 billion euros in December, according to a person familiar with the information.
Draghi's liquidity drive underscores how the world's biggest economies are diverging. The central banks of China and Japan are also adding stimulus, while the U.S. Federal Reserve and the Bank of England are debating when to tighten policy as their economies recover.
Inflation in the 18-nation euro area was 0.4 percent in August, holding at the weakest pace since 2009 and a fraction of the ECB's goal of just under 2 percent. Draghi has warned of a deflationary spiral of falling prices and households postponing spending.
'Clearly Failed'
The ECB's liquidity additions will be reduced by the repayment of three-year loans that were offered at the end of 2011, as a credit crunch in the region loomed. Almost 350 billion euros of those loans are still outstanding and must be repaid by early next year.
The ultimate value of the TLTROs and programs to buy covered bonds and asset-backed securities will be 985 billion euros, according to the Bloomberg survey. That leaves the three stimulus measures adding a net total of about 635 billion euros.
Draghi has left open the option of large-scale sovereign-bond purchases to achieve his balance-sheet target. The policy would risk splitting the 24-member Governing Council. Germany's Jens Weidmann has spoken out against quantitative easing and opposed the rate cuts and asset-purchase programs this month.
"This was clearly a failed operation," said Alexander Wojt, an analyst at Nordea Markets in Stockholm. "It puts pressure on them to also succeed with their covered-bond and ABS programs. Ultimately, even if you include those, it will be difficult for them to reach the balance-sheet target."
Before it's here, it's on the Bloomberg Terminal.
LEARN MORE