Vodafone-Liberty Global Deal Is Way to End Duel: Real M&A
Amy Thomson and Kristen Schweizer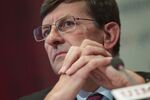 If Vodafone Group Plc and Liberty Global Plc really want to dominate the phone, cable and wireless market in Europe, they should quit competing and try merging.
The companies were among large cable and phone operators that gobbled up smaller players in more than $200 billion of European deals since 2011 to gain customers and market share. A merger of Vodafone and Liberty would be the next logical step, according to Bank of America Corp. Vodafone Chief Executive Officer Vittorio Colao told Bloomberg News last week that John Malone's Liberty could be a good fit at "the right price." A deal would create the biggest company in Europe selling bundled packages of mobile, phone, Internet and TV services.
A combined company could see a 3.2 percent jump in earnings per share from the deal by next year, were Vodafone to offer London-based Liberty a 20 percent premium, or more than $80 billion including debt, and pay for half in cash, according to Erhan Gurses, an analyst at Bloomberg Intelligence. Acquirers paid an average premium of 20 percent for cable assets in the last five years, he said.
"It makes a ton of sense because Vodafone just bought cable companies in Germany and Spain and there's the sense that once you start on this track you don't stop," said Amy Yong, a media analyst at Macquarie Capital in New York. "At the end of the day, Malone is not emotional about business. He's rational, and at the right price he would obviously let Liberty go."
Quad-Play
Selling mobile services alongside "fixed" offerings such as TV and Internet access in quad-play packages helps carriers generate more revenue and makes it less likely that a customer will leave. That's vital for companies like Newbury, England-based Vodafone that have been struggling with oversaturated markets in Europe and sluggish economies that are eating into revenue. Even in the U.K., Vodafone's home market, the wireless operator is only the No. 3 mobile provider.
Liberty, which has forged resale agreements with wireless providers, has also found that adding mobile service to its broadband and video packages cuts customer defections and increases sales, CEO Mike Fries said last week, appearing at the same New York conference organized by Goldman Sachs Group Inc. at which Colao spoke.
"It makes perfect sense why Vodafone would buy cable," Fries said. "We've looked at mobile operations in a number of countries and, for us, it's a different equation," with more of a focus on resale agreements as opposed to purchasing mobile networks outright.
Good Fit
Vodafone and Liberty aren't in discussions about a deal now, two people familiar with the companies' plans said. That's in part because Malone's price is too high, one of the people said, asking not to be named discussing confidential information. Liberty, with a market value of $33 billion, considers Vodafone a good fit because of its European footprint, the other person said.
Vodafone, valued at $87 billion, is particularly interested in Liberty's German unit, Unitymedia KabelBW, another person with knowledge of the company's plans said.
Ben Padovan, a spokesman for Vodafone, and Marcus Smith, a Liberty spokesman, declined to comment on a potential tie-up.
Today, Vodafone fell 0.2 percent to 200.90 pence in London, and Liberty fell 0.4 percent to $43.31 in New York.
Dueling Deals
Even if a deal isn't imminent, the benefits of combining efforts and increasing coverage in countries such as the U.K., Germany and the Netherlands are "compelling," Macquarie's Yong wrote in a Sept. 11 report.
"Outside of Liberty, there aren't any major assets to acquire," said Paul Marsch, an analyst at Berenberg Bank in London. While European Union regulators are encouraging companies to create networks that span the continent, they haven't been as accepting of bids that merge networks within countries, leaving acquirers such as Vodafone with fewer places to go, Marsch said.
Vodafone already beat out Liberty with a bid for Germany's Kabel Deutschland Holding AG last year. Vodafone then went on to buy Spanish broadband company Grupo Corporativo Ono SA this year.
For its part, Liberty agreed to buy Dutch cable operator Ziggo NV in January and a stake in ITV Plc, the U.K.'s biggest commercial broadcaster, in July.
Vodafone is also spending 19 billion pounds ($31 billion) through March 2016 to improve its network, adding faster broadband lines and upgrading mobile service globally. The investment is funded with cash from the sale of its stake in Verizon Wireless for $130 billion. While those investments are expected to cut into profit, Vodafone has said it would be willing to increase its debt levels for the right deal.
'Mega'-Synergies
The combined companies could plausibly expect "mega" synergies with a net present value of 20 billion pounds, according to a note sent to clients last week from Bank of America's BofAML Special Situations Desk.
"Liberty would be the logical next step for Vodafone," according to the note. Vodafone faces an "existential threat" from the rise of quad-play, which often drives down the cost of mobile service.
"For a mobile-only operator this is potentially catastrophic," the analysts wrote in the note. "By acquiring fixed-line assets, mobile operators are better able to bundle in fixed line to protect revenue."
The deal also would increase the companies' reach in Germany, where Vodafone and Liberty's assets are limited to regional coverage, and will give Vodafone an Internet product for consumers in the U.K., "one of the biggest gaps in its market," the analysts wrote. For Liberty, now may be an opportune time to sell to Vodafone, before the wireless giant moves ahead with its investment plans, they wrote.
Tax Benefits
Beyond giving Vodafone access to TV and Web customers, Liberty has about $5.5 billion in tax assets built up from net operating losses and capital allowances from spending on its business, according to Macquarie's Yong.
Malone's not likely to sell cheap. Berenberg Bank's Marsch says the billionaire may demand about $45 billion in a sale -- a 36 percent premium to the company's market value today.
"That's probably a stretch too far for Vodafone," he said.
Still, a combination would give Vodafone the access it needs to fixed-line services in its biggest European markets. Liberty, meantime, would be combining with the biggest mobile phone company outside of China, by customers. Vodafone has more than 125 million subscribers in Europe, including 32.3 million in Germany and 19.5 million in the U.K., major markets for Liberty.
Any deal would likely mark the final step in consolidation for Liberty and Vodafone, said San Dhillon, an analyst at RBC Capital Markets, a unit of Royal Bank of Canada.
"It would be hard to see Vodafone needing to do any further deals" after Liberty, Dhillon said. "That would be the end of their acquisition spree."
Before it's here, it's on the Bloomberg Terminal.
LEARN MORE