Harley Tested on Home Turf by WW-II Bike Maker Enfield
Siddharth Philip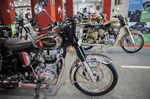 The Indian maker of Royal Enfield, the World War II-era British motorcycle, is expanding its foray in the U.S., the bastion of Harley-Davidson Inc., as the almost $7 billion market lures it with the promise of higher margins.
Eicher Motors Ltd., the owner of the 120-year-old brand that counts Billy Joel and Jay Leno among its celebrity collectors, aims to "dominate" the mid-size motorcycle market in the U.S., Siddhartha Lal, the managing director of the New Delhi-based company, said in an interview. Last month, he hired Rod Copes, a former head of Harley's global customer sales and service, to lead Enfield's expansion in the U.S. and Canada.
"Motorcycles have reached an extreme, with extreme power, extreme speed, and are extremely heavy and extremely expensive," Lal said in New Delhi. "We think there's a market for urban, manageable and efficient motorcycles. The mid-size market in the U.S. is underserved."
Eicher is seeking newer markets for its bikes to boost profit margins as economic growth near the slowest pace in a decade in India hurts sales at its truck unit. The company may find the U.S. market tough to crack with its outdated, single-cylinder bikes at a time when Harley-Davidson and Triumph Motorcycles Ltd. are introducing smaller and lighter models, according to Deepesh Rathore, director at Emerging Markets Automotive Advisors.
Harley Street
"It will be difficult, but I think there is potential for Royal Enfield as the other competitors are in the more expensive space," said Rathore. "My only concern is that Harley is coming with smaller models such as the Street."
This year, Harley began delivering its first lightweight bike in decades called the Street. The company's first new platform in 13 years, the Street is available in 500-cc and 750-cc variants to target younger buyers in emerging markets such as India as well as at home in the U.S.
In markets such as the U.S., Australia and Europe, motorcycles are lifestyle products that fetch better margins, whereas the vehicles are used mostly for commuting in price-sensitive developing economies, Rathore said. The U.S. motorcycle market is projected to generate $6.9 billion in revenue this year, according to a report by IBISWorld Inc.
Eicher, which acquired control of Enfield India in 1993 and revived the almost-bankrupt unit, has about 100 dealers in the U.S. where it sells 3 motorcycle models priced between $4,999 and $5,999. It aims to ship "tens of thousands of motorcycles" from about 1,000 now, Lal said, without elaborating. It will also introduce new platforms that are better suited to the U.S. and European markets, he said, with the first due next year.
Shares Double
"Our models will be relevant in developed as well as developing markets," said Lal. "We aren't going to compete with the super sports. We will play in the 250cc to 750cc space."
Eicher has seen domestic motorcycle sales climb 81 percent to 125,126 units in the April-August period, even as its truck sales, which it makes in partnership with Volvo AB, fell 7 percent.
In the financial year ended March 31, sales of its two-wheelers jumped 68 percent, even as industry-wide motorcycle deliveries grew only 3.9 percent.
Shares of Eicher have more than doubled in 2014 and closed at 11,642 rupees in Mumbai today. That compares with a 40 percent gain for Tata Motors Ltd., India's biggest truckmaker, 25 percent for Bajaj Auto Ltd., the nation's No. 2 motorcycle maker, and 28 percent for the benchmark S&P BSE Sensex index, according to data compiled by Bloomberg.
'Made Like a Gun'
With its heritage as a weapons maker and "Made like a gun" tagline, Royal Enfield started in the 1890s making bicycles, lawn mowers and motorcycles in England. Since the 1940s, the company hasn't much altered the technology in the single-cylinder engined two-wheelers, except for modern features such as direct fuel injection and a push-button start.
The bike maker introduced a new model, the 200,000 rupee ($3,280), 535cc "cafe racer" called the Continental GT in London last year, and has new platforms that will be introduced in 2015, 2016 and 2017, according to Lal. Each of the platforms will spawn multiple models, he said. The Continental retails in the U.S. for $5,999.
Among the other vehicles from Royal Enfield's stable are the 150,000-rupee 500cc Classic and the 350cc Thunderbird.
Piece of History
Former "Tonight Show" host Jay Leno and musician Billy Joel are among the owners of Royal Enfield, according to their official websites. The British military used the bikes, including the "Flying Flea" designed for parachute drops with airborne troops during the Second World War.
Exports, catering to buyers seeking to "own a piece of history" in countries such as the U.S., U.K. and Australia, accounted for 2.4 percent of the motorcycle maker's 207,661 unit sales in the year ended March 31, according to data from the Society of Indian Automobile Manufacturers, or SIAM. In comparison, Bajaj Auto exported 1.3 million units, or a third of its production, last year.
While Enfield knocks on U.S. doors, Harley, Triumph and Polaris Industries Inc.-owned Indian Motorcycle Co. have been tapping the affluent and aficionados in the world's second-most populous nation.
"We are focused on our own strategy to fulfill dreams of personal freedom for our customers," Harley spokeswoman Jennifer Hoyer said in an e-mailed comment.
Triumph in India
Triumph, which opened its first dealerships in India this year, has sold 572 motorcycles in the country in the five months through August, while Harley has delivered 1,835 units in the same period, including 1,345 Streets. Polaris does not report sales data to SIAM.
The U.S. has seen an increase in women and younger riders, who would be ideal for smaller motorcycles, according to a report by Global Industry Analysts Inc.
"Entering a new market to build up the brand is no doubt a good strategy for Royal Enfield," said Bharat Gianani, an analyst at Angel Broking Ltd. in Mumbai, who rates Eicher's stock neutral. "They will be able to position their motorcycles for entry-level riders in the U.S. The impact on margins will depend on volumes."
Before it's here, it's on the Bloomberg Terminal.
LEARN MORE