Dwight D. Eisenhower's Rolex Datejust Fails to Sell at Boston Auction
by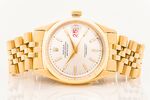 An 18-karat gold Rolex Datejust that belonged to Dwight D. Eisenhower, President of the United States and famed World War II general, failed to sell today at RR Auction in Boston, Massachusetts. This is certainly one of the most famous Rolex watches of all time, one with real significance for history buffs and watch lovers alike, so it is surprising that it did not make it into the hands of a new collector this afternoon.
The pre-auction chatter about whether or not this would become the most expensive watch ever sold was rendered mute with the fall of the hammer. The bidding started at $100,000 and according to Bobby Livingston, RR Auction Executive Vice President, Public Relations, bidding climbed to around $475,000 before stalling out. This was short of the undisclosed reserve price and the watch hammered unsold. RR Auction will likely reach out to the bidders and private collectors in the coming days in an attempt to find the watch a new owner.
Becoming the most expensive watch ever sold would have required a final price over $11 million dollars. To beat even the current champion of Rolex watches would have called for a bidder shelling out more than $1.22 million.

History on the Wrist
The 18-karat yellow gold Datejust was given to Eisenhower by Rolex in 1951 to celebrate the production of its 150,000th chronometer-certified watch. It features a matching 18K gold Jubilee bracelet, a style first introduced on the original Datejust in 1945. Notably, Rolex had already given its 50,000th chronometer to Swiss general Henri Guisan and its 100,000th to Winston Churchill. The case back is engraved with his initials "DDE," his five-star general insignia, and the date that he was appointed Supreme Allied Commander of Europe by NATO. The bracelet clasp also reads "DDE." Was Eisenhower really that worried about losing his watch?


This is the first time the Eisenhower Datejust has come up for public sale. Eisenhower left the watch to his valet and friend Sargent John Moaney, whose widow eventually sold it to the Raleigh DeGeer Amyx Collection, the consigner for this sale. A few things were changed on the watch since its presentation in 1951, including a new dial with tritium instead of radium markers and a Cyclops magnifier crystal, both of which were added at the request of Eisenhower himself.
Provenance Reigns

While often watches belonging to well-known luminaries are apocryphal or emerge from a cloud of mythology decades after the person's death, this Datejust is extremely well-documented. In fact, the July 21, 1952 cover of Life magazine is one step short of a straight-up Rolex advertisement. Eisenhower, the soon-to-be-elected President, grins at the camera, with the gleaming watch on his raised left wrist. Collectors have been coveting the watch ever since.
Provenance can do crazy things to the price of a watch. In July 2012 a Heuer Monaco worn by Steve McQueen in "Le Mans" only missed the $800,000 mark by a few dollars. This was not the only Monaco he worn during filming, and it still sold for nearly 1,000 times the price of a comparable piece without the star appeal. McQueen is cool, but 1,000x cool? (Don't answer that.) This was sold as part of a Hollywood memorabilia auction, not a watch-specific sale, and almost certainly sits on a shelf next to vintage racing suits and movie props, not in a watch safe.

Similarly, it's important to note that a non-sale on the Eisenhower watch is not indicative of the high-end vintage watch market at large. The final bid on this watch was still orders of magnitude larger than the price of a similar watch without the provenance.
Before it's here, it's on the Bloomberg Terminal.
LEARN MORE