DuPont Activist Peltz Pushes for Breakup of Conglomerate
Simon Casey and Jack Kaskey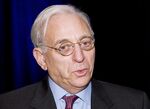 DuPont Co. activist investor Nelson Peltz called for a breakup of the third-largest U.S. chemical company and criticized its board for failing to meet earnings targets and destroying shareholder value.
DuPont has as much as $4 of billion excess costs and should separate its agriculture, health and nutrition operations from other, more cyclical businesses, Peltz's Trian Fund Management LP said in a statement today. Trian will meet with other shareholders to present its views on how to double the share price in three years. Wilmington, Delaware-based DuPont rose as much as 4.8 percent.
"The reason for DuPont's persistent under-performance is very simple: DuPont's conglomerate structure is destroying value," Peltz said in a letter to the chemical company's board, which Trian included in the statement.
Peltz first disclosed his interest in the company last year. Since then, Dupont Chairman and Chief Executive Officer Ellen Kullman has announced plans to cut bureaucracy, buy back $5 billion of shares and spin off the company's performance chemicals unit, a commodity business that has more volatile earnings than other segments. Trian said today this isn't enough.
Repeated Failures
"It is now clear that the board is not willing to hold management accountable for continuing under-performance and repeated failures to deliver promised revenue and earnings targets," Trian said. "Therefore, we can no longer be silent as DuPont continues to struggle to execute what we are convinced is a flawed business plan."
Trian said its investment funds own about $1.6 billion of DuPont's outstanding shares. That implies it has a stake of about 2.7 percent, which would make it the sixth-largest shareholder, based on data compiled by Bloomberg.
The California State Teachers' Retirement System is also supporting Peltz, Chief Investment Officer Christopher Ailman said today in an interview on Bloomberg Television. CalSTRS, as the fund is also known, holds a 0.2 stake in DuPont, according to data compiled by Bloomberg.
"DuPont welcomes open communications with shareholders," DuPont said in a statement. "While it is our policy not to comment on discussions with specific shareholders, we have had a constructive dialogue with Trian."
The shares rose 4.2 percent to $68.60 at 11:58 a.m. in New York. They have advanced 26 percent since July 16, 2013, the day before Peltz's interest in DuPont was first reported.
'Rich Multiple'
Breaking up DuPont may not create much value because it's already trading at 10 times estimated 2014 earnings before interest, taxes, depreciation and amortization, according to Hassan Ahmed, an analyst at Alembic Global Advisors in New York.
If profit at all DuPont's businesses grew at management's target of 12 percent a year, and if they were assigned "best-in-class" multiples, the shares still would be valued at less than $70, he said.
"How much more upside can this breakup give me?" Ahmed, who recommends holding the shares, said by phone today. "It's already trading at a rich multiple."
Trian, founded by Peltz and partners Peter May and Ed Garden in 2005, manages about $10 billion. The New York-based firm buys stakes in public companies it regards as underperformers and seeks to work with management and boards to boost shareholder returns.
It has targeted other conglomerates, including PepsiCo Inc., and has recently tussled with companies including Kraft Food Co., H.J. Heinz Co. and Family Dollar Stores Inc.
'Major Missteps'
Trian confirmed its holding in DuPont in a filing in August last year. DuPont said in October it would spin off its performance chemicals unit, which makes pigments and Teflon non-stick coatings. The stock buyback was announced in January.
In July, after DuPont forecast third-quarter earnings that trailed analysts' estimates, Peltz told a conference in New York that he would know by the end of the summer whether talks with the company had been "constructive."
In the letter sent to Dupont's board yesterday, Trian outlined what it called "major missteps" made by the company, including the decline of earnings since 2011 and the lowering of full-year profit forecasts for three straight years.
Peltz's firm also cited the 2013 sale of DuPont's paint business to private-equity firm Carlyle LP. Trian said the current owner reported in a filing that the paint business's earnings in 2011 were 67 percent higher than what DuPont originally reported, implying that DuPont had "burdened" the unit with $229 million of "excess corporate costs."
Dow Chemical Co. and LyondellBasell Industries NV are the two largest U.S. chemical companies by revenue, according to data compiled by Bloomberg.
Before it's here, it's on the Bloomberg Terminal.
LEARN MORE