China Slowdown Seen Hindering Plan to Scrap Rate Controls
Bloomberg News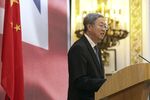 China's central-bank Governor Zhou Xiaochuan will miss his March 2016 goal for scrapping deposit-rate caps as a weak economy impedes policy makers, analysts at firms including Barclays Plc and Societe Generale SA said.
Almost half the respondents in a Bloomberg News survey of 23 analysts this month said the government won't meet the timetable Zhou outlined in March. Industrial output rose in August at the slowest pace since the global financial crisis, bolstering their case by indicating growth is cooling further.
Premier Li Keqiang is struggling to sustain growth as he rolls out measures intended to give markets a "decisive" role in the world's second-biggest economy. Delaying interest-rate liberalization could aid companies by staving off higher borrowing costs and banks by limiting competition for the nation's $18 trillion of deposits.
"The government's concern over the risk of a sharp economic slowdown means that progress on interest-rate liberalization is slightly less of a priority," said Yao Wei, a Paris-based China economist at Societe Generale SA. "Removing restrictions on interest rates could mean higher funding costs for some companies, just when the government has been trying to lower them."
Urging Caution
Twelve respondents indicated that China would meet Zhou's timeframe. Nine said the curbs would go by March 2017, while Barclays and Shanghai Securities Co. said by March 2018, in the survey conducted from Sept. 3 to 5. The central bank didn't immediately comment after a call to a press officer.
China needs to move slowly and with caution after examples such as the savings-and-loan crisis in the U.S. in the 1980s after interest-rate deregulation, said Frank Newman, a former U.S. deputy treasury secretary and a former head of Shenzhen Development Bank Co., now called Ping An Bank Co.
"Over 2,000 institutions failed in the U.S. after interest rates were deregulated," Newman, 72, now the China chairman of Promontory Financial Group LLC, said in an interview in Hong Kong today. "So there's a little bit of a message there -- you just have to careful."
Newman questioned the need for such changes in China and said he'd yet to see a clear explanation of what deregulation would accomplish.
Market's Role
In March, Zhou said that deposit-rate deregulation was "very likely to be realized in one or two years." The move is part of efforts to shift China's economy to more market-driven growth that relies less on credit-intensive investment.
A slower pace of rate deregulation became more likely after the banking regulator announced rules on Sept. 12 to limit month-end surges in deposits, China International Capital Corp. analyst Huang Jie said in a note. That's because the rules indicate policy makers want to reduce funding costs for companies and banks, Huang said.
Foreign direct investment into China slumped to a four-year low in August. The government is seeking to support growth with stimulus such as an injection of 500 billion yuan ($81 billion) into the biggest five banks, a government official familiar with the matter said yesterday.
Lenders' shares rallied in Shanghai today, led by China Citic Bank Corp., after the central bank cut a rate it pays on repurchase agreements to the lowest level since January 2011. Citic Bank rose 5 percent as of 11:23 a.m. local time.
Deposit Insurance
China needs a deposit insurance system to protect savers and handle bank failures before officials remove the cap on deposit rates. For now, Chinese borrowers regard a government guarantee as implicit because banks are mostly state owned. In the survey, a majority predicted that deposit insurance will be introduced in 2015.
Investors are checking government statements for clues on the likely pace of rate liberalization. While Zhou said in November last year that the central bank aimed to accelerate reform, a State Council statement this July called for an "orderly" approach as part of efforts to limit borrowing costs for smaller companies.
In a speech at the World Economic Forum in the northern Chinese city of Tianjin last week, Premier Li said the government won't be distracted by short-term fluctuations in individual economic indicators and will maintain its focus on structural adjustments and dealing with long-term issues.
Alibaba, Baidu
Lenders such as Industrial & Commercial Bank of China Ltd., the world's largest by assets, are already facing competition for savers' cash as technology giants such as Alibaba Group Holding Ltd. and Baidu Inc. offer online investment opportunities. Banks are producing wealth-management products to offer higher returns to their retail customers. Removing the cap on deposit rates may intensify the struggle.
The biggest lenders are already poised to exit an era of double-digit profit growth this year as a slump in property and overcapacity in industries such as steelmaking threaten to drive up bad loans, already at a five-year high. That's led shares of Beijing-based ICBC down more than 6 percent in Hong Kong in the past year.
Interest-rate deregulation has triggered financial turmoil in some countries. Finland, Norway and Sweden liberalized in the late 1970s and early 1980s without taking steps to regulate lending or tighten monetary policy, eventually resulting in a "full-blown banking crisis," according to a 2009 paper by International Monetary Fund researchers.
"You could have a financial crisis if you do it too fast," said May Yan, a Hong Kong-based China banking analyst at Barclays, adding that banks could take excessive risks in connection with their lending and assets.
Risky Changes
Deposit rates are capped at 110 percent of official benchmark levels such as the current 3 percent for one-year savings. The central bank left the ceiling intact in July last year when it scrapped restrictions on lending rates, adding that loosening the deposit rules was the "most risky" part of liberalization and would have a "much more profound impact."
China's economy expanded 7.4 percent in the first half from a year earlier and is forecast to grow this year at the weakest pace since 1990. Nonperforming loans have climbed for almost three years to reach 694.4 billion yuan as of June 30, data from the China Banking Regulatory Commission showed. At the same time, bad loans remain only 1.08 percent of total outstanding credit, according to the regulator.
Freeing up interest rates is risky because it reduces the government's control of the financial system, said Societe Generale's Yao. Without that power, surging debt might already have triggered a crisis, she said.
— With assistance by Jun Luo, and Alfred Liu
Before it's here, it's on the Bloomberg Terminal.
LEARN MORE