I Used Alibaba to Make 280 Pairs of Brightly Colored Pants
by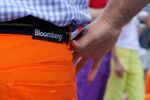 Let me be honest: Until this summer, I didn't really know what Alibaba was. It was easy enough to learn things about it: The collection of China's biggest e-commerce sites accounts for 80 percent of all e-commerce in China, with its sites doing $248 billion in business last year, more than Amazon and EBay combined. Now it's heading for what could be the biggest initial public offering in history.
Considering all that, I wanted more. Knowing about Alibaba seemed insufficient. I wanted to experience Alibaba. For me, that meant ordering a lot of pants. I could tell you all about this, but why don't you just watch the video:
In short, Alibaba enabled me—with little knowledge and even less experience—to have 280 pairs of fluorescent denim pants custom made in 28 days for $4,503, including shipping ($16.08 per). At the end of the Pants Project, I finally figured out how to think about Alibaba: It's the world's largest 3D printer.
Before it's here, it's on the Bloomberg Terminal.
LEARN MORE