The New, Reimagined Rainbow Room Is High Tech, Familiar
by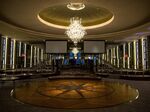 The views alone are worth the wait.

A previously unused terrace -- 950 square feet of wraparound grandeur -- is just one of several new additions to the iconic Rainbow Room event space, which has been closed for the past five years. From here, 800 feet up on the 65th floor of 30 Rockefeller Plaza, Central Park spreads out in its full glory. It's perhaps the strongest assertion of architect Michael Gabellini's vision for the renovation.
"The idea is to burnish history, to polish and move it into the present day, with an eye on the future," said Gabellini, during a private tour of the still-under-construction space. The architect considers the Rainbow Room the 'pinnacle' of his 15-year tenure at Rockefeller Center, which saw such successes as his Top of the Rock observation deck. And after a years-long restoration process, the city landmark reopens for a private gala October 1st, then to the public on October 6th, with new owner-operator Tishman Speyer at the helm.
Gabellini's task is ambitious. He cannot, in any way, alter the structure of the dining room since it was given protected status by the Landmarks Preservation Commission in 2012. Thus much of it -- the dance floor, the ceiling's dome, the staircase -- still dates back to its original architect Wallace K. Harrison, who conceived of it as an elegant club for dining and dancing shortly after the repeal of Prohibition.
First step was to shake off the dust: All chandeliers and sconces have been spiffed, shined, and fully restored; new crystal curtains (yes, real crystal) have replaced old fabrics; and white gold has been painted on the ceiling's famous dome.
Now, he's going for a sense of 'event.'

What's New
Though the dining room itself is a landmark, the rest of the 65th floor (some 14,000 square feet of usable floor space) is under no such restrictions. So Gabellini had some fun creating two new modern lounges in line with his overall return-to-glamour objective: The Gallery greets guests at the elevator's entrance, while bar SixtyFive holds court on the west side of the skyscraper.
"Originally, in the 1930s, the shape of the building was conceived as the Queen Mary [cruise liner] overlooking the Hudson," said Gabellini, standing in SixtyFive, which seats 92 and opens up to that spectacular outdoor terrace. "With the terrace, we wanted to create a panoramic view as if from the stern of a ship, and create the feeling of embarking on a voyage."
The question is whether this old-glamour 'voyage' will transport modern visitors -- or sink with the rest of the supper clubs.
"I want this to be today's extravagant social networking space," continued the architect gallantly, between sips of champagne. With walls of newly enlarged floor-to-ceiling windows and a dramatic silver-leaf ceiling, SixtyFive invites New York's big spenders -- and yes, well-heeled tourists -- to don formal attire and sip specialty 'throwback cocktails' like cherry manhattans from twilight to midnight. Light fare will also be served in the Art Deco space.

The Gallery lounge is more relaxed, centered on a long rosewood bar with a maritime-styled brass-trimmed majesty. Converted from what was previously the Rainbow Grille, it acts a pre-dinner cocktail passageway and a pre-function space for events.
Bar SixtyFive will be open Monday through Friday, from 5pm to midnight.
A Big Production
As it takes over management of the Rainbow Room's food and beverage business, Tishman Speyer is banking on state-of-the-art tech to help tip the scale toward success. "There is continuity in the aesthetic, design, and the use of technology," said Keith Douglas, managing director of Rockefeller Center, shortly after an elevator ride took us from the ground to the 65th floor in 45 seconds flat. "For instance, everything will be controlled through an iPad [via Crestron automation software] -- the lighting, the sound system, the heating and cooling."
In every nook of the re-imagined Rainbow Room, staff members can dim the lights on custom silver table tops, up-light windows, and switch tunes depending on the crowd and mood they want to create. Yet modern tech for modern bars and lounges was the easy part. The real challenge was retrofitting the famed dining room, where everyone's cherished memories threaten to look rosier than reality.

Dinner & Dancing
Originally, the Rainbow Room was so named because an organ was installed that projected colored lights with the music. Today, the lighting and sound system is comparable to that of a Broadway production. "It's literally a theater, in terms of its technical capability," says Gabellini, pointing out hidden high-tech sub-woofer stereos and 'gobos' [templates used to manipulate light] -- a stage manager's dream.
When asked how much Tishman Speyer spent on this renovation, the company declined to comment. But in 1987, celebrated restaurateur Joe Baum's Rainbow Room refurbishment cost $25 million. Adjusted for inflation, that would be approximately $50.5 million in today's dollar terms.
To achieve this, the dining room space is reserved from Tuesday to Saturday for private events -- weddings, charity events, and the like -- starting at about $400 per plate, according to Douglas. "Private events are good business," he adds, while promising Sunday and Monday will be 'consistently' open to the public for à la carte dinners, dancing, and Sunday brunch. He's also frantically booking a roster of musicians to 'reach a broader demographic.' On his wish list is everything from big bands (swing, waltz, and jazz) to a sprinkling of modern artists ranging from Christine Ebersole to Lady Gaga.

New Chef
Another draw -- or potential wildcard -- is the Rainbow Room's new executive chef Jonathan Wright, an unknown on New York's restaurant scene. Though his last gig managing a 450-person staff at Swissôtel The Stamford in Singapore has given him a taste for managing high-pressure, high-volume operations, he's still working out the soup to nuts (and bolts) of the menus for the main dining room and bar SixtyFive.
Wright so far has committed to modern American dishes, "some of which even pay homage to the history of the Rainbow Room." (Although with 75 years of menu history to choose from, that doesn't exactly narrow it down.) Oysters will almost certainly make an appearance; Chef Wright loves them so much he's even grown them himself.
"Everyone's looking forward to this because of what Joe Baum created," said Drew Nieporent, proprietor of Nobu Fifty Seven a few blocks away. "He gave the Rainbow Room its iconic status." Baum, who passed away in 1998, was well known for adding fun theatricality to fine dining.
"I think New York is a better food scene with the Rainbow Room," Nieporent added. "But if you get right down to it, the first forkful has to taste good."
Before it's here, it's on the Bloomberg Terminal.
LEARN MORE