Almost Half of China's Rich Want to Emigrate
by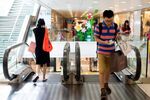 Even as the number of Chinese millionaires grows, the number of those aiming to leave China is getting ever larger.
About half of China's wealthy are considering moving to a new country within five years, says a just-released report by U.K.-based bank Barclays. The survey of more than 2,000 individuals around the world, all with personal wealth over $1.5 million, showed Chinese are more eager to emigrate than the very well-off in any other region.
Forty-seven percent of rich Chinese planned to move abroad in the next half-decade. That compared with 23 percent in Singapore and 16 percent in Hong Kong. One-fifth of rich Brits intended to emigrate, while only 6 percent of Americans and 5 percent of Indians had that plan, reported the South China Morning Post today, citing the report.
Not surprisingly, given China's high-pressure, exam-based school system, bettering children's education and improving their future job prospects were named as the main reasons to emigrate by 78 percent of respondents. A better economic situation was mentioned by 73 percent, while health care and social services were cited by 18 percent; the U.S. and Europe were the favored destinations.
"The reality is that most ultra-high net worth individuals in China are probably making money in China right now," noted Liam Bailey, head of residential research at London brokerage Knight Frank, in the report. "So, for business reasons, they need to be relatively close. That might prevent some of them going further afield."
Before it's here, it's on the Bloomberg Terminal.
LEARN MORE