Pentagram Designers Bring Back Massimo Vignelli's 1970s New York City Subway Style Guide
By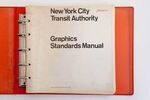 In the 1960s, the New York subways were a mess, sign-wise. Station names and metro lines were spelled out in a hodgepodge of sizes, shapes, and styles. The original mosaic tiles had been joined by cut stone and terracotta—all of which clashed with newer enamel signs. They were not only inconsistent in terms of style but also in where they were placed, so straphangers didn't know where to look for directions on how to get from point A to point B.
In 1970, following the merger of the IND and BMT lines, the Metropolitan Transit Authority (MTA) hired Massimo Vignelli and Bob Noorda, designers at the firm Unimark, to put an end to the typographic chaos. The system they devised still informs signs made today and is painstakingly outlined in a 174-page manual—an historic document that will soon be reprinted for a group of graphic-design-loving Kickstarter funders.
The path to Kickstarter is a typical story of Internet popularity. In 2012, Jesse Reed and Hamish Smyth stumbled across a rare copy of the New York City Transit Authority Graphic Standards Manual in the basement of their New York office. The pair, both designers at Pentagram, created a dedicated website for its scanned pages. Within 72 hours, the site got 250,000 unique hits. Two years later, the designers have struck a deal to reissue the manual, which will be available only during the 30-day Kickstarter campaign. With 25 days to go, they've raised more than $500,000, far surpassing the $100,000 goal.
The NYCTA Graphic Standards Manual HD from Hamish Smyth on Vimeo.
The interest in the manual speaks to a typography-savvy public that can identify Helvetica as the official font of the MTA and knows it's a sans-serif typeface. The reissued manual is a dutiful copy of Vignelli and Noorda's original style guide. Every page will be printed only on the right-hand page of the book, to be consistent with the single-sided format of the ring-binder original. The difference is that the new iteration will come with even more design cred: an introduction from Vignelli's protégé and Pentagram partner Michael Bierut and an essay from Christopher Bonanos, the author of Instant: The Story of Polaroid. Smyth says he and his colleague decided to launch a Kickstarter project because the book is so large—14.25 inches by 13.5 inches—that "no publisher would touch it."





Before it's here, it's on the Bloomberg Terminal.
LEARN MORE