NFL Back as Abuse, Concussions Hijack Top U.S. Sport's Headlines
Rob Gloster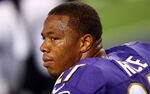 The National Football League risks having legal issues overshadow the sport as criminal charges against players accumulate amid a backdrop of almost $1 billion in liabilities tied to head-injury claims.
While running backs Ray Rice and Adrian Peterson weren't allowed to suit up yesterday because of abuse cases, Ray McDonald played despite similar issues and fellow defensive end Greg Hardy was deactivated just before his game. Those contradictions and the league's handling of the Rice case have led advocacy groups including the National Organization for Women, to call on NFL Commissioner Roger Goodell to resign.
"These examples certainly chip away at the NFL's brand," Clark Haptonstall, chairman of the department of sport management at Rice University in Houston and a professor who teaches sports ethics, said in an e-mail. "At some point there is a threshold where fans will begin to feel that they can't relate to the players any more, and that's when they stop watching."
About 205 million people tuned in to NFL games last year, representing 81 percent of all television homes in the U.S. The 2013 season averaged 17.6 million viewers a game, the second-most-watched season after 2010.
Those figures have helped the NFL generate almost $10 billion in annual revenue, from which Goodell received $35 million in salary last year, while boosting team values -- the Buffalo Bills were sold last week for a record $1.4 billion, according to a person with direct knowledge of the transaction.
Yesterday's Week 2 games were played two days after a pair of reports estimated the NFL will have to pay out $900 million to $950 million to resolve former players' concussion claims.
Concussion Suits
While the Rice case has dominated sports news over the past seven days, the concussion suits are the biggest long-term threat to the value of the league and its teams, said Lyle Ayes, managing director and co-head of the sports group at investment banking advisory firm Evercore Partners Inc.
"Concussion-litigation risk in the NFL seems to be top of mind for buyers these days," Ayes said Sept. 3 at the Bloomberg Sports Business Summit in New York. "If there's anything that can derail that juggernaut, that seems to be the one that scares people."
A video of Rice, which shows him punching his then-fiancee in the face, Peterson's indictment on charges of beating his 4-year-old son and the concussion reports overshadowed approval three days ago by the NFL players' union of new drug policies that allow human growth hormone testing for the first time.
Suspended Indefinitely
Rice, 27, the Baltimore Ravens' top running back, was released by the team Sept. 8 and suspended indefinitely by the NFL after the video was posted on website TMZ.
Rice originally was suspended two games by Goodell, who said the day the player was released that no one at the NFL saw the video of the punch until last week. Two days later, Goodell hired former FBI Director Robert Mueller to examine the league's handling of the case after the Associated Press said a law enforcement official sent a copy of the video to the NFL in April.
U.S. Senator Richard Blumenthal, a Connecticut Democrat, said yesterday on ABC's "This Week" that Goodell "should go if he lied" about when the league saw the videotape.
"If Roger Goodell lied, as a lot of people believe he did, because the security apparatus of the NFL is so competent and well experienced that for them to not have known about this tape seems incredible, he should go," Blumenthal said.
Peterson, 29, who leads all active NFL players with 86 rushing touchdowns, was indicted four days ago. The Minnesota Vikings running back faces up to two years in prison if convicted on a charge of hitting his son with a switch, a thin tree branch or stick.
$15,000 Bail
Peterson's son allegedly suffered cuts and bruises to his back, buttocks and legs, according to CBS Houston, citing unidentified law enforcement sources. Peterson was booked at the Montgomery County jail north of Houston and released on $15,000 bond.
The Vikings deactivated Peterson for yesterday's game against the New England Patriots. Minnesota lost 30-7, rushing for a total of 54 yards in the game; Peterson has averaged 98 yards per game in his eight-year career with the Vikings.
"Well, if you took the best player off of every team it would have an impact, yes, of course," Vikings coach Mike Zimmer said in a news conference after the loss.
Not Accountable
Haptonstall and Shawn Klein, an assistant professor of philosophy at Rockford University in Illinois, both said the NFL cannot be held accountable for the acts of its players.
"It is not the NFL's responsibility to shape them into moral citizens," Klein said in an e-mail interview. "Its responsibility is to the game, the institution and its various stakeholders, and so they need to respond appropriately to these cases, but it is not about making the players better people."
While Rice was fired, Hardy played in Carolina's season opener and was set to play yesterday until the Panthers deactivated him 90 minutes before their home game against the Detroit Lions. Hardy, 26, who was selected to the Pro Bowl last season, is appealing a 60-day suspended jail sentence he got in July for assaulting a former girlfriend.
The Panthers defeated the Lions 24-7.
Two weeks after being arrested for felony domestic violence, McDonald had two tackles for San Francisco in a 28-20 loss last night against the Chicago Bears in a nationally televised game in the debut of the 49ers' new $1.3 billion Levi's Stadium.
Court Hearing
A court hearing for McDonald, 30, set for today was postponed while the probe continues, the Santa Clara district attorney's office said Sept. 12 in a Twitter message, adding that a new date for the hearing will be announced today.
The women's advocacy group UltraViolet flew a plane carrying a banner calling for Goodell's ouster above MetLife Stadium in East Rutherford, New Jersey, before the host New York Giants lost 25-14 yesterday against the Arizona Cardinals.
Sharon Stoll, director of the center for ethical theory and honor in competition and sports at the University of Idaho in Moscow, Idaho, said abusive men probably had problems before they entered the NFL. The professor in movement sciences said she doesn't expect the recent headlines to cause long-term problems for the league.
"These guys who beat up their women have issues that have been there for a long time," Stoll said in an e-mail interview. "I would bet that the blemishes were ignored again and again."
Blumenthal said publicity surrounding the Rice video could help reduce the stigma on abuse victims who speak out.
'Turning Point'
"This Ray Rice incident could really be a turning point," Blumenthal said, "could be a real opportunity that we need to seize from Congress and from the NFL to do more."
Many fans were eager for yesterday's games after a week of relentless bad news. It's been a difficult few years for the league.
Kansas City Chiefs linebacker Jovan Belcher, 25, killed himself in an Arrowhead Stadium parking lot a day before a game in December 2012 while coaches pleaded for him to put down his gun. He earlier had fatally shot his girlfriend.
Former Patriots tight end Aaron Hernandez, 24, is in prison facing three murder charges after shootings in 2012 and 2013 in the Boston area.
"If you haven't learned right from wrong by the time you are in the NFL," said Klein, who writes "The Sports Ethicist" blog, "it is probably too late to shape you into a moral citizen."
Before it's here, it's on the Bloomberg Terminal.
LEARN MORE