Every City Is the Death Star With This 'Space Station' Map Skin
One woman's tribute to her favorite post-apocalyptic, science-fiction worlds.
By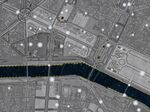 Tired of being trapped on this spinning rock? Then strap on your make-believe helmet and blast off to Space Station Earth, a futuristic digital map skin that makes it seem like you're exploring George Lucas' famed "technological terror."
The eerie Mapbox skin was created by Eleanor Lutz, a 22-year-old freelance designer in Seattle and self-described "big fan of science fiction and computer games." The project is meant to be a tribute to her treasured sci-fi genre, she says: "I crammed it full of bright lights and chrome like some of my favorite post-apocalyptic worlds: the Matrix, Battlestar Galactica, and StarCraft."
There are quite a few nifty effects that really make the map come alive... as much as it can, that is, being cold and off-putting in a deep-space way. As depicted in the above sector of Paris, there are yellow-and-black hazard markers on waterways that would fit right in at Ripley's cargo-bay battle in Aliens. Calling it "water" is actually no longer correct, as Lutz has replaced all H2O with blazing stars and the cosmic abyss. And then there are glowing markers on real-world stores to simulate city lights, indicating that somewhere inside this immense vessel of metal and diodes is a functioning civilization.
Here are a few glimpses of Space Station Earth, beginning with the corridor between the xeno-colonies of New York and Washington, D.C.:

Here's Chiyoda, Tokyo, bulging like the monstrous head of some mechanical Tetsuo:

Venice drained of its human color:

Dubai's coast is finally looking like it belongs in its proper, alien-world setting:

Lutz has also included an Easter egg—a Space Shuttle docked on the site of her former Mapbox workplace in D.C.: