Yuan Loan-Backed Bond Surge Prompts China Risk Warnings
Bloomberg News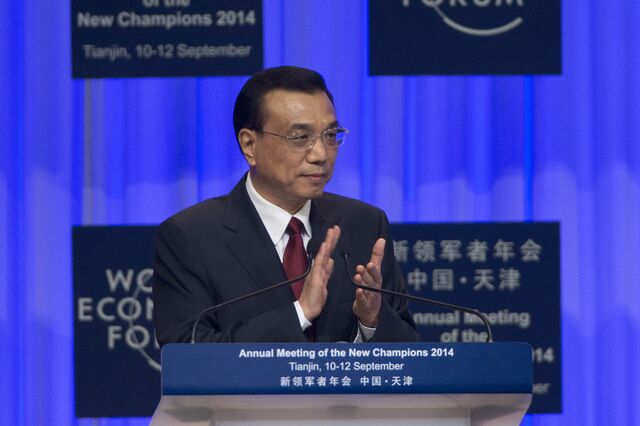 Chinese banks are selling notes backed by loans at a record pace as they seek to offset a slump in deposits, prompting credit analysts to warn of the risks of securities that sparked the global financial crisis.
Lenders in the world's second-biggest economy have issued 148.7 billion yuan ($24.2 billion) of collateralized debt obligations this year, almost five times what's been sold since 2012 when a ban on the securities was lifted, Bloomberg data show. The central bank and finance watchdog both must approve issuance of the securities, which take assets off balance sheets for accounting purposes, allowing lenders to seek more business without breaching regulatory limits.
China is experimenting with new types of securities at a time when deposits are dropping at a record pace and soured debt is rising amid a property slump. Non-performing loans rose to the highest in five years in June as China Construction Bank Corp. to Bank of China Ltd. reported sluggish profit growth.
"Because most asset-backed securities investors are banks, securitization doesn't help lower the lending risks the whole banking system is exposed to," said Li Ning, a bond analyst in Shanghai at Haitong Securities Co., the nation's second-biggest brokerage. "The risks one bank issuer faces are simply transferred to the bank investor."
More Room
Premier Li Keqiang is seeking to shift financing to official channels after shadow-banking assets jumped 32 percent in 2013 to 38.8 trillion yuan, according to Barclays Plc estimates. The banking regulator tightened rules on new trust products in April, after failures of such investments sparked protests. Authorities approved the first asset-backed security tradable on the Shanghai stock exchange in June, and in July authorized the first mortgage-backed notes since 2007.
Asset-backed securitization, in which lenders package loans into collateral for note sales, can help banks make room on their balance sheets for new lending. The practice has attracted global regulatory focus since the 2008 financial crisis, when loans to subprime home buyers in the U.S. went bad. China resumed approvals in 2012 after a four-year halt.
Two calls to the central bank's press office weren't answered. An official at the China Banking Regulatory Commission's press office, who wouldn't be identified, declined to comment. A fax sent to the CBRC seeking comment on the risks of asset-backed securities wasn't immediately replied to.
Shadow Banking
The notes are being sold in the interbank market, which is comprised of banks and insurers, according to Jerome Cheng, senior vice-president and structured finance analyst at Moody's Investors Service in Hong Kong. They're being issued under the same law that facilitated the proliferation of the shadow banking industry, which has ballooned 12-fold since 2009.
"One bank repackages their loan portfolio and sells to another bank, the risk may still be within the banking system," Cheng said. Such sales will be more prominent among smaller city commercial banks, he said.
"It's not the product that's a problem it's how you utilize it," Cheng said. "Government officials on various occasions have mentioned they want to see the growth of the securitization market to help economic reform and to channel funding to underserved sectors."
Higher Risk
The loan-backed note sale market in China is small compared with overall bank debt. Last month alone, lenders sold an equivalent of $28.3 billion of subordinated securities, which are counted toward capital, Bloomberg data show.
Typically, banks package up about 40 to 60 loans and sell them to a trust, according to Fitch Ratings Ltd.'s Helen Wong, the head of Asia ex-Japan structured finance. Two kinds of notes are then issued. Some 15 percent to 30 percent are sold as certificates that pay a higher yield for the risk of missed loan payments while the rest are sold as top-rated bonds that only absorb losses if junior investors are wiped out.
In the U.S., the junior, or subordinated, tranche is generally larger than 30 percent and the number of underlying loans three to four times more, Wong said. That provides diversification, and an additional buffer, she said. In China, "the portfolio is highly concentrated and credit enhancement is actually lower."
Skin-in-the-Game
China's local-currency bank deposits fell by a record in July, eroding lenders' capacity to extend credit. Yuan deposits fell by 1.98 trillion yuan to 111.62 trillion yuan from the previous month, the central bank said on Aug. 13, the biggest monthly decline in figures dating back to 2000.
Chinese banks are required to maintain a maximum loan-to-deposit ratio of 75 percent. The average touched 65.9 percent on March 31, 1.2 percentage points higher than a year earlier, CBRC data show. Outstanding loans increased 13.4 percent from a year earlier to 78 trillion yuan in July, central bank data show.
The nation's broadest measure of new credit -- aggregate financing -- trailed analyst estimates in August, coming in at 957.4 billion yuan compared with the 1.135 trillion yuan median estimate of economists surveyed by Bloomberg, the People's Bank of China said today in Beijing. New local-currency loans, which measure new lending minus loans repaid, were 702.5 billion yuan, versus the median economist estimate of 700 billion yuan. They were 385.2 billion yuan in July and 712.8 billion yuan a year earlier.
As well as requiring approval from the PBOC and the CBRC, asset-backed notes in China are subject to a "skin-in-the-game" rule, which requires an issuer buy at least 5 percent of the notes they sell, helping align interests of investors and originators, Moody's Cheng said. He also said the securities have to comply with trust and contract laws.
Those indicate that loans placed into a trust will be isolated from the bank that issued them, ensuring investors' access to debt payments is protected even if the lender runs into trouble. This system hasn't been tested and it's unclear how it would fare in a bankruptcy case, according to Jeff Chen, a Hong Kong-based partner and the head of Asia structured finance at law firm Dentons LLP.
"The CBRC administrative regulations don't rise to the level of a statute," Chen said. "There are also certain untested issues in relation to the enterprise insolvency law."
— With assistance by Christopher Langner, and Judy Chen
Before it's here, it's on the Bloomberg Terminal.
LEARN MORE