Southwest Hangs Up Its Low-Cost Jersey
As the onetime upstart has grown larger, so have expenses
By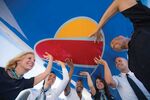 Southwest Airlines rolled out a corporate rebranding and new paint jobs for its fleet on Sept. 8, part of a freshening up to coincide with its integration of AirTran Airways—the largest acquisition in Southwest's history—and the launch of international flights. The famously informal carrier that started from a business plan scribbled on the back of a cocktail napkin has been quick to describe the redo with the phrase "New look, same heart."
Yet there's a less-heralded, but far more important, change at the carrier credited with bringing affordable air travel to the masses: It's no longer the industry's low-cost leader. Just as Southwest has grown—becoming America's No. 4 airline—so have its costs. Today, Southwest has per-mile operating costs that come close to its three larger rivals, American Airlines Group, Delta Air Lines, and United Continental Holdings.
Part of Southwest's rising cost issue is jet fuel, which averaged $3.16 per gallon for the company last year, up from $1.80 in 2007 when it had long-term contracts that kept its fuel costs lower than at other airlines. Fuel now accounts for more than 35 percent of its spending, up from 29 percent seven years ago.
A much bigger part of the story is the industry restructuring that began with the wrenching bankruptcy filings by nearly all of the big U.S. airlines since 2001. That allowed established carriers which were weighed down by decades of embedded costs to revamp their expenses across the board—employee head count, aircraft leases, the wine offered in first class.

The industry makeover has left most of the big players with largely the same expenses. As a result, the true low-cost airline leaders are not Southwest but the ultrabudget Spirit Airlines and Allegiant Travel, carriers that squeeze more seats onto their planes by not letting seats recline.
Delta had a cost of 8.98¢ for each seat it flew 1 mile in the second quarter, not counting fuel expense. Southwest was at 8.25¢—less than the other big guys but up 4 percent from the same period in 2013. It also experienced higher costs from integrating and adjusting salaries at AirTran, where workers had been paid less than employees at Southwest.
Now that its costs almost equal those of its rivals, Southwest is having the kind of financial stare downs with workers that the biggest carriers have had for decades. Contract talks are going on with most of its unions, covering 83 percent of workers; and Southwest is pushing for changes in compensation and other costs. It wants to base some of workers' pay on performance measures and switch from fixed pay increases—amid a backdrop of record profits. That's infuriated employees. Last month the union that represents 6,000 Southwest passenger service and reservation agents, the International Association of Machinists and Aerospace Workers, sought a federal mediator to intervene in talks that have stretched for two years. Southwest workers "have been and continue to be justly rewarded with industry-leading compensation, benefits, and unprecedented job security," Chief Executive Gary Kelly wrote in an e-mail.
Southwest is also no longer the low-fare leader in many cities, having steadily raised prices in recent years. Southwest's average one-way fare rose 8 percent, to $163, over the past year. The lowest nonstop one-way fare from Chicago to Los Angeles on Southwest, American, United, and Virgin America, for instance, was $156.10 on Sept. 10. That was $44 more than Spirit's cheapest. Southwest continues to trumpet its "Bags fly free" policy as well as the absence of fees to change tickets or make phone reservations. But those passenger-friendly gestures also mean the carrier has ceded revenue sources that other airlines enjoy—yet another reason it no longer promotes the kind of low ($39 and under) fares it once offered in abundance. Unfortunately for passengers, new aircraft colors won't bring those back.