Neeleman's Azul Mulls Newest Boeing-Airbus Jets to Expand
Christiana Sciaudone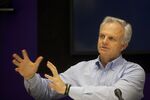 Azul Linhas Aereas Brasileiras SA, Brazil's third-biggest airline, is considering buying the newest-model narrow-body jets from Airbus Group NV or Boeing Co. to add bigger planes on its busiest domestic routes, said Chief Executive Officer David Neeleman.
Azul may need about 30 single-aisle airplanes to replace its Embraer SA regional jets as those aircraft are shifted elsewhere in an expanding network, said Neeleman, who also founded JetBlue Airways Corp. The decision is between Boeing's 737 Max and Airbus's A320neo, he said.
Neeleman is betting on continued growth in passenger demand in Brazil, where the number of travelers has tripled in the past decade to more than 100 million. Barueri, Sao Paulo-based Azul will add routes in about 50 cities that have no existing flights when a proposed government subsidy program for regional aviation gets under way as early as next year.
"Cost per seat mile is becoming a bigger factor on the long-haul flights," because the price of jet fuel is so high, Neeleman said today in an interview at Bloomberg's New York headquarters. "If the regional aviation program comes out, it's going to be a boom."
More Efficient
Boeing's 737 Max is designed to reduce fuel consumption by as much as 20 percent, while the A320neo claims a 15 percent reduction. Jet kerosene in Brazil is among the most expensive in the world because of high taxes.
The Max is slated for commercial debut in 2017 and the A320neo in 2015.
The six-year-old airline, which is considering going public by January, will start flying A330-200s to the Florida cities of Orlando and Fort Lauderdale from Campinas as early as December. Those flights will help drive new demand from other cities in Brazil, Neeleman said.
"People tend to travel more if there's an airline, if there's a plane going out of their city," Neeleman said. "There are more people that would travel internationally given the convenience and the fare."
Azul has also been approached about joining Star Alliance, the global marketing group led by United Airlines and Deutsche Lufthansa AG, as soon as this year, Neeleman said. Alliances such as Star and Oneworld let airlines book tickets on each other's flights and allow passengers to earn and redeem frequent-flier miles on all carriers in the alliance.
Before it's here, it's on the Bloomberg Terminal.
LEARN MORE