Lululemon Soars as Yogawear Maker Boosts Annual Forecast
Lindsey Rupp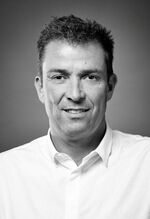 Lululemon Athletica Inc., the yogawear maker that recently ended a dispute with its founder, jumped the most in more than three years after boosting its annual forecast on quarterly profit that topped estimates.
The shares advanced 14 percent to $43.73 in New York for the biggest gain since December 2010, after Lululemon raised its forecast for the year by a penny to $1.72 to $1.77 a share.
Chief Executive Officer Laurent Potdevin is adding more clothing that customers might wear outside of a yoga studio, capitalizing on demand for so-called streetwear. Lululemon also is seeking more growth from men's apparel and overseas customers after a fight with founder Chip Wilson that ended with him selling half his stake in the company to private-equity firm Advent International Corp.
"The big trend is the streetwear, and that's what this company is executing toward," said Anna Andreeva, a New York-based analyst at Oppenheimer & Co., who recommends buying the shares. "This product is still very small as a percentage of the total, but it seems there was some pent-up demand."
Net income declined to $48.7 million, or 33 cents a share, in the three months ended Aug. 3, from $56.5 million, or 39 cents, a year earlier, the Vancouver-based company said in a statement today. Analysts projected 29 cents, the average of 33 estimates compiled by Bloomberg.
Revenue rose 13 percent to $390.7 million in the second quarter from a year earlier, topping analysts' estimates for $377 million in sales. Total comparable sales were flat on a constant currency basis, held up by a 30 percent increase in "direct to consumer" revenue.
'On Track'
"We are pleased to be on track with the implementation of our strategic road map, and are starting to see the results of our work across product, brand and international expansion," Potdevin said today in the statement.
The company has cited success with its "&Go capsule," which features clothes that can be worn every day in different situations. On Lululemon's website under the &go label, the retailer is offering a "Good-to-Go Tee" for women priced at $68 and an "Effortless dress" for $128. For men, Lululemon has pants and shorts such as "Post-practice polos" and "Kahuna shorts" both of which are sold under a tab labeled "No sweat."
Lululemon's stock has fallen 26 percent this year, compared with an 8.1 percent gain in the Standard & Poor's 500 Index.
Last month, Wilson agreed to sell half his stake in the retailer to Advent for $845 million and to forgo pursuing a buyout for at least a year. The deal ended a fight between the board and Wilson, who had voiced dissatisfaction with the company's direction after stepping down as chairman.
'Smart Money'
The stake sold represents about 13.9 percent of the shares outstanding. As part of the deal, David Mussafer and Steve Collins, managing directors at Advent, were named to Lululemon's board. The company also named Mussafer as a co-chairman of the board to serve alongside Michael Casey.
"They're known as smart money, and the fact that they're back involved in a big way, it just further supports that the Lululemon brand is strong and the growth prospects are good," Howard Tubin, a New York-based analyst at RBC Capital Markets, said in an interview. "They'll be additive to the board and discussions," said Tubin, who recommends buying the shares.
Advent, a Boston-based private-equity firm, was an early backer of Lululemon and helped it expand from a regionally focused retailer to a global brand. In 2005, Wilson sold a 48 percent stake in his company to Advent and Highland Capital Partners for $93 million. Advent, which exited its original investment in June 2009, said it worked closely with Wilson and five of the current directors, including Casey, during the company's expansion.
Luon Issue
Lululemon ran into trouble last year when the company recalled its black Luon yoga pants because they became too transparent when the wearer bent over. About two weeks after the recall, the company said Chief Product Officer Sheree Waterson was stepping down. Two months later, CEO Christine Day announced plans to retire.
The company said in December that Potdevin, a Toms shoes executive, would take over as CEO. That same month, Wilson said he would resign as chairman prior to the June annual meeting. Wilson's involvement in the company may have scared off some potential candidates to replace Day as CEO, analysts said in November.
Potdevin has been shifting the company's international strategy away from a pattern of first opening showrooms -- smaller locations with limited selections and shorter hours -- before finding the right staff and locations for full, permanent stores. The company will have a presence in eight countries outside of North America through stores, partnerships or showrooms by the end of 2014, with plans for more than 20 stores in Asia and Europe by the end of 2017, Potdevin has said
Before it's here, it's on the Bloomberg Terminal.
LEARN MORE