Auto-Loan Boom in U.S. Bringing More Bad Debt: Chart of the Day
David Wilson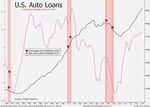 Auto loans are in the midst of a U.S. boom that is coming to "the end of the road," according to Pierre Lapointe, head of global strategy and research at Pavilion Global Markets.
The CHART OF THE DAY shows the dollar value of motor-vehicle loans and year-to-year percentage changes, based on figures compiled quarterly by the Federal Reserve. The amount borrowed has climbed for 15 consecutive quarters, the longest streak since 2005. The second quarter's increase, 9.2 percent, was the biggest since 2002.
"Credit quality is now deteriorating" as historically low interest rates and competition among lenders spur borrowing for car and truck purchases, Lapointe and a colleague, Alex Bellefleur, wrote in a report yesterday.
Delinquent auto loans totaled $15.1 billion as of June 30, according to data compiled by the New York Fed. The amount rose 16 percent from a year earlier. The average U.S. rate for 48-month loans on new cars was 3.22 percent as of Sept. 9, less than half the cost when the economy's current expansion began in 2009, according to Bankrate.com.
Borrowing has risen along with auto sales. Last month's U.S. sales climbed to an annual rate of 17.5 million vehicles, the fastest seasonally adjusted pace since 2006, according to the Autodata Corp. research firm.
"It is relatively late in the credit cycle for auto loans," wrote Lapointe, who is based in Montreal. "This does not mean that the cycle is on the verge of collapse, but this is a sector worth watching."
Before it's here, it's on the Bloomberg Terminal.
LEARN MORE