Private Equity's Quest for Mines Stalls as Commodities Slide
David Stringer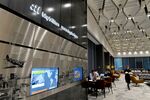 The push by private equity funds to acquire mining assets is slowing as investors struggle to land major deals while commodity prices slide.
The funds have raised $1.1 billion for investments in mining and metals this year, compared with about $8.8 billion in 2013, according to data compiled by Bloomberg. Less than $2 billion has been spent by the funds on mining assets in the past two years, according to Bloomberg Intelligence research.
"When private equity makes an investment they say they want to be out in three to five years," David Williams, managing director of corporate adviser Kidder Williams Ltd., said at Bloomberg's "Beyond The Boom: Mining to Dining" seminar in Melbourne. Making bets on producers of commodities from coal to almonds is less certain, he said. "What I see in mining is a risk in pricing."
Funds, including those led by former Xstrata Plc Chief Executive Officer Mick Davis and ex-Barrick Gold Corp. CEO Aaron Regent, are said to have examined targets from Peru to South Africa. Few have completed major deals even as mining companies sold $53 billion of assets in the past 12 months.
Price declines in commodities from copper to iron ore may be leaving investors wary over opportunities for returns, according to Simon Mawhinney, a Sydney-based portfolio manager with Allan Gray Australia Pty, which manages assets worth about A$4 billion ($3.7 billion).
"Private equity funds are opportunistic and most of the assets that have made their way to market so far in the resources space are assets that don't generate positive free cash flow at current commodity prices," said Mawhinney. "For anyone to buy them is risky."
BHP Spinoff
Iron ore slumped 38 percent this year as producers increased output, while copper for delivery in three months on the London Metal Exchange declined 7 percent. Ore with 62 percent content delivered at the Chinese port of Qingdao fell yesterday to $83.50 a dry ton, the lowest since Sept. 22, 2009.
BHP Billiton Ltd., the world's biggest mining company, plans to spin off a collection of operations from South African thermal coal to an Australian silver mine into a new company next year rather than pursue sales. Broker valuations for the new company range from about $8 billion to $17 billion.
"Trade sales probably didn't eventuate at the prices they thought were fair value," said Michelle Lopez, a Sydney-based investment manager at Aberdeen Asset Management Ltd., which oversees holdings of about $7 billion in Australian equities including BHP. "I'd assume there were buyers out there, but that what they were willing to pay wasn't in line with what BHP wanted."
Near Misses
Davis's X2 Resources was said in April to be studying some BHP thermal coal and nickel assets, while Regent's Magris Resources Inc. was said last year to have been considering a bid for Glencore Xstrata Plc's Las Bambas project. A consortium led by China Minmetals Corp. in April agreed to pay $5.85 billion for the copper project in Peru.
"Private equity hasn't been able to put its hands on anything significant in mining," said Alberto Calderon, a former BHP executive and current board member of Orica Ltd., the biggest supplier of mining chemicals and explosives. "It hasn't happened and I wouldn't think that it's going to happen in any material way."
Calderon was speaking before the Bloomberg seminar in Melbourne yesterday, which he also addressed.
While private equity investors may have concerns over weaker commodity prices "contributors to these funds are unlikely to wait much longer to see their investments put to use," Ernst & Young LLP said in a report last month.
Smaller Deals
Acquisitions may increase in the mining industry in the next six to 12 months as investors seek assets when valuations are at their lowest, the Ernst & Young report said.
QKR Corp., a mining investor founded by former JPMorgan Chase & Co. banker Lloyd Pengilly, in February agreed a $110 million deal for AngloGold Ashanti Ltd.'s Navachab mine in Namibia. Calderon in May invested in Gulf Alumina Ltd., which is developing bauxite projects in Australia, according to the company's website.
"For small deals, there's a role for private equity," Calderon said in a Sept. 8 interview in Melbourne. "In deals between $10 million and $30 million, in this current environment, there are going to be interesting opportunities."
Before it's here, it's on the Bloomberg Terminal.
LEARN MORE