Nissan Infiniti Unit Names Roland Kruger as President
Ma Jie and Yuki Hagiwara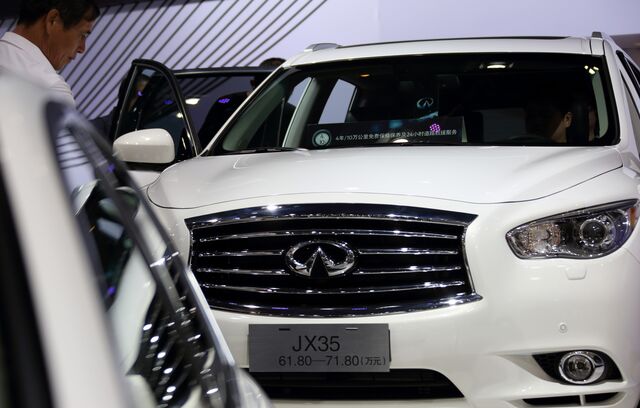 Nissan Motor Co.'s Infiniti premium brand named former Bayerische Motoren Werke AG executive Roland Kruger as president after defections by the Japanese carmaker's leaders including Andy Palmer.
Kruger, a 48-year-old German national who was a senior vice president at BMW, will be based at Infiniti's Hong Kong headquarters and report to Carlos Ghosn, Nissan's chief executive officer, the company said in a statement.
Palmer, who oversaw the Infiniti unit as Nissan's chief planning officer, resigned last week to lead Aston Martin Lagonda Ltd., after Infiniti President Johan de Nysschen left for General Motors Co.'s Cadillac brand in July. Nissan and Infiniti have been recruiting executives from rivals since the carmaker set up the headquarters for its luxury brand in Hong Kong two years ago, as Ghosn counts on premium sales to help raise the company's operating margin to 8 percent by March 2017.
Infiniti sales rose to a record this year, helped by China demand that more than doubled from a year earlier, as it targets 10 percent of the world premium market by 2020 to challenge Volkswagen AG's Audi, BMW and Daimler AG's Mercedes-Benz.
"Roland Kruger has a consistent record of high performance in the premium automotive sector," Ghosn said in the statement.
BMW Career
Kruger joined BMW in 1998 as a manager of strategic product planning. He has headed product planning and marketing for the Asia-Pacific, Africa and East Europe regions and served as managing director of the BMW Group in Asia and CEO of BMW's Japan unit. He was appointed to his most recent position at the German carmaker in 2013.
Infiniti said in July it hired Gaby-Luise Wuest from BMW as its new vice president for global operations, effective this month. Last year, Infiniti hired BMW's Daniel Kirchert, a fluent Mandarin speaker who had headed the German carmaker's expansion in China since 2007.
De Nysschen was recruited in 2012 from Audi, where he worked for almost two decades. By 2011, his last full year running the German brand's U.S. unit, sales climbed 42 percent from 2005.
Since its move to Hong Kong, the premium brand has expanded into markets from South America to Southeast Asia and has announced production plans for China, the U.K. and Mexico.
Infiniti production in China will start this year for two long-wheelbase models as foreign automakers step up investments to increase their share in the country, which McKinsey & Co. predicts will overtake the U.S. to become the top market for luxury vehicles by 2016.
Before it's here, it's on the Bloomberg Terminal.
LEARN MORE