What Are NFL Cheerleaders Worth? Inside Their Fight for Minimum Wage
By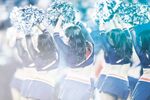 Caitlin Ferrari grew up rooting for the Buffalo Bills. At the dance studio in her hometown of Rochester, N.Y., her instructor was a former Bills cheerleader—a Jill, as the NFL team's dancers call themselves—and at the end of her freshman year at Niagara University in 2009, Ferrari decided to try out herself. "It just kind of popped into my head," she says now. "Honestly, I didn't really think I was even going to make the squad." After two weeks of auditions and a final interview, she did. Like the rest of the Jills, she was then presented with a contract stating that she wouldn't be paid—not for games, not for twice-a-week practices, not for mandatory off-field appearances. There would be a chance, she was told, to make $20 an hour at some charity events. Ferrari didn't think twice. "I'm 18," she says. "I just made this amazing professional cheerleading squad. I'm going to sign whatever the heck they put in front of me."
Now, she says, she knows better. She didn't try out the next season, and in April of this year, Ferrari, now a 24-year-old sales rep for Eastern Copy Products in Rochester, filed a class action against the Bills for wage theft. She tells the story in a conference room at a rent-a-suite office in Buffalo, with one of her lawyers at her side. Ferrari is wearing a knee-length, sleeveless white dress and a bib necklace with magenta gemstones: Rabble-rouser is about the last description that comes to mind. "I wasn't one to voice my opinion," she says. But in January, Ferrari learned that an Oakland Raiders cheerleader named Lacy T. had sued her team in California court, alleging she was illegally underpaid. (The women often go by first name and last initial to protect against stalkers.) "You don't make any money," Lacy told HBO's Real Sports. "You're better off serving beer and hot dogs in the concession stand." Compared with Ferrari's deal with the Jills, Lacy's contract was generous: $125 per game for two preseason and eight regular season games.

"Once I saw that case come out, it really stuck in my head—I'm not the only one," says Ferrari. A Cincinnati Bengals cheerleader brought a suit in February, and a second Raiders cheerleader added her name to Lacy's case that same month. Ferrari filed in April, on the same day as a separate suit brought by five other former Jills. A New York Jets cheerleader sued in May, and a couple of weeks later, so did one from the Tampa Bay Buccaneers. In June two more Raiders cheerleaders sued in a class action that named the National Football League, along with the team, as a defendant. In all, 13 current and former NFL cheerleaders in five cities have filed pay cases. In every one, the cheerleaders are claiming that teams violated minimum wage laws.
As the plaintiffs pile on, fans are learning that the most powerful sports league in the U.S., with $9.7 billion in annual revenue, pays its sideline performers worse than the average birthday clown or barista. "It's giving the league a black eye," says Paul Secunda, a professor of labor law at Marquette University. "There's no need for them to act this way." The self-inflicted damage comes at a time when the league's handling of a domestic violence case involving former Baltimore Raven Ray Rice isn't helping its credibility with women.
Cheerleader pay is a "team matter," says NFL spokesman Brian McCarthy. "Our office is not involved with the selection, duties, or wages of the cheerleaders." A Bengals spokesman sent a statement calling the suit against the team a "copycat." The Jets and Buccaneers declined to comment. On Sept. 4, the Raiders reached a tentative settlement in the Lacy T. case to pay $1.25 million in lost wages to cheerleaders who worked for the team over the last four seasons.
Nowhere is the issue more acute than in Buffalo, where the lawsuits have brought new life to a 20-year struggle over cheerleader pay. On Sept. 14, when the 2014 Bills play their first home game against the Miami Dolphins at Ralph Wilson Stadium, there will be no Jills for the first time in nearly five decades.
 
 
In May of this year, the squad's manager, Stephanie Mateczun, suspended activity "until this legal matter can be resolved." A former Jill herself, Mateczun is the owner of Stejon Productions, the company that contracted with the Bills to manage its team of 35 cheerleaders. She's the latest in a long line of third parties the Bills have used to outsource their cheerleaders and, according to the lawsuits, to pass off the liability for the squad's unpaid work.
The Buffalo Jills were formed in 1967. The Bills still played in the now-demolished War Memorial Stadium. Jo Ann Gaulin, a local mother of four, thought the team could use something better than the Buffalo State College cheerleaders who worked the sidelines on Sundays. The owner, Ralph Wilson, who died earlier this year, liked her idea for a dedicated squad. So Gaulin, then in her early 30s, put together a team of 20 women, all at least 22 years old and married.
The original Jills wore turtlenecks and white go-go boots from Sears and carried pompoms made from bicycle streamers. "We were cheerleaders, not dancers," Gaulin told the Buffalo News in 2010. "We cheered with megaphones and placards, and when we said, 'Go, Bills, Go,' you could hear us at home on the radio." There was no pay, though Wilson did spring for the boots and streamers.
After a two-win season in 1985, the Bills leased the Jills to a local fast-food chain called Mighty Taco. The Bills gave Mighty Taco the right to use the Jills to promote its restaurants and to farm them out to other sponsors. In return, Mighty Taco selected and managed a squad that met the Bills' needs eight Sundays a year. The Jills continued to receive no pay for games or practices. Mighty Taco offered $25 an hour for off-field appearances—only after a cheerleader made 16 unpaid appearances each year.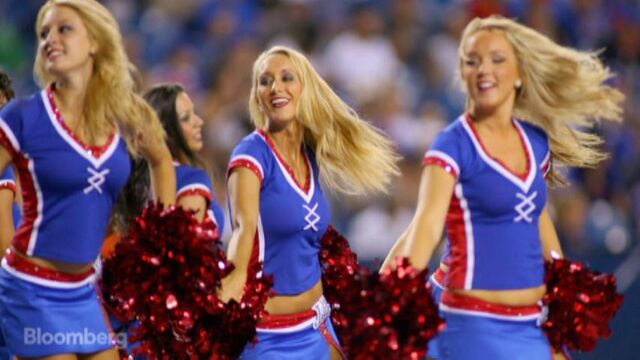 At the end of 1994, after paying their own way to four straight Bills Super Bowl losses, the Jills filed a petition with the National Labor Relations Board to form a union. They weren't mere hobbyists, the cheerleaders argued at the time; they were professional performers. The Jills named Mighty Taco and its co-owner Andrew Gerovac as their employers. Gerovac said they couldn't form a union because they weren't his employees, just independent contractors.
The NLRB disagreed. Gerovac and Mighty Taco, the agency ruled in 1995, controlled the Jills' "rehearsal schedules, their costumes, their routines, the time and places of their performances," and required each to "maintain a specified weight." This made the cheerleaders employees in the eyes of the law. The Jills formed their union, the first of its kind, and Gerovac promptly dropped his sponsorship. "It's just not worth it," he said at the time. "It's not financially sound to keep it up. It's also no fun anymore."
At the last minute a local travel agency and an electrical contractor agreed to sponsor the unionized Jills for the 1995 season. For the first time, the cheerleaders were paid for games—$40 each. They also got $40 an hour for promotional appearances. The bounty was short-lived. The new sponsors dropped out at season's end, leaving the team with no funding.
In stepped Buffalo restaurateur Russell Salvatore. "I happened to be out one night at a bar, and some of the cheerleader girls were in there," Salvatore says now. He's sitting in the breakfast buffet of Russell's Steak, Chops & More. His powder-blue Bentley and matching golf cart are parked out front. Salvatore, 81, is wearing a red tie and pink shirt with his name embroidered in cursive on the cuff. That night at the bar, he says, a cheerleader asked him to sponsor the team.
The Jill told him it would cost about $10,000 for the license to the name, he recalls, plus uniforms. Salvatore agreed, on the condition that they disbanded their union. "I didn't want to be tied down and have all the stipulations," he says. "I don't think the Bills wanted them being in there with the union."
Salvatore also dispensed with pay. "They never asked me for any pay," he says. "They did it from the good of their heart." He did write them a song, set to the tune of Volare, to use when they took the field. ("Go Jills, go Buffalo, go Jills, we love you so / You make the game day so bright / Your cheers are sure dynamite.") The cheerleaders opted not to use it.
Salvatore ran the Jills for five seasons. In 2001, radio station-holding company Citadel Broadcasting took over the squad as part of a deal to broadcast Bills games on Buffalo's 97 Rock. Mateczun—who was a Jill from 1985 to 1990 and for another two seasons under Salvatore—was working at Citadel as a sales rep and fill-in radio personality. The station asked her to run the team. After Citadel's deal with the Bills expired in 2011, Mateczun formed Stejon and contracted with the Bills directly.
Her Jills did far more than wave homemade pompoms. They were toned athletes who performed choreographed dance routines, in sequined crop tops and short-shorts—a uniform each Jill was on the hook to buy herself, for about $650. With Mateczun as her boss, Ferrari says she was paid less than $100 for her season in 2009 and lost money after the cost of her outfits and travel. (The Bills also provided each cheerleader with a game ticket with a face value of $90.) The other five Buffalo plaintiffs—Jaclyn S., Alyssa U., Maria P., Melissa M., and Gina B.—say they were paid between $105 and $1,800 per season, depending on their number of off-field gigs. According to their suit, they worked 20 unpaid hours per week, 42 weeks a year.
The cheerleaders also had to buy at least 50 of their team swimsuit calendars for $10 and sell them for $15 to recoup the money. Ferrari says she was leery of selling to college classmates. "Do I really want these people staring at me on the wall?" Her grandparents wound up peddling them to friends. Jills also bought and sold tickets—four per cheerleader at $125 each—to an annual golf fundraiser for the squad where, according to the group suit, they sat in dunk tanks, auctioned themselves off to ride on men's laps in golf carts, and did gymnastic "flips for tips" that were kept by their employers.
Complaining was literally against the rules. A handbook of "glamour requirements" distributed by Mateczun instructed the Jills to "be positive and consistently optimistic about everything. Yourself, other Jills, the Bills, sponsors, etc. Never complain!" The 12-page guide also included direction on hair and makeup, formal dining, and feminine hygiene. "When menstruating," it reads, "use a product that right [sic] for your menstrual flow. A tampon too big can irritate and develop fungus." The sports website Deadspin published a copy in April, drawing attention to the case.
The Bills declined to answer questions for this article but issued a statement that reads, in part, "The Bills organization retains a number of third party vendors to provide ancillary services on game days. These services include, among others, parking services, concessionaire services and cheerleading services.… We are aware of public statements and allegations that have surfaced since the start of the recent litigation which attempt to give the impression that our organization employs cheerleaders. Such statements are inaccurate and misleading."
The Bills may not technically employ cheerleaders, but they do control them. The licensing agreement between Mateczun, who ran Stejon and the Jills from her home in suburban Buffalo, requires that she run the team "consistent with past practices" at her "sole cost." The Bills also demanded 50 percent of profits above $250,000 and 80 percent of profits on sponsorship deals they initiated. In return, they provided rights to the Jills name and logo, 51 tickets per home game, the use of their facilities, and a trip to the team's once-a-year "home" game played in Toronto.
The Bills also demanded that Mateczun secure a waiver from every cheerleader that classified them as independent contractors. After the NLRB ruling in 1995, the team wanted to reestablish the nonemployee status of cheerleaders. Under federal law, independent contractors aren't entitled to a minimum wage. They are differentiated from employees by a six-factor test that revolves around control. Contractors, in short, do specified tasks on their own terms. They don't typically get handbooks governing haircuts.
In May, the Bills filed a motion to dismiss the case brought by the five Jill plaintiffs. The team tried to distance itself from Stejon and Citadel Broadcasting (also a defendant), arguing that these parties alone were responsible for the cheerleaders. In July, New York State Judge Timothy Drury dismissed the motion. "The minute control that Citadel and Stejon exercised over the work of the cheerleaders supports the conclusion that they were not independent contractors but employees," he wrote.
The suits have caused a rift between Mateczun and the Bills. After more than 10 years of putting cheerleaders on their sidelines, she feels betrayed. "The organization appears content to attempt to wash their hands of any connection to their own cheerleading squad," she wrote in her May statement suspending the Jills. The Bills, in her view, wanted control of the cheerleaders without any of the cost or risk.
Mateczun, through a lawyer, says the Bills had been on the verge of paying the women before the legal action began. According to the lawyer, Dennis Vacco, the Bills had offered $50,000 for the 2014 season—enough to pay minimum wage for games and practices—but pulled the deal after the suits were filed for fear that it would be interpreted as a tacit admission that they should have been paying all along. Salvatore, the former sponsor, says that Mateczun came to him afterwards and asked for $75,000 to $100,000. He declined. With no one willing to foot the bill, Mateczun shut the squad down.
 
 
The minimum salary for a single player in the NFL is $420,000. League Commissioner Roger Goodell was paid $44 million in 2012. It would cost just $235,000 to pay every Bills cheerleader New York's $8 hourly minimum wage for 20 hours per week for 42 weeks per year, from tryouts in April through the Super Bowl. That works out to less than one one-thousandth of the Bills' estimated $252 million in revenue. At its most expensive, the bill for an hourly minimum wage for every NFL cheerleader would be about $7.6 million per season, less than a fifth of the $40 million the Dallas Cowboys spent on a 160-foot video screen in 2009.
Cheerleaders, says Eric Smallwood, an analyst at Front Row Marketing Services, a Philadelphia-based company that consults with sports teams on sponsorships, are "another piece of the event" at an NFL game. He points to the Dallas Cowboys, who pioneered the modern day NFL cheer squad—choreographed dances and skimpy outfits—in 1972. "Whether the team was bad or good, the Dallas Cowboys always had the cheerleaders," Smallwood says. "It's the experience." (Cowboys cheerleaders, according to the Dallas Morning News, make $150 per game.) In Atlanta, the Falcons have begun offering cheerleader seat visits as a reward for the loyalty of season ticket holders.
According to Front Row's analysis, cheerleaders appear on screen for an average of seven seconds during broadcasts, usually on the way to and from commercial breaks. That may not seem like much airtime, but according to Smallwood, it's worth $8.25 million per season, or more than $317,000 per year for each of the 26 teams with squads last year. (Some cold-weather franchises do not have cheerleaders.) A sponsorship patch measuring 4 inches by 4 inches on every dancer's top, Smallwood says, should sell for about $150,000 per year.
In July, lawyers for Ferrari, the Jill who filed the class action, served Goodell with a subpoena because his signature appears on the contract between the Bills and Citadel Broadcasting. The league's lawyers called the subpoena "a fishing expedition or, at worst, an improper ploy for media coverage." The league says Goodell was concerned only with the radio rights portion of the contract and that his signature was rubber-stamped.
The Raiders, meanwhile, have announced that cheerleaders will now be getting $9 an hour, the California minimum wage. The policy puts the Raiders in the company of the Seattle Seahawks, who pay cheerleaders an hourly wage plus overtime.
In Buffalo, Jills founder Gaulin thinks the squad should make do with nothing. "We always considered it a privilege to be on the field to cheer for our team," she wrote recently in a message on the squad's alumni association website disapproving of the current lawsuits. Hers is a typical response to complaints from low-level workers in glamour industries. It is not, however, a legal defense. "There is no exception in the minimum wage law for loving your job," says Sean Cooney, a lawyer who represents the five Jills in their suit.
Ferrari looks back fondly on her year as a Jill. "My family would sit at home and hope to God there was a quick glimpse of me on the TV," she says. "It's definitely a great experience to be down on the field." She plans to watch this season's cheerleaderless games. On Sept. 9, Ralph Wilson's estate agreed to sell the Bills for an NFL record $1.4 billion. Ferrari's hope is that the new owners have a few bucks left over to bring back a paid Jills squad: "That is really all I can ask for at this point."
Before it's here, it's on the Bloomberg Terminal.
LEARN MORE