Megabox Shareholders Said to Seek Sale of Korean Cinema Operator
Seonjin Cha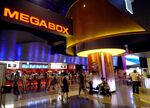 A group of investors in Megabox Inc. is seeking buyers for the South Korean multiplex cinema operator in an effort to exit a seven-year investment, two people with knowledge of the matter said.
Korea Multiplex Investment Corp., whose shareholders include the National Pension Service, Public Officials Benefit Association and Military Mutual Aid Association, this week began sending information on the sale to potential buyers, the people said, asking not to be named as the matter is private.
Founded in 2007, Korea Multiplex owned 50 percent of closely held Megabox as of December and Jcontentree Corp. had a 46 percent stake, according to a regulatory filing by Megabox. Korea Multiplex can trigger a 100 percent sale that could be blocked only by smaller investors offering a higher price for shares than the would-be buyer, the people said.
Nomura Holdings Inc. is advising the shareholder group, which plans to receive initial bids as early as next month and complete the deal by the year's end, according to the people.
Two calls to Seongnam-based Megabox went unanswered today, which is a national holiday.
The Seoul Economic Daily reported in August that Kiwoom Investment Co. plans to bid for Megabox, in a transaction that may be valued at as much as 600 billion won ($580 million), citing unidentified investment-banking officials.
The seller expects Megabox to be worth about as much as peers such as CJ CGV Co., considering the sale involves management control, the people said. CJ CGV trades at an enterprise value of 13.1 times earnings before interest, taxes, depreciation and amortization, data compiled by Bloomberg show.
Among the nation's three dominant multiplex operators, Megabox had 21 percent of screens at the end of 2013, trailing CJ CGV with 43 percent and Lotte Shopping Co.'s film division with 32 percent, according to Korean Film Council data.
Megabox's net income rose 1.8 percent last year to 25.6 billion won, on sales of 206.1 billion won, according to company filings. The number of movie theater admissions in the country increased an average 13 percent annually from 2010 to 2013, Korean Film Council data show.
Before it's here, it's on the Bloomberg Terminal.
LEARN MORE