Kerry Bolsters New Government With Visit to Baghdad
Terry Atlas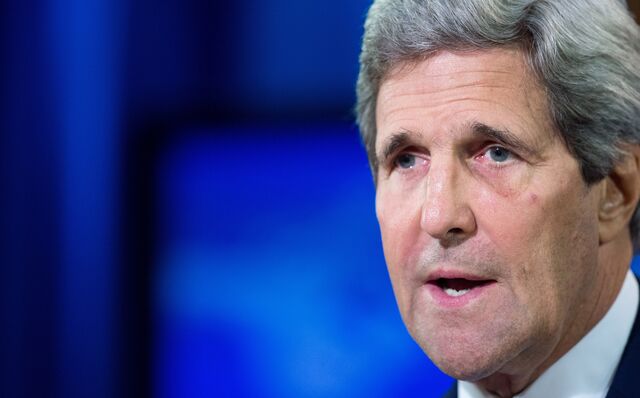 Secretary of State John Kerry visited Baghdad today, where he pressed the country's leaders to offer more power to the Sunni minority to help thwart the advance of Islamist militants.
Kerry met Iraq's new Prime Minister Haidar al-Abadi, a Shiite Muslim, and called for action to overcome the sectarian and ethnic tensions which deepened under the previous government. Disaffection among Iraq's Sunni Muslims helped pave the way for the advance of Islamic State, the group that's taken over large swaths of Syria and northern Iraq and beheaded two American journalists.
The U.S. has vowed to build a coalition against the militants, and has carried out more than 100 air strikes against them. President Barack Obama will give a televised speech later today, seeking public and Congressional support for an expanded battle against Islamic State. The U.S. also pushed for a more inclusive government in Iraq, OPEC's second-biggest oil producer, leading to the ouster of Nouri al-Maliki and his replacement by Abadi this week.
Kerry called for rapid moves to increase Sunni participation in the government, and noted Abadi's commitment to "broad reforms that are necessary in Iraq to bring every segment of Iraqi society to the table."
Military Aid
His visit may also clear the way for increased U.S. military aid, which Obama had tied to the formation of a new government. The president may address that topic later today as he presents his strategy to defeat Islamic State, first in Iraq and then in Syria.
Iraqi forces backed by U.S. air power are seeking to roll back Islamic State's advance, and have recaptured the country's largest dam near Mosul from the militants. Abadi called for the U.S. and the international community to confront the militant group.
Its fighters "are coming across the border from Syria," he said. "There is a role for the international community, for the United Nations, to uphold, and of course for the U.S. to act immediately to stop this threat."
Kerry last visited the Iraqi capital in June, after the militants shocked the world by seizing Mosul, the country's largest northern city. The U.S. responded by pressing for the removal of Maliki, a Shiite politician who alienated both the Sunni and Kurdish minorities. Maliki now is one of three vice presidents, a largely ceremonial position, after losing his fight for a third term.
Saudi Support
Easing sectarian tensions in Iraq is important as Obama tries to build an international coalition that includes the region's Sunni powers. Sunni states have been wary of Shiite Iran's influence in Baghdad as well as angered by sectarian abuses under Maliki.
Kerry also met with President Fouad Masoum, a Kurd, and parliament speaker Salim al-Jubouri. All the Iraqi leaders "restated their deep commitment" to ending the country's divisions, Kerry told reporters before leaving the country.
His next stops are Saudi Arabia, the leader of the Gulf's Sunni monarchies, and Jordan. The Saudis will host a conference in Jeddah tomorrow on how to combat Islamic State, with Iraqi Foreign Minister Ibrahim al-Jaafari attending as well as Gulf officials, Kerry said today.
Kerry is looking for assistance in areas including economic aid to Iraq, discrediting religious assertions of Islamic State leaders, blocking financing for extremists, and perhaps joining in military actions, according to a U.S. official who spoke on condition of anonymity because Kerry hadn't held his talks yet.
Strategic Shift
In Iraq, Abadi has indicated he will move quickly to show the government's new direction, the U.S. official said. Parliament this week approved the premier's new program, including pledges to devolve powers to local authorities.
That would include developing locally recruited National Guard units in Sunni, Shiite and Kurdish areas, which would be trained by Iraqi forces or others and paid by the central government, the U.S. official said
This amounts to a strategic shift in how Iraq deals with its security problems, the U.S. official said. It is modeled on the Sunni Awakening, when the U.S. recruited Sunni tribes to fight al-Qaeda in Iraq -— an earlier phase of the group now calling itself Islamic State -— during the U.S. occupation of Iraq after its 2003 invasion.
Before it's here, it's on the Bloomberg Terminal.
LEARN MORE