Obama Request to Arm Syrian Rebels Impedes Spending Plan
Roxana Tiron and Kathleen Hunter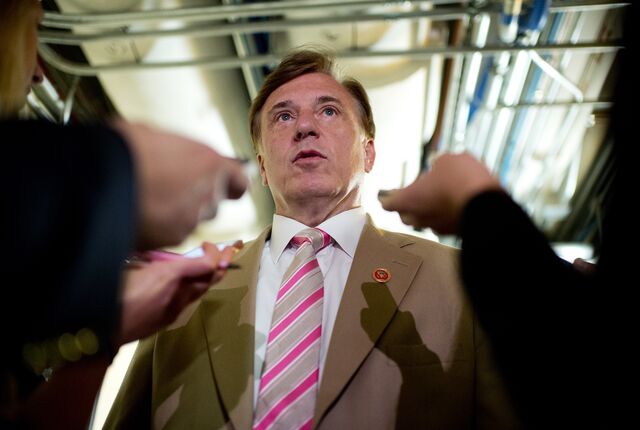 President Barack Obama's request for congressional authority to train and equip moderate Syrian rebels is complicating House Republicans' efforts to quickly pass a government funding measure this week.
House Republican leaders are postponing tomorrow's planned vote on federal spending legislation to consider the Syria matter, Majority Leader Kevin McCarthy announced today on the House floor.
"I think I speak for my colleagues on both sides of the aisle when I say that we stand ready to listen and work with the president" on the Syria request, said McCarthy, a California Republican.
McCarthy and Senate Majority Leader Harry Reid, a Nevada Democrat, said administration officials plan private briefings for members of each chamber tomorrow.
President Barack Obama, Vice President Joe Biden and Lisa Monaco, the president's homeland security and counterterrorism adviser, are pressing House lawmakers to include the train-and-equip language in the spending bill before Congress recesses for the midterm elections, an administration official with knowledge of the situation said.
The bill would fund the government through Dec. 11 and renew the Export-Import Bank's charter through June 30. Government funding expires Sept. 30, as does the bank charter.
'Given Time'
McCarthy told reporters that "everybody should be given time" to consider the president's request. A House Republican leadership aide, who sought anonymity to discuss the plans, said the vote probably will be put off until next week.
Obama is seeking $500 million for the Syria effort. The House stopgap measure includes a spending rate of $85 billion and the president would have the money, though he would need the authorizing language.
Appropriations Committee Chairman Hal Rogers, a Kentucky Republican, told reporters today that Obama called him yesterday at about 5 p.m. Washington time asking that the Syria provision be included in the stopgap funding measure. Rogers said he told Obama that "it's a little late" for that.
Rogers said the request was too complicated to shoehorn at the last minute into the government funding bill.
Top congressional Democrats, meanwhile, are demanding that the Syrian rebel provision be included in the funding bill.
'Whatever Engine'
"I want it to be on whatever engine is leaving the station and that is one that is leaving the station for sure," House Minority Leader Nancy Pelosi, a California Democrat. "I would hope that it would be on there."
Senate Democrats are preparing a separate train-and-equip measure as a backup to be used if the House spending bill doesn't include the Syria provision, said a Senate Democratic aide who sought anonymity.
Reid also backed support for training the Syrian rebels.
"It's clear to me that we need to train and equip Syrian rebels and other groups in the Middle East that need some help," Reid said today on the Senate floor. "That's one way of helping to build an international coalition."
Obama will deliver a televised address to the nation today at 9 p.m. Washington time to lay out his strategy to battle the Islamic State, which has captured swaths of Syria and Iraq. The speech comes as Obama is is preparing to expand the U.S. offensive against Islamic State extremists, including targeting the group's havens inside Syria.
Needs 'Strategy'
"If Congress is asked to support a strategy, it needs to be a strategy that is designed to succeed; not a mere restatement of current policy, which we know is insufficient to the task," Minority Leader Mitch McConnell, a Kentucky Republican said today on the Senate floor.
On the Export-Import Bank, House Financial Services Chairman Jeb Hensarling said in a speech in Washington today that he supported the proposed nine-month extension of the bank's charter, which he said would give lawmakers "an opportunity to debate" the bank's future.
Some House Republicans including Hensarling, backed by small-government groups including the Club for Growth and Heritage Action, want to abolish the bank. They say it benefits large corporations that don't need the support.
The Ex-Im bank provides loan guarantees, loans and insurance to help foreign companies buy U.S. goods.
New Loans
Without a reauthorization, the agency wouldn't be able to make new loans though it still could manage existing loans and contracts. The legislation doesn't provide funding for the bank.
"Business owners need some certainty to make plans. If they are going to be hiring people, buying equipment, thinking about making overseas sales they need some degree of certainty," bank president Fred Hochberg said today at a Bloomberg Government lunch in Washington.
A five-year renewal of the bank's charter would provide that certainty, Hochberg said.
The stopgap funding measure also includes $88 million that Obama requested to help fight the Ebola virus outbreak in West Africa. U.S. and British officials said Sept. 8 they were sending troops and equipment to the region to help combat the disease.
In addition it would extend, until Dec. 11, the Internet Tax Freedom Act, a law originally passed by Congress in 1998 that prohibits taxing access to the Internet.
Lobbyists for the U.S. Chamber of Commerce, National Association of Manufacturers and related groups have been pushing hard to secure a reauthorization of the Ex-Im bank.
Top beneficiaries of the bank include Boeing Co., Deere & Co. and Caterpillar Inc.
Before it's here, it's on the Bloomberg Terminal.
LEARN MORE